Create an Easy Look and Gain Momentum with a Backside Lob vs. Zone Defense
A lob play is a great way to catch your opponent off guard and set up scoring opportunities for your most athletic players. By utilizing solid back screens, misdirection, and a talented passer, your team can create open looks at the rim. The following play is most effective against 2-3 and 1-2-2 zone defenses.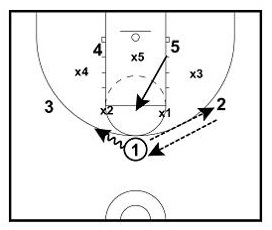 2 should be a good athlete that can jump
to get the ball and finish. 1 starts the
play by passing to 2. 2 passes back to
the point.
To draw the defense, 1 takes a dribble toward 3.
5 flashes to the middle to draw the center defender.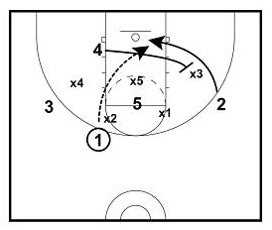 4 screens the weak side defender and 1 passes the lob to 2.
(Get a leg up on your competition with this play and other zone beaters from the ebook
Beating the Zone)
What do you think? Let us know by leaving your comments, suggestions, and questions...
Comments
Most Likes First
Oldest First
Newest First
---
Ken Sartini says:
10/29/2013 at 11:12:09 AM


Nice play Jeff ........ there is a school in our area that runs something like this... only 5 screens 5 and 4 screens 3.

Works like a charm. Many tmes we ran our lob play our passer threw it in the basket for a 3.... oh well.

Like
---