Full Court Press Breaker Play
From The Triple Stack Set
Here is an extremely simple play out of the triple stack set that is highly effective in pressure situations. This is especially useful when you are winning near the end of the game and the defense is overplaying all entry passes.
This play works great because the defense is already concerned about the triple stack and starts to cheat towards the triple stack to try to get through the presumed triple screen. When 1 fakes towards the triple stack, this causes the 1's defender to overplay which opens up a wide open lane on the deep pass. This play is also easier to convert due to the inbounder's defender trying to help deny any entry passes in the backcourt and being in poor position to protect the basket.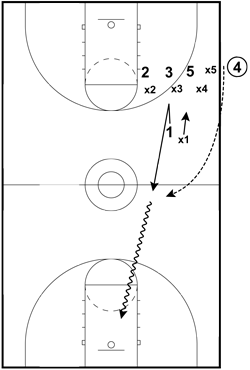 Sideline
4 is inbounding the ball. 2, 3, & 5 are set in the triple stack. 1 is a few steps away from the triple threat on the side of the basket they're trying to score at.
1 simply fakes towards the triple stack as if the player is going to cut off of a triple screen, then jets towards the basket for a deep pass and a lay up.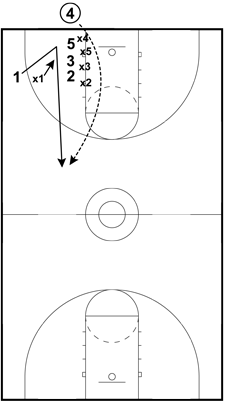 Baseline
Here is the positioning of when the offense is inbounding the ball from the baseline.

What do you think? Let us know by leaving your comments, suggestions, and questions...
Comments
Most Likes First
Oldest First
Newest First
---
Pete Anderson says:
3/7/2013 at 9:52:42 AM


The LA Lakers ran a slight variation of this play last night (3/6/2013) to help beat New Orleans!!! It worked to perfection.

Like
---
Troy Culley says:
2/26/2013 at 5:33:58 AM


I agree with what Sue has said above. A stack is very simple with numerous different options. Surely as Coaches you would already have your own set of X's and O's?

I think both of these are simple but effective and already just from looking at it see ways it can be added too.

Like
---
Sue Sernak says:
2/25/2013 at 3:52:35 PM


The title to this is "Simple play for easy lay-up" ... If it''s there, throw the long ball, if not improvise. Do you guys need to be spoon-feed everything?

Like
---
anthony meadows says:
2/25/2013 at 12:53:40 PM


you can use the 2 to circle and set a screen

Like
---
Ken Sartini says:
2/22/2013 at 2:54:43 PM


I think Joe is taking it for granted that the other players would split 5/3 and 2 would step to the ball.

Like
---
Joe Haefner says:
2/22/2013 at 2:03:54 PM


That's why we stated in the play that this is a great play when you are winning, the defense is forced to gamble, and the defender is guarding the entry pass in the backcourt.

Most teams that are losing at the end of the game are going for steals which will make them more vulnerable to deep passes.

If a defender is deep, you could probably just clear out the backcourt and put one person in the back court and have them get open.

Like
---
Daniel Freeman says:
2/22/2013 at 1:15:41 PM


As already mentioned there needs to be other options if the 1 man is not free. I can''t believe that this is all there is to the play.

Like
---
tdowd says:
2/22/2013 at 12:41:24 PM


Needs to be option to the stack play, because if the player covering the inbound pass backs off the play doesnt work. At that point you have to execute something out of the stack set.

Like
---
Coach Kip says:
2/21/2013 at 9:02:15 PM


I like the sideline play a lot. We run a stack from the sideline a lot and that's a great wrinkle that I can add on easily.

Like
---