New Game-Winning Full Court Basketball Play
Take a look at this great last second full court play that can be used in the final seconds of a quarter or a game. It has multiple options that will get your team attacking the basket or pulling up for a perimeter jump shot.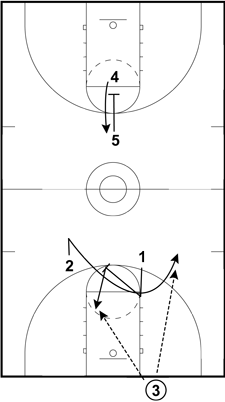 1 fakes to the ball, then cuts up to set a screen for 2.
Prior to the screen, 2 fakes deep, then executes a banana cut off of 1's screen. After the screen is set, 1 rolls back to the ball.
3's first option is to pass to 2. If 2 is not open, 3 passes to 1.
After 1 sets the screen for 2, 5 screens for 4. This can be a possible third option for 3 to inbound the ball.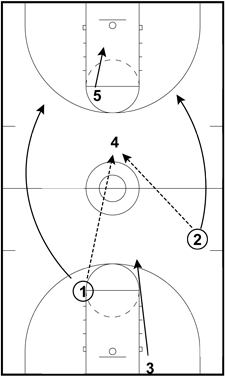 When 1 or 2 catches the ball, they immediately look to pass the ball to 4.
1 and 2 sprint wide up the sideline.
5 rolls to the basket.
3 sprints the floor for a possible tip-in or offensive rebound depending on the time remaining in the game.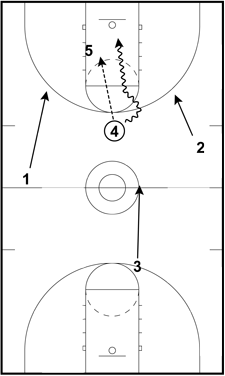 4's options are to:
Throw a pass to 5 who is cutting to the basket.
Throw a pass to 1 or 2 who are streaking up the sideline.
Dribble attack to create a scoring opportunity.
Related Pages & Helpful Resources

How To Win at the End - Volume 1 with Lason Perkins
How to Score More Points with Set Plays: 16 Tips for Running Effective Basketball Plays
Basketball Plays: The Art of Running Set Plays and Scoring More Points

What do you think? Let us know by leaving your comments, suggestions, and questions...