Overload - Against Man to Man Defenses
Summary
I like this play, because it gives you a scoring opportunity in the post and if that is not there, one of your guards will have one side of the floor cleared out for the dribble drive.
Personnel
Players 4 & 5 should be your strongest post players. Players 2 & 3 should have the capability to dribble drive.
Instructions
Players 2 & 3 cut diagonally to the wing from the block. You probably want to assign either Player 2 or Player 3 to cut first every time, so they do not run into each other.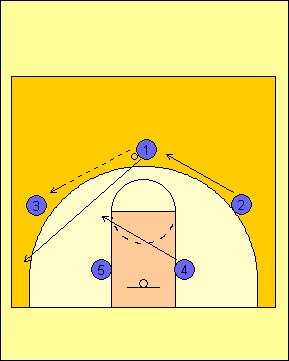 Player 1 passes to Player 3.


The following players will make their cuts simultaneously. Player 1 cuts to the corner on the ball side. Player 4 cuts diagonally across the lane to the elbow (high post) on the ball side. Player 2 cuts to the top of the key to clear out weakside help.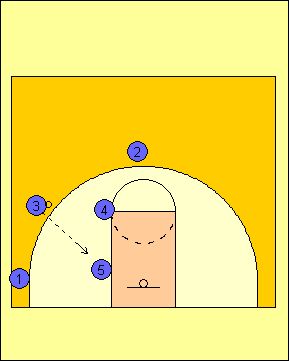 Player 3 then looks to pass the ball to Player 5 in the post.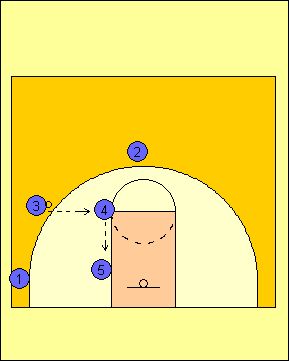 If player 3 can not get the pass directly into Player 5, he/she can pass to Player 4 in the high post, which would create a better angle to pass the ball. It is important for Player 5 to keep the defensive player pinned on his outside hip, which will create a clear lane to the hoop.
If nothing is there, Player 3 passes to Player 2. Player 2 will have the whole left side to drive or pull up for a shot.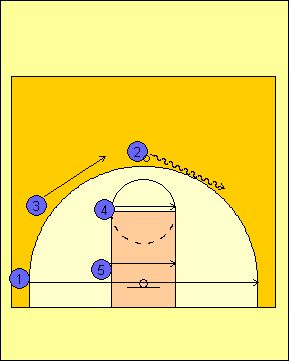 If Player 2 does not have a good scoring opportunity, he dribbles to the left wing.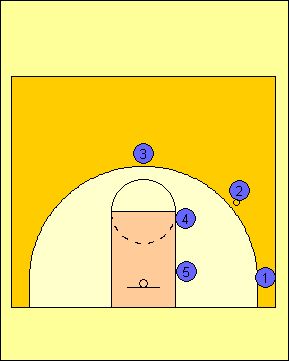 As player 2 dribbles to the wing, Player 1 cuts to the opposite corner. Player 4 & 5 cut across the lane. Player 3 comes to the top of the key. Now, you are in the same formation, but on the right side of the court.

Comments
Most Likes First
Oldest First
Newest First
---
Coach Bri says:
12/27/2018 at 11:32:00 AM


About the rebounding when the ball goes up one you follow your shot, then 5 goes off side to rebound and 4 goes to ball side to rebound..it's about quickness and watching the ball...I actually like this and if your team stay ready they don't have to get ready or be ready...because they are always stay ready...positive vibes...

Like
---
mahesh says:
5/2/2015 at 3:29:48 AM


ok one thing you have to understand is that if your team is quick and have been trained and coached to be play makers this overload with additional variations is no problem. the reason you would want different variations is to keep the defense guessing and involve all players to use their strongest moves in the areas you have seen them perform at. if you have a 2 that shoots and hits over 60% from a certain side, then design something to get that player involved and spark the score board. this is the same when you have miss matches on your big man down low; or you got a big man that has been trained to be quick and explsive with drop steps and the deadly hook; a playmaker on the move to the basket. look. my variation and anyone elses is not over loading to once side something designed without understanding the probabilities. one thing you look at is the press you go into once you shoot and make the shot. you train the players to make high percentage shots with the mind set that once we shoot we go into the press or base of our defense without turning your back on the offense. i run the 55 press like rutgers university. my offense is designed for each players strengths to be used together. and with the overload since i run a 55, i have three under the boards and two robbers in position. not getting ready, because they already are. and yes this work against a zone, and the overload can be started from half court coming out of your press break.


Like
---
Luke Wilson says:
1/23/2015 at 10:16:17 PM


This is not a drill, it is a play!

Like
---
Dan Kosak says:
9/19/2013 at 6:06:48 PM


One problem with the overload offense is that you do not have a rebounder on the weakside block. A lot of missed shots will bounce that way.

Like
---
Coach Alex says:
5/28/2013 at 9:36:38 AM


Not a fan. Very poor spacing. Remove the low post (5) player to weak side wing and let the high post (4) player screen for strong side wing (3) and corner (1).

UConn runs this often with very good success.

Like
---
iamnumber7 says:
5/18/2013 at 11:32:41 AM


a good way to scramble the zone... a compact position also gives chances for easy picks... 4 also has space to maneuver... great play... 5 can give a screen to 1, it''ll give him an easy basket... provided 1 is faster (which usually is) than 5''s defender...

Like
---
Abby says:
11/18/2012 at 8:19:03 PM


I love this overload man to man play! I love how there are so many different options, and options for options. It's really organized, and really is a good post play!


Like
---
Dana says:
2/24/2012 at 5:50:14 PM


Would this work against a good sagging defense?

Like
---
Bob says:
7/2/2010 at 10:09:28 AM


Great high school play, will not work at the more advanced levels. If you have 5 players on half the court, a 6-11 center a quick guard can literally cover all 5. Whoever is on the one will dig down on the 5. The guy on the 3 digs the 4. The high low wont work because of the one and the Iso on the 2 will run into the 5 on the helpside, the one will be digging on the 5 so he'll be iced and then the orginal guy covering the 3 will take first ball between 1/3. Also its very easy to prevent the swing and then the offense if stalled. Will work on a zone and only may work on man to man if you have lights out shooters (in which case your league probably has 6-11 centers to begin with)

Like
---
Coach K junior says:
2/21/2010 at 12:14:20 AM


Against a zone, I run this exact play except I run the 1 (PG) under the 5 (C) into the corner. The bottom guy in the zone always jumps to the corner thinking we are looking for a corner 3 and then we enter the ball to the 4 (PF) flashing to the elbow and we get hi-low action all the time. I have run this at both the freshman and varsity levels and had success at both levels.

Hope this helps.

Like
---
Show More
Tom says:
12/5/2009 at 11:14:12 AM


Thanks for the information. A variation could have the 5 back pick for 4 and then flash to the ball at the high post on the side 2 dribbled to. If they switch, 5 will be open at the high post. If they don't 4 should have a layup.

You could also run this with 1 picking for two instead of going to the corner and then 2 who is at the top of the key reverses the ball to 1 on the opposite wing before 5 and 4 set back picks and then run it is as a continuous offense.

Like
---
jkxbhi says:
3/1/2009 at 6:32:37 PM


heyy this play is like totally awesome!!!

Like
---
wandeka kenrald arthur says:
6/11/2008 at 11:13:13 AM


this is an awesome basketball move

Like
---
Coach JD says:
3/11/2008 at 5:16:26 AM


ok one thing you have to understand is that if your team is quick and have been trained and coached to be play makers this overload with additional variations is no problem. the reason you would want different variations is to keep the defense guessing and involve all players to use their strongest moves in the areas you have seen them perform at. if you have a 2 that shoots and hits over 60% from a certain side, then design something to get that player involved and spark the score board. this is the same when you have miss matches on your big man down low; or you got a big man that has been trained to be quick and explsive with drop steps and the deadly hook; a playmaker on the move to the basket. look. my variation and anyone elses is not over loading to once side something designed without understanding the probabilities. one thing you look at is the press you go into once you shoot and make the shot. you train the players to make high percentage shots with the mind set that once we shoot we go into the press or base of our defense without turning your back on the offense. i run the 55 press like rutgers university. my offense is designed for each players strengths to be used together. and with the overload since i run a 55, i have three under the boards and two robbers in position. not getting ready, because they already are. and yes this work against a zone, and the overload can be started from half court coming out of your press break.

Coach JD Hill CPT., CSCS.
HERITAGE ACADEMY
Mesa, AZ.

Like
---
Joe (Co-Founder of Breakthrough Basketball) says:
3/10/2008 at 7:40:55 AM


Coach Russ,

This variation is built for man-to-man defenses. If you would like to see a couple of plays using this formation against zones, click on these two links: http://www.breakthroughbasketball.com/plays/Overload-zone.html & http://www.breakthroughbasketball.com/plays/Overload-zone2.html



Like
---
coach Raus says:
3/10/2008 at 2:10:42 AM


does this offense really work against zone defense

Like
---
Ephraim says:
3/6/2008 at 1:40:53 PM


It is a good play it can trick defenses

Like
---
v says:
2/2/2008 at 4:13:29 PM


that makes no sense why have every player on one side you should leave one person open on the other side while the defense is following the other players

Like
---
Charles Rice says:
1/23/2008 at 7:46:42 AM


I think hoops girl raise a good point but I would add this. If the defense a zone, The 2 pass to the 1 to make the defender on 5 to get between the the 5 and the 1. then the 4 come down showing target hands but set a pick on the 5 man. and the 5 come off the pick on the back side to the high post and then the 4 seal there man on there back and recieve a pass from the 5 for a lay up

Like
---
hoops girl says:
1/6/2008 at 5:10:24 PM


i don't know. it seems as if ur crowding everyone on one side of the court makin it easy for the defense to intercept passes and not have an outlet skip pass. but maybe it will work.

Like
---
JANINE S. says:
12/3/2007 at 9:21:26 PM


UMMMMMM IM NOT REALLY COACH IM A PLAYER AND I BELIEVE THAT THIS PLAY OVERLOAD, WILL BE VERY EFFECTIVE TO MY TEAM THE ALBANY JR. FALCONS THANKS FOR UR GREAT HELP.....

Like
---
Coach JD says:
11/25/2007 at 1:42:08 AM


this was a great reminder for me. my old high school offence was based off of the overload and we ran a very disciplined give and go & pick and roll. here is something else to do with this play. in #7, 5 sets a long pick for 2 - 4 can cut to the basket or screen for 3 or screen for 5 acting as a double pick for a pick and roll with 2 - 1 still flys across the court but angles upward to be on the three line. and it does not stop there

jaimel hill cpt., cscs.
heritage academy
mesa, az.

Like
---
Jeff says:
11/22/2007 at 6:47:31 AM


Simultaneously means "at the same time":

http://www.thefreedictionary.com/simultaneously

Like
---
MD Dew says:
11/21/2007 at 6:05:27 PM


In the 3rd step what is the big s word & what does it mean!!! Anybody can answer please



Like
---
Khalid Izaz says:
11/12/2007 at 5:57:28 AM


NICE DRILLS

Like
---
mark says:
7/2/2007 at 1:08:31 PM


YOU CAN USE THIS ON A MAN IF THE 4 SET A PICK FOR 1. 1 WILL CUT TO THE BASKET

Like
---
ahmed says:
6/5/2007 at 6:46:58 AM


thanks for this drills because we need this tip

Like
---
ANTHONY EBIEME says:
3/17/2007 at 9:38:17 AM


NICE DRILLS.

Like
---
Taps says:
3/16/2007 at 12:40:10 PM


Now thats a good move, I especially like the fact that player 2 will have an open court. I'll use in my final preperations for my teams Durban Tour. Thanks

Like
---
fred says:
3/16/2007 at 11:11:48 AM


good play. I like the flexability and movement of all the player positions

Like
---
Borce Ilievski says:
3/15/2007 at 4:46:04 AM


This offense is very simple but very good against zone in same time is good for youth team to learning kids specially centers how to move high-low.

Like
---
cedu says:
3/15/2007 at 3:50:48 AM


merci pour les info

Like
---
colin says:
3/15/2007 at 2:53:37 AM


i agree with frank too.think the play is great for a zone defense.definitely gonna implement this in my team asap

Like
---
Marty Edwards says:
3/14/2007 at 9:23:27 PM


Nice for Man and zone movement.

Like
---
C. TAWFIK says:
3/14/2007 at 6:04:22 PM


I agree with my dear frank this play will be active with zone defense

Like
---
coach morgan says:
3/14/2007 at 5:03:20 PM


This is a nice and simple play. I implemted it along withhaving the 2 man call out shift if the play is run without a shot oppotunity evolving, and the cutters have to cross the lane and runn it from the other side.

Like
---
Frank says:
3/14/2007 at 2:54:27 PM


I really like this play against a zone defense.

Like
---