Site Search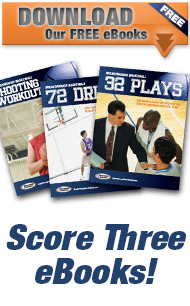 Q & A Forum
Experienced coaches are ready to answer your basketball questions! Visit our forum
Overload - Against Zone Defenses
Summary
This is a twist to the
overload play
from last month's newsletter so that it will work against
zone defenses
. It's very effective and simple to teach.
Personnel
Players 4 & 5 should be your strongest post players. Players 1, 2, & 3 should have the capability to dribble drive and shoot the outside shot.
Instructions
| | | |
| --- | --- | --- |
| Player 1 passes to either Player 2 or Player 3 on the wing. | | |
| | | |
| --- | --- | --- |
| After Player 1 passes the ball to Player 2: Player 1 cuts to the corner, Player 3 goes to the top of the key, and Player 5 flashes to the high post. | | |
If nothing is available on the overload, Player 2 will pass the ball to the top of the key.


When the ball is passed to the top of the key, Player 5 will set a screen on the middle guy of the zone and Player 4 will flash to an opening in the middle of the lane. Player 3 should pass the ball to Player 4 if it is open.




Related Pages and Helpful Resources
Dynamic Zone Offense Plays Against Any Zone Defense
Double - Zone Offense Play For 2-3 Zones, 3-2 Zones, and 1-3-1 Zones
Zone Out of Bounds (Inbounds) Plays
Basketball Plays and The Art of Running Set Plays and Scoring More Points
Recommended Products:
Beating the Zone - 75 Set Plays to Score Against Zone Defense
In this eBook, you will find 75 zone plays that you can use against any zone defense. It includes 2-3 zone plays, 3-2 zone plays, 1-3-1 zone plays, baseline out of bounds plays, and multi-purpose zone plays. You will also learn how to exploit the weaknesses of zone defenses, learn new ideas for running zone plays, and much more ... (more info)
Comments
---
Byron McPherson says:
5/2/2007 at 1:14:56 PM


I like this play! Nice and Simple.
---
Jeremy says:
5/2/2007 at 11:05:23 PM


Thanks, your newsletter has helped me keep my basket ball team interested!(5th grade girls!)
---
Nolita Wilson says:
5/10/2007 at 1:57:43 PM


Thank you for all of your great advice and for an awesome playbook for a young, rebuilding team. I have already taken many ideas and implemented them into my offense and defense. Have a great day!!
---
summer says:
8/14/2007 at 10:49:53 AM


i really like this play. im a player and im going to show this to my teammates. its really a nice and simple play.
---
Albert Mullens says:
11/4/2007 at 3:01:51 PM


Sweet!!! Easy and optional moves lot listed but easy to see.
---
teighs says:
11/4/2007 at 10:54:31 PM


wow!! loved thid one .. seasy simple .. my gilrs loved it. i am a new coach, old player .. and this drill was easy to teach as well and for them to understand!!
---
Coach Kevin says:
12/22/2007 at 8:31:52 AM


I like this play, it makes my kids fart really loud. The center rips a massive wet ass bomb to clear the paint!
---
lavendar says:
1/17/2008 at 8:12:19 AM


This play helped us when thankyou.
---
Coach JD says:
3/11/2008 at 5:32:52 AM


like i said before on the overload for man defense; it doesn't stop, there are too many things you can transform through useing an overload. i have used it lately as a base to hide the ucla high post. i use this because i have a 6ft 8in sophomore that has quick feet and quit powerful. this overload with a few variation has created numerous one-on-one down low situation that result in a trip to the charity stripe. coaches; a big man that can hit 90% free throws is a blessing. just to put it out there. we took third in state (previous years they have never been pass the first round) - second in the power rankings and third overall (previous years 5th and 6th place) - and we had three players in the all-star game which was a milestone and major triumph in my coaching career; to coach my first all-star game after having a great season. thank to the help of this website forcing me to think and stay on the creative vibe. thanks so much.

Coach JD Hill CPT., CSCS.
HERITAGE ACADEMY
Mesa, AZ.
480-278-3870
---
Coachee says:
2/25/2010 at 6:19:00 PM


I would use this play if I knew what it meant. "Top of the key?" "Set a screen?" Do you have anything for people with normal-size brains?
---
hamish says:
6/25/2010 at 8:09:33 PM


i saw the kansas city alley cats do this set play.. there amazing
---
Leeroy says:
7/25/2010 at 3:21:36 AM


Top of key (high post) is were the 5 player is in the third picture
Set a screen - when a player sets his feet and blocks a defender from going through a particular spot on the floor (without moving once set)

If your ever not sure just type it in in google, these are basics so they will definately come up
---
mike says:
11/17/2010 at 7:41:31 PM


i have a big man for 8th gr. who doesn''t get the drop step or keeping the ball up away from the pesky guards.any good drills
---
alfred says:
2/25/2011 at 10:33:47 PM


thanks for the plays you posted, it really helps my team, after 3 weeks of running those drills we won the championship. thanks a lot! hope you could publish some new plays. i mean brand new ones.
---
Ima ballerr!! #5 says:
11/15/2012 at 8:49:28 AM


We do this play all the time.
---
Ken says:
11/15/2012 at 9:50:12 AM


Mike -

Break it down for him - one step at a time until he understands it... then tell him to go home and practice it 25 times a day without a ball for a couple days. Once it becomes second nature
he will feel more at ease.... in practice, have someone feed him the ball (without a defense) and do that several times.
Have him catch it, chin it, then head fake to the middle and drop step to the basket with a power dribble between his legs and lay it in.

Let us know if this helps him.
---
Ken says:
11/15/2012 at 9:51:31 AM


Take a look at this... you can do this with a chair instead of a pass.

http://www.breakthroughbasketball.com/drills/drop-step.html
---