The #1 recruiting mistake that players & parents make (And what to do)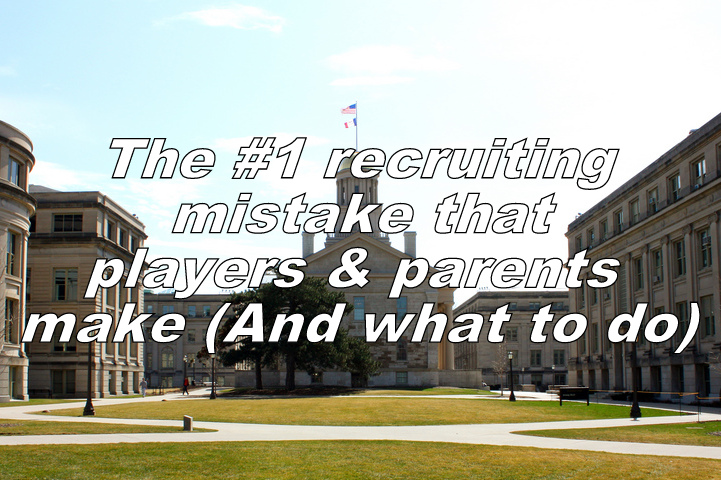 Photo credit: Phil Roeder
I recently asked Jim Huber about recruiting mistakes that players often make.
Jim spends a lot of time helping kids with the recruiting process and also explaining what college coaches look for at our Elite Guard Camps. The curriculum for this camp was developed by Coach Huber and two college coaches Adam Hepker and Matt Keeley.
He said the number one mistake is that they don't develop a game plan and they expect schools to just find them.
For those of you who don't know Jim Huber, he has coached dozens of athletes that have gone onto the college level. And a few lucky ones have made it to the NBA.
He coached NBA lottery picks like Alec Burks and Willie Cauley-Stein. He has helped players choose schools at all levels from NAIA, JUCO, and NCAA Division I, II, & III. Some of his best players have even gone to powerhouse programs like Kentucky, Duke, Kansas, and Michigan State.
Here are 5 steps that you should take right now with your recruiting game plan:
Step 1 - Sit down with your coaches to find out what level of schools you should be targeting.
You need to be honest with yourself. It's easy to over-estimate what level you should play at. Go play against some local NAIA and D3 players, you'll quickly realize it's not as easy as you think to play at the college level.
Step 2 - Figure out what you are looking for in a school.
Is there a specific academic program? Do you need to be close to home or in a major city? Do you want to go somewhere where you can play right away? Is there a certain size of school that you would like to attend?
You need to figure out what is valuable to you.
Step 3 - Make a list of schools that fit your criteria above.
Step 4 - Create a resume, game schedule, letter of references and game film.
A huge mistake that players make is that they only send a highlight video. Coaches want to see film of the entire game.
You can always send highlight video as an extra to send out to these schools.
Another mistake is that players only send it to the head coach. You should send it to the assistants, especially the lower-level assistants that want to make a splash in identifying a player that helps the program succeed.
Step 5 - Need to follow up to make sure the college received the information.
Many programs have limited staffs. Not everyone has huge staffs like Kentucky, Kansas, North Carolina, etc. A mistake is thinking they will find you.
If you want to learn more critical tips to the recruiting process, be sure to attend one of our Elite Guard Camps.
You will also work on shooting, ball handling, dribble moves, defense, moving without the ball, finishing moves, and more to become a complete player that high school and college coaches want on their team.
What do you think? Let us know by leaving your comments, suggestions, and questions...
Comments
Most Likes First
Oldest First
Newest First
---
midd44 says:
6/19/2016 at 8:16:10 AM


i would also add to this that college coaches check players social media pages and will stay away from players because of what they post..... cleaning up your instagram/facebook/twitter accounts is a MUST!!!


interesting stat: only 3.4% of boy high school hoop players go on to play for NCAA college teams... 1% play D1, 1% play D2, 1.4% play D3. http://www.ncaa.org/about/resources/research/mens-basketball

Like
---