From 0 PPG to All State Team to College Scholarship in 1 Year
Joe Lendway averaged 0.0 PPG and 0.8 RPG during his junior year for the varsity basketball team in Lansing, Kansas. And he saw limited time in 6 games.
Even Joe wouldn't believe what he would accomplish 12 months later...
This Rarely Talked About Secret To Improvement That Only The Really Good Players Use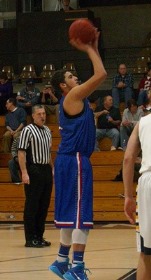 We got to know Joe after his junior season. His head coach Rod Briggs always recommended our Breakthrough Camps to any of his players that were serious about getting better. And Joe was very serious about getting better.
We first saw Joe at one of our summer basketball camps. And Joe was everything you wanted from a player; Focused, hard-working, respectful, easy to like, etc.
However, Joe wasn't that good of a basketball player… YET.
At our camps, we talk the "little-by-little" approach which all of the great players implement.
This is about getting better a tiny bit every single day. If you get a tiny percentage better each day, that adds up to a lot over a year or a few years.
For example...
If you get 1% better each day, do you know how much better you are in 90 days?
You are 144% better.
Now apply this same thing to the typical basketball player.. the player who decides to start practicing two weeks before the season starts…
1% better each day over 14 days is 15% better.
In this example, expanding this "little-by-little" approach over a longer time frame, the rate of improvement is nearly 7 times as much!
For simplicity purposes, we used the 1% example… Even if you just get 10% better during the offseason, this can be a HUGE difference in your playing ability.
A few months later... that fall...
Joe implemented the "little-by-little" approach and by the time our fall camps rolled around and we saw Joe again, he had gotten better... significantly better.
One of our camp directors Troy Slavin said to me, "Can you believe how much better Joe has gotten?"
I said with excitement and then some hesitancy, "It's amazing. But do you think he's got a chance to play? They're a state championship caliber team."
Troy said, "He'll get PT. He might even start."
Little did we know… by the end of that basketball season, Joe would surprise everybody around him in a big way.
Joe's Big Breakout Game
Due to Joe's persistence, hard work, and the ability to be coached, Joe earned a starting spot by the beginning of the next basketball season. And considering that his team finished 2nd in the state the previous season and had most of their players returning, this was a big deal.
It took a month or so for Joe to catch traction as this was his first experience playing at the varsity level consistently.
However, midway through the season something clicked… and I was lucky to be there to see it.
Joe had 12 points and 10 rebounds against a Mill Valley team that finished 3rd in the state the previous season.
He was everywhere… sprinting the floor, defending in the post, playing great help D and causing difficult shots in the lane, rebounding the ball, and using great footwork to finish around the basket.
Joe Earns All State, College Scholarship, and Averaging in Double Figures As A JUCO Freshmen
By the end of the season… Joe's team won the state championship and Joe earned the honors of...
All Tournament Team at the 2014 Kansas State Tournament
All State for the 2013-2014 season
College scholarship to attend Kansas City Kansas Community College
As a freshmen this year in college, Joe took another big step and is averaging over 13 points per game and 5 rebounds per game while shooting over 60% from the field. Due to Joe's rapid improvement, he is fielding more scholarship offers to play for a 4-year college.
And think about this, Joe had scored just 0 points and grabbed 5 rebounds during his entire junior high school basketball season.
How Can You Dramatically Improve Your Game
While it's impossible to say whether you will make a dramatic jump like Joe did in just one year, you can certainly maximize your improvement by...
Creating a plan & implementing the plan.
Working hard every day.
Focus on the "little-by-little" approach.
Be coachable – Do what the coach asks to improve your chance of playing and your team's chance of winning. Winning teams attract college scouts.
Focus on your strengths like Joe did – don't worry about what you don't do well.
Related Resources:
Breakthrough Basketball Camp Schedule
5 Unconventional Offseason Training Methods That Will Give You An Edge On Your Competition
6 Crucial Tips For 1 on 1 Drills To Develop Better Skills
What do you think? Let us know by leaving your comments, suggestions, and questions...
Comments
Most Likes First
Oldest First
Newest First
---
LaVerne Hudalla says:
5/21/2015 at 11:55:46 AM


Joe, congrats on your accomplishments. We could all learn from your philosophy in many areas of our lives.
LaVerne

Like
---
Zero says:
4/7/2015 at 8:39:15 PM


Great story, Love to read more of this to share with my JV girls. Samoana High School - American Samoa Pago Pago.

Like
---