Illinois Secondary Break Options
Second-year Illinois Head Men's Basketball Coach John Groce introduced three simple - yet highly effective - secondary break options at a coach's clinic in Las Vegas this past Summer. Prior to his current job at Illinois, Groce took unheralded Ohio University to the Sweet 16 in the 2012 NCAA Tournament, defeating powerhouses such as Michigan and North Carolina along the way.
Groce's goal is to involve only two players on each play. His rationale is that the defense will be forced to play 2 on 2 rather than 5 on 5. This bodes well for the offense's chances to get a quality shot off before the defense can get set.
Here are three simple options out of the pick-and-roll.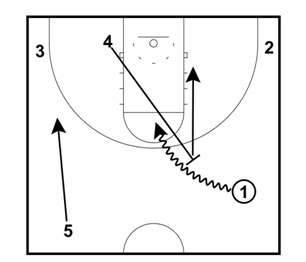 Option #1
1 pushes the ball up the floor. 4 sets a ball screen up top. 5 moves to the weak side wing. 2 and 3 are in the corners.
Option #2
1 passes it to 2. 5 sets a ball screen for 2. 1 runs to the weakside corner. 4 remains on the weakside short corner. 3 moves to the weakside wing.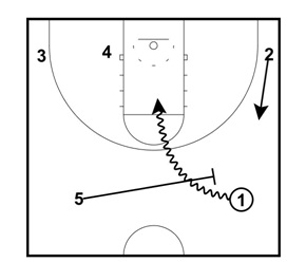 Option #3
5 sets a trail screen for 1. 4 remains at the weakside short corner. 2 and 3 are at the corners.
Recommended Resources
Don Kelbick's Transition Offense and the Four-Second Fast Break
What do you think? Let us know by leaving your comments, suggestions, and questions...
Comments
Most Likes First
Oldest First
Newest First
---
Don Dewberry says:
11/12/2013 at 3:17:49 PM


I would definitely use option 1 3 or 4 minutes into the first quarter/half. Offense should be game warm and more alert and the coach should by this time know what defenses the opponent will be using. Option 2-3 can be tossed in as you see fit.

Like
---
Bart says:
11/7/2013 at 1:21:53 PM


When do you use option 1 and when option 3? Which rule would you use?



Like
---
Kevin Germany says:
11/6/2013 at 9:55:35 AM


Sorry for the mixup. We will fix the image ASAP.

Like
---
Grant says:
11/6/2013 at 6:11:24 AM


I think you need to alter the image for Option #3.. 4 shouldn't move, 5 should set the trail screen as explained

Like
---