How To Develop A Gatorade Player of the Year & Increase Your Shooting Percentage By 720% In One Season!
Do you want to know how an ordinary athlete playing high school freshman basketball transformed into a Gatorade Player of the Year, high school state champion, and college national champion?
Do you want to learn how this same player improved his 3-point shooting percentage by 720% in one season?
You're going to learn all of these important lessons and tips from a player named Kyle Wolf.
Nobody anticipated what Kyle would accomplish by his senior season. He came out of nowhere!
Check out what Kyle Wolf did in high school...
Won the 2013 Missouri Gatorade Player of the Year - Only one player in the entire state receives this award!


He also won the 2013 State Tournament MVP and led his team to the big school state championship.


He averaged 26.7 points per game during the playoffs. This included 30 points and 12 rebounds in the state championship game!


Shot 5% 3-point shooter during his junior year of high school... Yes... 5%! Then skyrocketed his shooting percentage to 41% 3-point shooter his senior season. That's a 720% increase!
Check out what Kyle Wolf did in college...

In college, he shot 46% for a season from 3-point land and was a career 40% 3-point shooter. To put things in perspective, Steph Curry is a 43% career 3-point shooter!


Set his college's school record with nine 3-pointers in one game!


Key contributor and even started games for the 2014 NCAA Division II National Champion as a FRESHMAN.
Now I obviously can't guarantee these results for you. At the same time, you could be in the small percentage that does even better!
Either way, you get A LOT better at shooting and your scoring moves. Here's what you should do...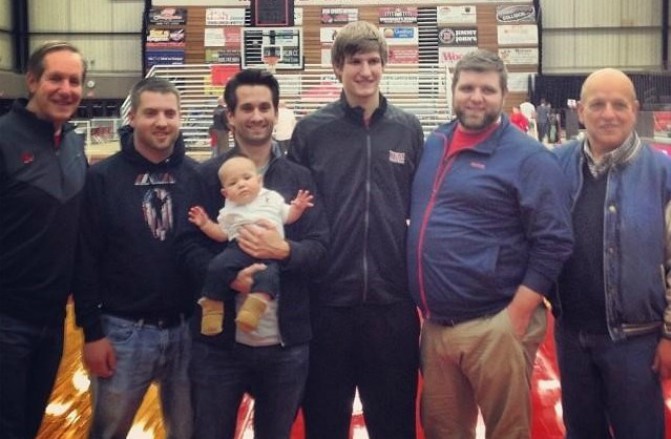 This is a picture of Kyle (tall middle guy), myself (baby in arms), and the rest of the family.
1 - Develop A Shot That Is Concise, Repeatable, And Consistent.
When you have already developed a great shot, you can progress at a much faster rate. This happens because you can work on other parts of your game to get to the next level.
Developing other parts of your game without a good shot is like putting frosting on mud and calling it a cake. It's still going to be pretty bad.
When developing your shot, you want to make it concise, repeatable, and consistent.
A few things include:

Being balanced on every shot. Balanced shooters shoot a higher percentage!
Feet should be about hip width apart.
Palm facing the basket prior to the release.
Hand under and behind the basketball.
Fluid and rhythmic shooting motion... This is rarely taught!
Your finish and follow through are the same every time.
Quickly cushion (or tuck) the ball close to the body to create a ball path that goes up and out. This creates a better arc which increases the chance of the ball going through the hoop!
These are just a few things that you can do. But I don't want this to turn into a shooting technique article.
Luckily for me, Kyle already was already a good shooter.
Kyle and his dad Greg spent countless hours in the gym refining his shooting technique.
If you want to check out Kyle's shooting, here is a video from high school of the Ray Allen Shooting Drill:
2 - Simplify & Focus On The Most Important Things Each Offseason
You also want to simplify what you practice. You can't become great at everything. And you can't do it in one offseason.
Michael Jordan, LeBron James, Kobe Bryant, and other great players are famous for picking one theme each offseason to improve.
And if you focus on the most important things, you can make great strides with some hard work, patience, and the right attitude.
After Kyle's freshman season, we just focused on:

Shooting off the catch.
Shooting off one dribble.
Attacking and finishing at the rim off one dribble from anywhere on the perimeter.
We even got to a point where he could get to the basket from half court with one dribble!
You can make this 75% of your workout almost every session. That's what we did.
Here is an example:

Corner To Wing Cut - Catch and Shoot
Corner To Wing Cut - 1 Dribble - Lay Up
Corner To Wing Cut - 1 Dribble - Jump Shot
For this, you should utilize Don Kelbick's Attack & Counter mentality, footwork, and counters.
Once you perfect this, you can add more to your game. After Kyle's sophomore season, we added more ball handling.
As an example, you could start shooting off of a dribble move and finishing at the rim off of a dribble move.
The workout is so simple -- but it's effective because you focus on the most important things...
You focus on shots that happen most often during the game.
And you focus on the shots that result in the highest shooting percentage... shots with 2 or less dribbles.
Check out these stats from the NBA!
Zero Dribbles - 105.7 Points Per Possession
One Dribble - 96.7 Points Per Possession
Two Dribbles - 102.6 Points Per Possession
Three+ Dribbles - 93.4 Points Per Possession
The less you dribble on your scoring moves, the more you score!
3 - Slowly Extend Your Shooting Range
You should be very patient with extending your shooting range.
If you only looked at Kyle's great 3-point shooting stats from college, you'd probably assume he was always a great 3-point shooter.
But as you saw, he shot only 5% on 3-point shots as a junior in high school!
In two offseasons, he went from consistently knocking down 17 foot jump shots to knocking down 27 foot jump shots!
In his senior season, he reaped the benefits. He shot 41% on 3-point shots!
So don't worry if you can't knock down 3-pointers. As long as you develop a sound shooting technique that is consistent and repeatable, your range will come with time and practice.
Plan according to where you want to be when you're a senior in high school!
Here's an example:
Offseason 1 - Good shooting technique up to 12 feet.
Offseason 2 - Extend range to 15 feet
Offseason 3 - Extend range to 18 feet
Offseason 4 - Extend range to 21 feet
Offseason 5 - Extend range to 24 feet
The biggest mistake I see people make is that they want everything next week. Then they give up and get frustrated because they don't get there. Well, nobody does! At times, you will even get worse at first. That's okay.
Like Steph Curry did in high school, he took all his shots inside the paint for a whole month.
4 - No Magic Pill. Only Hard Work!
You don't need to be an amazing prodigy or athlete. Kyle wasn't.
As a freshman, he played freshman basketball.
The next year, he jumped straight to varsity basketball which is unheard of at the "big schools" in the Kansas City area. I take 100% of the credit. Just kidding... I'm not that dumb.
As a sophomore and junior, he was a very good high school basketball player.
But even after having a good junior season, nobody expected him to be player of the year in Missouri.
But you can make great strides like Kyle by doing what he did!
You can go to the gym and work hard. You can bring it every single day! No excuses!
Each week and each month, you just focus on getting a little better. Like Kyle, this little bit adds up to A LOT for you over just a few years.
There is no secret formula!
How To Develop Into A Great Shooter, Create Elite Scoring Moves And Superior Confidence
For you, one of the first steps is to become a great shooter. That makes everything easier. That's why we have our shooting camps for you!
You learn the technique, the drills, the workouts, the mentality, and the routines necessary to become a great shooter. Attending the camp won't make you a great shooter. However, applying the knowledge and working your butt off will give you a chance!
Here are two action steps for you to get better...
1) Develop your shot at our Shooting Camp or Shooting & Ball Handling Camp. It doesn't matter which one as both spend a ton of time on developing your shot.
2) Develop your mentality and scoring moves at Don Kelbick's Attack & Counter Camps. You learn how to be fearless and develop a mentality that only the elite players possess. You learn how to beat defenders with your feet... even if you're not athletic!
At the camps, you learn how the most efficient shots in basketball. You learn what works, so you can practice what works!
What do you think? Let us know by leaving your comments, suggestions, and questions...
Comments
Most Likes First
Oldest First
Newest First
---
fx says:
6/1/2017 at 12:05:05 PM


i need to re-read this above. a lot of good info there. definitely cant do everything in one off season a lot of wisdom here.

one thing i wanted to clarify, what do you mean by 1 dribble from perimeter say from the corner to wing cut and a layup? Are you saying you practiced a hard dribble then just two big steps and then finished at the rim? Or are you saying perhaps one big dribble, then a dribble and a gather at the same time, then two big steps (like a "3 step harden"? Or something else.

Like
1 reply
---
Joe Haefner says:
6/1/2017 at 2:30:25 PM


At 0:38 is an example of a 1 dribble - lay up.

https://www.youtube.com/watch?v=qBZwV28Y41k

I think you understand it correctly. You only take one dribble to get to the basket and shoot a lay up.

On some different finishing moves, you may need an extra dribble to avoid traveling.

Like
---
---