Unique Way To Keep Players Head Up While Ball Handling
Over the past couple of years, I have used balloons with my youth players to assist with weak hand development and for keeping their eyes up on the dribble.
We incorporate them into ball handling drills similar to how many coaches use tennis balls. I have found that these drills are best done with youth players ranging from 3rd-6th grade. My youth players really enjoy the balloon series and I have found them effective for increasing floor vision and for weak hand development.

Instructions:
Level 1: Each player will have a balloon, basketball, and space to move. The goal for the players is to work on their pound dribbles while keeping the balloon in the air by tapping it up with the hand that is not dribbling. We will go for a certain amount of time with each hand and then switch our dribbles to the other hand. If the balloon hits the ground, the players can restart and try again.
Level 2: After players have mastered level 1, we would now have them do stationary crossovers or scissors dribbles while trying to keep the balloon in the air.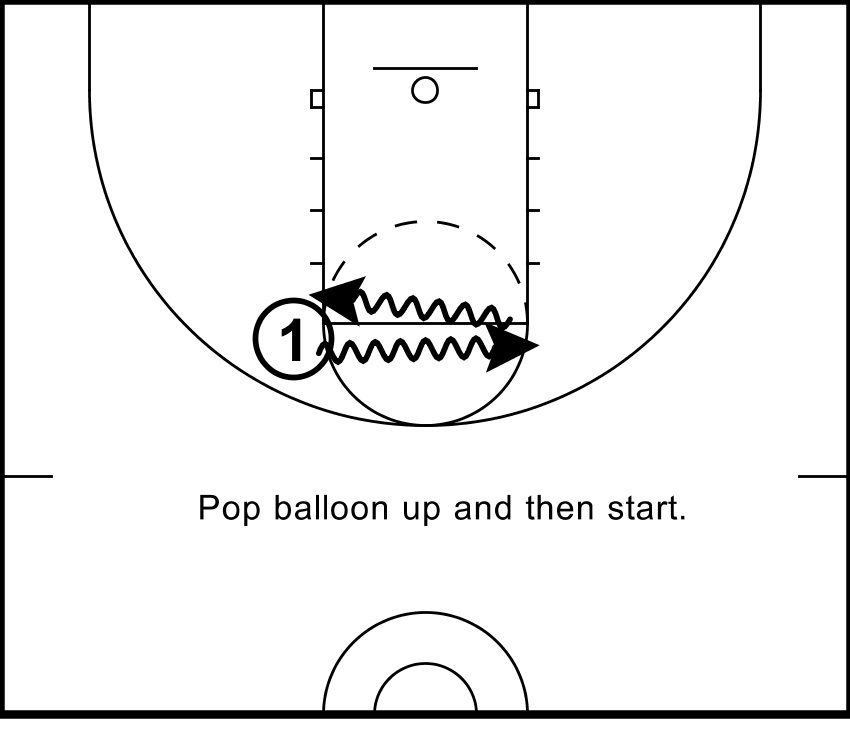 Level 3: Once players feel confident with level 2
we will challenge them with our circle sprint drill.
In this drill, players will be working on their speed dribble by popping the balloon up to start and then speed dribbling to the other side of the circle and back before the balloon hits the ground. Players will then pop the balloon up again and keep going.
Recommended DVD's & eBook:
The Attack & Counter Skill Development System
This eBook & DVD's will improve your shooting, ballhandling, footwork, perimeter moves, post moves, finishing, aggressiveness, quickness, confidence, mentality, and your all-around game! Designed by NBA skills coach Don Kelbick, this unique and comprehensive system is incredibly simple when compared to other skill development programs. Yet it works with NBA and pro players at the highest level... (more info)
What do you think? Let us know by leaving your comments, suggestions, and questions...
Comments
Most Likes First
Oldest First
Newest First
---
Ric says:
7/17/2017 at 6:58:38 AM


Great drill. Thank you for sharing this.

Like
---
Graham says:
6/25/2015 at 5:23:59 AM


Good drill have used tennis balls and held different colour bibs and cones up but balloon looks fun and another twist on getting the message across to the kids.. Don't look down!

Like
---
Lee says:
6/25/2015 at 2:08:26 AM


Great idea. I like it. I will use this drill in my next training, thanks!

Like
---
sujith croos says:
6/24/2015 at 5:06:30 PM


great I like it.

Like
---
Richard says:
6/24/2015 at 4:57:53 PM


This is a cool drill. I like the 3 phases of loading. I also use a bean bag to help with keeping athletes head up. I have them place a bean bag on their head and dribble right hand out and left hand back. Bean bag forces them to look up not down. Looking down has the bean bag fall. It also shows the kids how often they look down. I load the drill by having them dribble two balls (pound dribble and machine gun).

Like
---
Davd Jung says:
6/24/2015 at 2:53:25 PM


What an incredibly simple and effective way of teaching how to keep their head up. I've tried dribble googles, tossing a knotted towel/tennis ball, and "how many figures am I holding up"...but I think is brilliant. Super easy for encourage the kids to do this at home for homework. Thanks for sharing!

Like
---
Mike Colucci says:
6/24/2015 at 12:52:32 PM


Great drill and I will use it with my 6th grade girls team. I also went out and purchased inexpensive plastic sun glasses. I popped out the lens and covered the bottom half of the opening with tape. The girls wear the glasses when we do our dribbling drills. It is impossible to see the ball without dramatically dipping their chin to their chest, so the glasses encourage them to keep their heads up

Like
---
David says:
6/24/2015 at 12:37:07 PM


Great exercise all around. It is simple, affordable, and and it looks like a lot of fun. I will use it on my son and with our 6th grade team.



Like
---
Ejones says:
6/24/2015 at 10:38:56 AM


Great and affordable idea. Great job, guys! Glab I subscribed.

Like
---
Coach Brown says:
6/24/2015 at 9:51:27 AM


Great drill, never seen this before. Challenging but keeps it fun. Will try on 4th grade AAU team next practice.

Like
---
Show More
Coach Gresham says:
6/24/2015 at 8:38:22 AM


I''m going to use it this evening with my Daughter and my Boys!!!!

Like
---
Steve Zingsheim says:
6/24/2015 at 6:35:27 AM


What a great idea I have not seen before. It turns a stationary ball handling drill into a moving one with inconsistent movements, just like a game! I can see young players having fun while being challenged by it. Will try this with my 5th grade Stepson and future teams I coach!

Like
---
Ian Pool says:
6/24/2015 at 5:29:45 AM


This is something I have been looking for. An idea of how to get my young guys to stop looking at the ball the whole time. It is a quick, easy, effective way to get anyone of any age to do and I now need to go and buy a pack of balloons. It's that simple. Thanks guys. Another winner.

Like
---