Top 1 on 1
Drill Purpose
This drill adds a unique and
fun competition aspect
. The purpose of this drill is to improve one on one offense and reading the defender to make the appropriate move.
Drill Instructions and Diagrams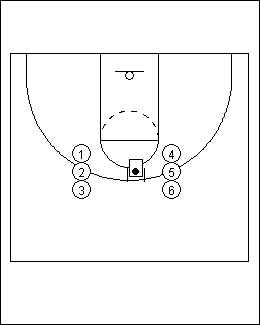 Players are in 2 lines, above the foul line, even with the lane lines.



Place a chair in the middle of the lane lines, above the foul line, with the seat facing the basket.



Place a ball on the chair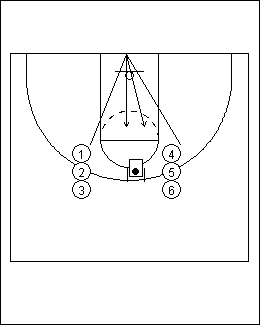 When the coach calls "Go," the first player in each line sprints and touches a spot on the baseline in the center of the lane.



Players then sprint back to the chair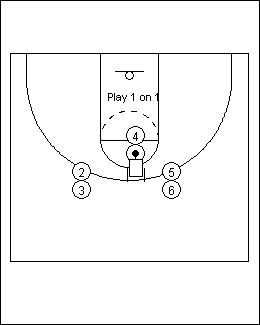 First player to the ball picks it up and is the offense. Other player is defense. Game is on!
Teaching Points.
Offensive player immediately faces the basket and thinks "Shot."
If the ball is dribbled reinforce "Lay-up"
Limit the number of dribbles. You should be able to score with 1 dribble.
** If you would like to see more fun drills, take a look at our
60 Fun Drills eBook
.

What do you think? Let us know by leaving your comments, suggestions, and questions...
Comments
Most Likes First
Oldest First
Newest First
---
Bailey wilkins says:
3/4/2015 at 9:19:53 PM


awseome drill good for basketballers

Like
---
Michael McDaniels says:
7/24/2014 at 5:25:28 PM


Awesome drill for any age group!

Like
---
Roman G says:
2/28/2012 at 3:57:40 PM


Good drill! Great for the kids!!

Like
---
Terry D. says:
11/23/2011 at 5:32:45 PM


I remember this drill from high school ball. love this one

Like
---
Coach Nate says:
7/19/2011 at 2:42:27 PM


This drill is great! It also teaches the players how to be "in control" when playing aggressively.

Like
---
ronny says:
11/8/2010 at 4:45:16 AM


great drill i tell belgium

Like
---
sonny L says:
8/25/2010 at 10:14:58 PM


real fun. sure youth players love it


Like
---
Jonathan says:
12/15/2009 at 3:30:38 AM


To prevent players from crashing into the chair do two things: 1) the first one to touch the ball has it, and 2) if the chair moves an inch both players run a lap. Tell your players its not just getting to the ball and playing offense or defense, it's about body control. The first time the drill was run, only one pair had to run after slightly knocking the chair. And my guys are competitive.

Like
---
coach Mike says:
11/19/2009 at 12:43:17 PM


easy solution to the danger....have the coach stand on the baseline between the 2 lines. coach toss the ball out past the 3 point line for the players to track down & play. coach can toss anywhere beyond the 3pt line to even things out if need be..

Like
---
Alton Sutton says:
5/12/2009 at 2:49:55 PM


I coach middle school girls. They love competitive drills. So, as I read this drill I decided to turn it into a competitive drill with points. The losing team has to run a ladder or some other conditioning drill.

Each item is worth 1 point:

Offense---make a basket-offensive rebound-get fouled

Defense---turnover-steal-deflection-no score-box out-takes charge

I put more ways to score on defense to emphasize to importance of defense and to emphasize the importance of the offense to take care of the basketball

Like
---
Show More
Olivia says:
4/22/2009 at 11:40:59 PM


Horrible! My player broke her leg on the chair!

Like
---
coach Ricky brown says:
2/7/2009 at 5:30:11 PM


that is a very good drill TRY IT NOWW..

Like
---
Joe Haefner says:
1/31/2009 at 9:43:50 AM


Hi Kevin,

That's an awesome variation and I have never thought to use that in this drill.

I actually use that drill separately without a ball. I call it "Get Up and Go." You use different start positions on back, on stomach, facing backwards, facing forwards, etc. They race to the half court line or free throw line from the baseline.

Now, I can take out two birds with one stone!

Like
---
Kevin says:
1/31/2009 at 6:42:49 AM


I use a similar drill; instead of the chair I have the kids start lying on their backs with their head on the block (feet toward baseline). Ball is placed at top of key, first one to the ball is offense and then they go 1 on 1. I try to match them up even but sometimes I have to place the ball a little closer to one of the girls to keep it even. I emphasize that the first one to the ball has to square up to the basket and get in to triple threat before driving and use a ball fake or jab step as first move. The kids love it and it combines several skills in one drill.

Like
---
kimcp says:
1/26/2009 at 11:47:14 AM


Very useful drill. I am going to teach it to my kids.
Thank you.

Like
---
Joe Haefner says:
1/25/2009 at 2:10:20 PM


Hi Coach Berry,

Notice, it does NOT say the first to grab the ball. It says the first one to the chair.

However, what you said is fine. Just don't allow any diving.

Like
---
Coach Berry says:
1/25/2009 at 5:22:16 AM


This is a great competition drill. I run it during tryouts WITHOUT a chair, simply placing the ball on the foul line to begin... the chair is an added opportunity for injury if two aggressive players are DIVING for the ball.

Like
1 reply
---
William says:
12/28/2018 at 10:32:26 PM


I totally agree about preventing injury!

Like
---
---
anthony says:
1/23/2009 at 3:20:26 PM


Super drill- I love it

Like
---
Nelson says:
1/23/2009 at 9:36:41 AM


Excelente, divertido ademas...gracias

Like
---
coach Negron says:
1/23/2009 at 4:42:41 AM


Good!!!! drill

Like
---
Alysia says:
12/9/2008 at 11:49:24 AM


Awesome drill! The girls loved it - didn't want to quit! It really brought out an appropriate level of aggression in them that I had been working for! Thanks!

Like
---
Rischardo says:
7/24/2008 at 12:04:18 AM


Good!! thanks

Like
---
coachj says:
7/12/2008 at 9:54:30 AM


excellent!

Like
---
Mudboyzbuc says:
6/16/2008 at 6:36:07 PM


Man thats smooth

Like
---
jaouad says:
5/22/2008 at 4:08:23 PM


good drill

Like
---
coach menchaca says:
5/10/2008 at 6:17:47 PM


very good drill

Like
---
COACH CLIFF says:
3/27/2008 at 11:53:28 PM


AWESOME GREAT DRILL

Like
---
boeshie hoshinburg says:
1/27/2008 at 1:48:25 PM


IT'S GREAT!!!!!!!!!!!!

Like
---
coach alain kanaan says:
11/13/2007 at 2:38:58 PM


gd drills
i put in my play book

Like
---
coach:Stratakos Ioannis says:
10/30/2007 at 12:10:43 PM


Very good drill.
I put in my playbook

Like
---
Coach Graham says:
10/30/2007 at 10:28:53 AM


Excellent drill.

Like
---
EMMANUEL OKOLO says:
10/30/2007 at 8:42:33 AM


good one!

Like
---