Ray Allen Shooting Drill
The Ray Allen shooting drill is a great drill that you can use for a shooting warm up or to end the workout in a fun, competitive manner. It can easily be adapted for beginners and pros. Check out the instructions, diagrams, and video below for more details.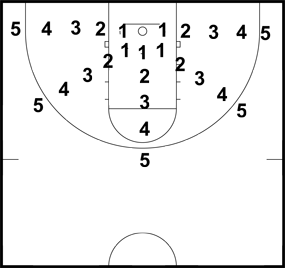 There are 5 lines. From each line, there are 5 spots. This is approximately the distance on each shot:
Spot 1 - 4 Feet
Spot 2 - 8 Feet
Spot 3 - 12 Feet
Spot 4 - 16 Feet
Spot 5 - 20 Feet
You have to make a shot from spot 1, 2, 3, 4, & 5 in 5 consecutive shots in order to advance to the next line.
If you miss from any of the spots, you start over in that line. If you miss a shot in line 3, you start over from line 3. You don't go back to line 1.
Your goal is to finish all 5 lines in 2 minutes.
Wanted to give a special thanks to Kyle Wolf who is the shooter in the video below. Kyle is a 6'6 forward at Rockhurst High School (Class of 2013) in Kansas City, Missouri.
Regressions and Progressions To Make The Drill Easier or Harder Based on Skill Level:
Move back a spot after each make - Rather than making 5 shots in a row, you allow the players to move back a spot after each make even if they miss in between.
Use 3 or 4 Spots - Instead of using 5 spots, you can make it a little bit easier by only making them go to spot 3 or 4.
6 Spots - For more advanced players, you can add an extra spot.
Kyle Korver Status - Make 25 shots in a row.
Related Articles and Products
Attack and Counter Shooting Workouts
4 Spot Fastbreak Shooting Drill
Basketball Shooting Drill Video - Wing to Wing
Baden 28.5" Shooting Basketball


What do you think? Let us know by leaving your comments, suggestions, and questions...
Comments
Most Likes First
Oldest First
Newest First
---
James says:
6/27/2012 at 11:59:33 AM


Being a 7th grade coach I like the tips. I will use after football ends and baketball starts.

Like
1 person liked this.
---
Joe Haefner says:
8/18/2014 at 5:26:19 PM


Brylle, this may sound simple, but if you want to get faster...Get stronger, work on technique, and run.

Dribble the ball and pound the ball to improve the speed of the dribble.

Like
1 person liked this.
---
Marlon says:
9/23/2012 at 9:13:51 PM


Fix the offhand and so not fluid.

Like
---
Daniel says:
9/26/2012 at 9:34:23 PM


Hi,
I am a 12 year old basketball fanatic and have seen some videos that are used to improve shooting. My problem for my shooting touch is my shot always drifts to the right side of the basket. Most of the time I have trouble hitting my threes, but my mid range game is unstoppable, what should I do to fix my shot from long distances?

Like
---
Ken says:
9/27/2012 at 8:43:37 AM


Hi Daniel -

Glad to hear that you love this great game.... you are saying that your shot is drifting to the right... we cant see your shot but it sounds like you are not holding your follow through. I'm sure that you have heard " put your hand in the cookie jar " well do that and HOLD your follow through until the ball goes in the basket.

If I were you, I would spend some time working on your form... shoot 25 shots against a wall concentrating on your follow through. You need to develop what we call MUSCLE MEMORY..... which will help your form to become automatic... you wont have to think about it. This is problem that you have to fix now before you move on, you are young enough to correct this with a little practice.

As for shooting 3s, it could be that right now a 3 ball is a little out of your range? Look at the video here and watch as you see the shooter step back after he makes a shot... If you miss, step back in a bit.

Play to your strengths right now and work on increasing your range every day. That doesn't mean that you shoot 15-16 footers well and then jump back to the arc. Work your way back a foot at a time. I know, every kid wants to shoot the 3 ball or dunk it but play YOUR game right now.

You are young and you WILL realize your dream IF you work at this.... 12 years old and a great mid range game, I believe you WILL achieve your goal. Good luck and let us know how this goes.

Like
1 reply
---
Tyler says:
2/9/2016 at 5:17:27 PM


Hi my name is Tyler i'm 10 I shoot 3's and shooting 50÷ from the 3 point line and the other half of the time I miss how to I constently make the shots

Like
---
---
Ken says:
9/27/2012 at 8:48:01 AM


Dan -

Here is something that I used with my players and what I have written to many other players on Breakthrough Basketball...

As I talk to a lot of players, they are looking to correct their shot, dribbling, passing etc. Mostly shooting..... there is no quick fix for this, you have probably been shooting that way for a long time and have created a bad habit and its in your muscle memory.

To correct this problem, it is going to take 100s of shots to create a new muscle memory - so the shot becomes automatic.

The first thing you have to do is correct your form... that can be done by shooting against a wall so you don't have to worry about making the shot... only using correct form -

Shoot 100s of shots a day until you have correct form. Then you can go to the basket and do what we called BEEF check going from Block to the Middle to the other Block.

Step 1 - We started this with the SHOOTING HAND ONLY.... maybe 12 shots in all.
Step 2 - Then you can bring your guide hand up but NOT on the ball and do the same thing. 12 more shots.
Step 3 - - 12 more shots with your guide hand in the proper position. ( your guide hand has nothing to do with the shot other than to keep the ball in the proper position on your shooting hand.)

The next thing to do would be to step back several feet... 6-7 feet? Now repeat Step 3, don't move any further back until you have mastered this distance. Once you are shooting with a good percentage, you can move further back. Don't move to the three point line if you are shooting 30 percent from 10 - 15 feet.

Don Kelbick says that a good shooting percentage is around 46% and in game situations that is good... in practice, from short range, I would like to see it a little higher.

From the free throw line... depending on your age and ability level, 60 to 80 percent is what I had my kids try to achieve. ( High School Varstiy Players )

To explain BEEF for those who haven't heard that term.
B - Balance ( staggered stance, one foot slightly in front of the other )
E - Elbow under the ball ( the elbow might be SLIGHTLY out )
E - Eye on the target (keep your eye on the target until the ball goes in)
F - Follow through..... ( keep your arm extended until the ball goes in)
I hope this helps.

Like
---
Daniel says:
9/29/2012 at 2:38:47 PM


Hey Ken
I have started doing this since you told me, my shot had been great. In 5 games I shot 89% free throw percentage and 65% from the field. Thanks!

Like
---
Ken says:
9/29/2012 at 4:19:33 PM


Hey Dan -

That is great! Keep up the good work. Those are some amazing numbers..... You ARE becoming almost AUTOMATIC...... I love to see guys that are willing to work at the game and then see some success.... but 12 years old with those numbers.... you could have played for me any time. :-)

Keep us informed as to your progress..... and, by the way, when you make it to the pros or some big time college program... I expect some good season tickets. LOL



Like
---
Daniel says:
9/29/2012 at 5:14:03 PM


~Ken
Haha thanks xD I'll keep working hard so I could get that far. I have another game in a couple hours for playoff seed in my league. I'll let you know the results as soon I get the chance too!

Like
---
Ken says:
9/29/2012 at 7:38:58 PM


Good luck Dan!

Like
---
Show More
Daniel says:
9/29/2012 at 11:44:09 PM


~Ken
Coach put me at point forward today since im 5'6. Probably the best game of my life as a point. 21 Point 56% fg percentage and didn't miss from the line. Broke this guys ankles twice as well.

Like
---
Ken says:
9/30/2012 at 2:38:17 PM


Great job Dan!!

5'6 @ 12 years old.... I just reached that as a senior in high school... I was 16 going into my senior year.

21 points.... 56% and AUTOMATIC from the line. Great game! Sounds like you are a great offensive player... ok, let me bring you back down to earth a little bit... How is your DEFENSIVE? :-)

With these stats and your size you definately could have played on my varsity team. Where do I send the bill for helping you with your shot? LOL

Keep up the good work and you will be a great high school player as well... after that, who knows. Let us know how things are going. I like to hear success stories.

I can show you a game where my point guard was like 5'5 and had a lot of game... a ton of courage, wasn't afraid to take it at anyone.

Like
---
Daniel says:
9/30/2012 at 5:49:06 PM


Hi Ken
I love to play defense in the post to either grab a lot of rebounds or to stop the penetration of most of the guards. Our coach focuses mainly on defense, so the defensive side was no problem for us. Would you mind posting a link here so I could see that video you mentioned?

Like
---
Ken says:
9/30/2012 at 6:15:46 PM


Dan -

Glad to hear that your coach emphasizes DEFENSE.... NOW you can play for me. :-)

Here is the link, that team was #8 in the State when we played them. They had a 6;11 kid who we pretty much took him out of his game. We are in the lighter uniforms..... I had a great game plan... its called " Make a lot of your threes and free throws. " LOL

We ran some different stuff but a lot of Open Post Offense. We were 8 for 9 from the arc in the 1st half - 9 for 10 overall, they took the 3 ball away from us in the second half, so we had a lot of back door stuff and a bunch of free throws.... 20 for 25 overall, most of them in the 4th quarter. This was back in the 90s when I was still coaching.

http://www.ihigh.com/osbornecardinals/video_886382.html




Like
---
Coach Ramirez says:
10/12/2012 at 6:46:31 PM


Hi from Mexico you guys,

Im a young coach 33 years old in Chihuahua Mexico. Im a big fan of this webside and I have practice a lot of these drills with my girls high school team. This is my channel on youtube so you can see many of the drill show here.

I hope you give me a comment there.

http://www.youtube.com/channel/UCVi37b381CrSJKd3cHrjyRQ?feature=guide

Like
---
Andrew says:
1/19/2013 at 6:21:13 PM


Hey, I'm about a 5'8 14 year old shooting guard or small forward in Australia, I play for the under 16 Sunshine Coast rip but I don't get much court time, I have changed my shot allot in the past year due to a growth spurt. I have stopped shooting from my chest and started shooting from my forehead but I don't have as much range as I would like, I feel if I improve my shot I can get more court time, and also I only haves about a 5 foot area from any angle of my hoop until I move to a house with a better driveway, any advice would be great

Cheers mate :)

Like
---
Kaj says:
1/31/2013 at 4:08:55 PM


Hello I've got couple question. (Im 17)

Just to make it quick and short. I played bball for nearly five years (first two years, bad couch n habits etc). I didn't play bball over summer about 2 months, then played two weeks and twisted my ankle (was off for another 3 months) Now im finally back at the league and started practicing month ago and now taking it seriously, trying to get better etc.

I got better at foul shots, but my mid range isn't really good, missed about mid/3 point 10 shots that i took altogether (was close though). Untill week ago friendly game, which I didnt make any mid range shots from the wing (only took about 2/3) but made about 3/4 jump shots off the free throw line. THEN I practiced my shots outside in the rain for like 1 and a half hour on monday and tuesday and on wednesday right before game i cudn't really make good shots, some of them were even air balls... but then somehow scored about 4/5 in a row (in practice). When the game come (15 min later) I didnt make any of my mid range shots or from the feee throw line and took about 4/5.

Question is, cud i actually got worse of shooting because i practiced in rain,? Or maybe im just expecting too much because i havent played for a while. My shot wernt bad, they were close but unfortunately not in. Well, some were air balls which i wa s dissapointed...

Is there also possible that i cud practiced it badly? (All i did was just shooting, 1 dribble pull-up, off the dribbl pass n shoot etc.

What would you reccomend me to work on to get better at shooting. Because i think i might be trying too much to learn, i do fade-aways, jumping to the side and shoot sometimes etc just to be ready when someone bumps into me and i can still make that shot but im not sure if it work that way... am really dissapointed about my shooting but maybe i just want to much to early, i dont know...

Sorry, i didnt make it short i know -.-... but i really need some advice please, at this stage i wont stop till i play how i wont to play (im really into it not)...

I appreciate your response, thank you.





Like
---
Ken says:
1/31/2013 at 8:04:44 PM


Kaj --

I think you need to reassess your shooting routine. Fade away shots, leaning to one side or another is not a good way to perfect your shot.
You should land in the same spot you take off from ( or a little bit forward )

I think that you should start over and rebuild your shot so that you can become comfortable with your form. You are right, if you practiced your shot wrong..... you have build bad habits which are hard to correct... something we call muscle memory. Here is something that I wrote for someone else, but it fits your problem.

As I talk to a lot of players, they are looking to correct their shot, dribbling, passing etc. Mostly shooting..... there is no quick fix for this, you have probably been shooting that way for a long time and have created a bad habit and its in your muscle memory.

To correct this problem, it is going to take 100s, no, more like 1,000s of shots to create a new muscle memory - so the shot becomes automatic.
The first thing you have to do is correct your form... that can be done by shooting against a wall so you don''t have to worry about making the shot... only using correct form - 100s of shots a day until you have correct form. Then you can go to the basket and do what we called BEEF check going from Block to the Middle to the other Block.

Step 1 - We started this with the SHOOTING HAND ONLY.... maybe 12 shots in all.
Step 2 - Then you can bring your guide hand up but NOT on the ball and do the same thing. 12 more shots.
Step 3 - - 12 more shots with your guide hand in the proper position. ( your guide hand has nothing to do with the shot other than to keep the ball in the proper position on your shooting hand.)
The next thing to do would be to step back several feet... 6-7 feet? Now repeat Step 3, don''t move any further back until you have mastered this distance. Once you are shooting with a good percentage, you can move further back. Don''t move to the three point line if you are shooting 30 percent from 10 - 15 feet.

Don Kelbick says that a good shooting percentage is around 46% and in game situations that is good... in practice, from short range, I would like to see it a little higher.

From the free throw line... depending on your age and ability level, 60 to 80 percent is what I had my kids try to achieve.

To explain BEEF for those who haven''t heard that term.
B - Balance ( staggered stance, one foot slightly in front of the other )
E - Elbow under the ball ( the elbow might be SLIGHTLY out )
E - Eye on the target (keep your eye on the target until the ball goes in)
F - Follow through..... ( keep your arm extended until the ball goes in)

I hope this helps.

Like
---
Frazer says:
4/17/2013 at 12:29:14 AM


Hi Ken,

My name is Frazer and I''''''''m 14 and I live in Australia!
I love basketball and one day want to move to America and play Ball there! the thing is I am really bad, like really bad at doing layups under pressure I worry about the man blocking me and therefore trying to draw the foul : I also can''''''''t make easy layups which is really frustrating. My shooting could definitely be better but I am a lockdown defender, great rebounder, amazing ballhandler but my offensive game needs ALOT of work! any tips?

P.S I love your website

Like
---
Ken Sartini says:
4/17/2013 at 11:59:05 AM


Hi Frazer -

So you live down under hey. I know that Australia is a big place, but have you heard of a coach - Tony Gall? He lives over there.... really smart guy & coach.

The first thing you have to do is change your attitude about YOURSELF. You are a young guy and you have plenty of time to get better at this great game. It takes a lot of work, practice and repetitions with those skills.

NEXT - stop worrying about someone blocking your shot, thats a recipe for failure - take the ball to the basket strong and concentrate on making the shot. 8 times out of ten shot blockers foul rather than make clean blocks.... so you go to the free throw line.... but don't worry if you don;'t get the call, your job is to try and score. By the way, you might think about the backboard / glass as being a dozen eggs... put it up softly so you don't break any.

As for your shooting.... go back and read some of my other posts.... that will give you some ideas as to form and what to work on.... remember, A LOT of repetitions..... 100s every day.....

Lets talk about a few other parts of your game, lockdown defender, great rebounder, amazing ball handler.... heck, you are way ahead of a lot of other players your age. I bet you start for the team you play on! You have already identified the areas you need work on.... so just get after, or as Nike says, JUST DO IT. :-)

By the way, thanks for the kudos regarding the website... but its not mine. Joe and Jeff Haefner own this site and YES, they do a great job. I hope I have given you some ideas and have helped you. GOOD LUCK

Like
---
Adam says:
5/20/2013 at 9:13:35 PM


Hi,

My name is Adam and I was just wondering how I could become a better jumper (not shooting) like hops. Im a PG and I do have quite decent hops, but I want to get better, and hopefully dunk soon. Im 14 years old. also anything I could do to work on my defence ??

Thanks ((:

Like
---
Ken Sartini says:
5/20/2013 at 9:47:35 PM


Adam -

Be patient, you are just starting to grow... you will get bigger and stronger.

As a coach, I could care less if my point guard could dunk, as long as he can handle the ball and get the offense started. Then lets add this, mid ranger jumpers and take the ball to the hole... NOW, IF you can hit the 3 ball.... you are on the right road. Of course, as the point guard you need to be able to shoot free throws in your sleep since you will be handling the ball a lot.

Defense is all about quickness and pride. Go to school on the guy you are covering, learn his strengths and take that away from him. make him play to his weakness.

Like
---
Peter says:
6/2/2013 at 7:08:47 PM


hi,

My name is Peter and i live in New Zealand where Bball isn't very popular, our season at high school hasn't started yet. My dream is to go to America to play Bball. I am about 5'8 a good rebounder. Great at driving to the rim and post moves Good Defense, ballhandling and great blocker (i guess thats because i'm playin against shorter guys). But i need help with my shooting it always hits the rim too hard and is the worst part of my game.
P.S i am confused about my position as well.
Thanks

Like
---
Ken Sartini says:
6/3/2013 at 11:56:26 AM


Hi Peter -

Take a look at this first....

http://www.breakthroughbasketball.com/pr/btshooting.html

It sounds like you could use a little help with your form? Shot too flat?

To correct this problem, it is going to take 100s, no, more like 1,000s of shots to create a new muscle memory - so the shot becomes automatic.

The first thing you have to do is correct your form... that can be done by shooting against a wall so you don''t have to worry about making the shot... only using correct form - 100s of shots a day until you have correct form. Then you can go to the basket and do what we called BEEF check going from Block to the Middle to the other Block.

Step 1 - We started this with the SHOOTING HAND ONLY.... maybe 12 shots in all.
Step 2 - Then you can bring your guide hand up but NOT on the ball and do the same thing. 12 more shots.
Step 3 - - 12 more shots with your guide hand in the proper position. ( your guide hand has nothing to do with the shot other than to keep the ball in the proper position on your shooting hand.)
The next thing to do would be to step back several feet... 6-7 feet? Now repeat Step 3, don''t move any further back until you have mastered this distance. Once you are shooting with a good percentage, you can move further back. Don''t move to the three point line if you are shooting 30 percent from 10 - 15 feet.

Don Kelbick says that a good shooting percentage is around 46% and in game situations that is good... in practice, from short range, I would like to see it a little higher.

From the free throw line... depending on your age and ability level, 60 to 80 percent is what I had my kids try to achieve.

To explain BEEF for those who haven''t heard that term.

B - Balance ( staggered stance, one foot slightly in front of the other )
E - Elbow under the ball ( the elbow might be SLIGHTLY out )
E - Eye on the target (keep your eye on the target until the ball goes in)
F - Follow through..... ( keep your arm extended until the ball goes in)

I hope this helps.

If you can explain about your shot being to HARD a little more, it might be easier to help you. Its hard to make a lot of suggestions when you cant see the shot.

As for your position... what do you mean?

Like
---
Peter says:
6/4/2013 at 12:26:53 AM


What i mean by position is PG SG SF PF and C. As for my jumpshot i might email you a video if thats ok thanks for the shooting guide as well.

Like
---
Ken Sartini says:
6/4/2013 at 8:42:20 AM


Peter -

As for your position - a lot of that depends on your skills and size..... at 5'8 you might be looking at a PG or SG, depending on your team and where the coach needs you.

Seeing your shot would help us a lot if you can send a link.

Like
---
Peter says:
6/9/2013 at 3:14:45 AM


sorry about not sending u a video of my jumpshot yet. There has been bad weather over here and i dont think u will see my normal shot if the balls wet.

Like
---
Ken Sartini says:
6/9/2013 at 3:48:47 PM


No problem Peter - Get it done when the weather is better.

Like
---
Matthew says:
6/13/2013 at 3:49:25 AM


hi
my name is matthew and i am 14 years of age and am only 5"3 and would like some tips to how to get shots over larger people because my friend Peter blocks me a little too often do you have any turn around fadeaway tips please?

Like
---
Ken Sartini says:
6/13/2013 at 8:01:41 AM


Hi Matt -

I know the feeling. Is this in games or 1 on 1 stuff?

First of all, don't force shots, make sure that you are open. SHOT BLOCKERS are vulnerable to a great shot fake, once you get them off their feet or even to lock up their knees, you can blow by them. IF your dribble is dead, then you cant do that .... so, catch, triple threat, nice shot fake and see how he reacts... or any defender for that matter.

Hesistation and / or crossover dribbles work well and once you get your lead foot along side of his outside foot, you have him beat.... take it to the hole.

Good luck and I hope this helps. Joe might have a few tips for you also.

Like
---
Peter says:
6/15/2013 at 4:44:20 AM


hi Ken sorry i still haven't sent u a video it still is wet. I see you have been talkin to Matthew (one of my mates.) There is a tournament this wednesay and one of my other friends said i should play center but i don't know i am the best rebounder but i prefer SF because i am good at attacking the rim with my lay ups i don't know. What should i do?
P.S could u reply ASAP

Like
---
Ken Sartini says:
6/15/2013 at 11:48:50 AM


Hi Peter -

I thought that Matt was refering to you You like blocking the little guys shot huh. LOL

I always tell players to play to their strengths,....While playing SF is your preference, would playing C be better for your team?

I don't know what your offense is, but, why cant you do a little of both? Every team needs a good rebounder and you can get a lot of points on put backs. Then you can always step out and utilize your other strengths.

As a coach, I wanted to build my team around a good PG, a C and then some shooters, oh yeah, don't forget a shut down defender.

Talk to your coach and ask him where you would help the team the most. Let me know how this goes an good luck Wednesday.



Like
---
Ken Sartini says:
6/15/2013 at 11:51:29 AM


By the way Matt.... I think that when you fade away on your shot, it makes it easier to block since they won't foul you, and two, it makes your shot flat.

Peter and Matt.... you guys are putting me in the middle of this huh! LOL

Good luck to you both.

Like
---
Matthew says:
6/16/2013 at 3:08:10 AM


who are you calling the little guy! nah thats okay LOL thanks for the tips i feel im improving so hopefully ill be getting round him soon thankyou

Like
---
Peter says:
6/16/2013 at 3:19:17 AM


Get round me!!! I DON'T THINK SO!!!!!!!

Like
---
Peter says:
6/16/2013 at 3:22:02 AM


Thank you for the help Ken

Like
---
Ken Sartini says:
6/16/2013 at 8:26:52 AM


Matt & Peter -

You two are funny....Its great that you are friends and have this competitive nature. You WILL make each other better.

Matt, I was 4'11 freshman @ 13 and when I graduated from high school, I was about 5'6 1/5 so dont worry about me calling you a little guy.... that was just me giving Peter some grief.

My players called me Sar or Coach Sar.... and one kid on another string ( we had gone back and forth for a long time ) said ... Now I know where the SAR in Sarcasm comes from... I thought that was pretty funny. AND, IF you played for me, you would know what I mean.

OK, so I am in the middle of the P / M Duel....LOL Keep working on your weaknesses, everybody has them. When you play against people, look for them and then attack them.

I don't want to hear that you two are fighting I will have to take a 18 hour plane flight to straighten you out. LOL HAVE FUN GUYS.

Like
---
Ken Sartini says:
6/16/2013 at 8:30:30 AM


Peter -

He could always "break your ankles" LOL

When you send that video with your shot... send a little 1 on 1 with you guys.

Like
---
Matthew says:
6/18/2013 at 2:22:39 AM


sounds good but Peter is honestly the better player but i have been practicing taking charges so hopefully ill get a few fouls out of him

Like
---
Peter says:
6/18/2013 at 4:38:41 AM


OK Ken we will play some 1 on 1 and i will send u a video. By the way hes a Lakers fan and i'm a CELTICS!!!!!!!!!!! fan. So we're competitive on the court and off. I don't think he will break my ankles but he is pretty good. U know that tournament i was talking about. It has been postponed because of flooding at the place it was going to be held. THANKS AGAIN

Like
---
Ken Sartini says:
6/18/2013 at 8:16:16 AM


Matt & Peter -

Lakers and Celtics??? OUCH!! I'm a Bulls fan so I wont hold that against you guys. :-)
Do you guys go to the same school?

Sorry to hear that the tourney was cancelled, be patient, they will reschedule I'm sure.

Like I said before, I love the way you guys are so competitive yet GOOD FRIENDS. You will make each other better players by your work ethic.

I will try to help you both if I can.....so my advice is meant to help you guys. Play to your strengths and look for the weaknesses of your opponent. Matt, I love your idea about taking charges... IF you can do that, you could have played for me any time. Taking charges and getting all the loose balls are what I call game changers.

Peter, you and Matt are young... keep working on your fundamentals, most of the time they WILL make the difference between being successful or not.

I hope you don;'t mind me answering your posts with one reply?? If that doesn't work out, let me know.

Like
---
Matthew says:
6/19/2013 at 11:58:02 PM


hey Ken
today at school we played some 5 on 5 at lunchtime in the school gym, i was playing a strong game, one minute i would be driving to the rim for cheeky layups and the next i would be sprinting down the court to play strong defence but i was getting overpowered by older bigger and stronger people who were putting 2 or 3 and maybe even 4 people on me at once to muscle the ball off me and at the rebounds i would get knocked over because they would jump at me and get over me, but on the plus side i was using my size to speed past them and fancy dribbling to get round them but they would just use their power to overwhelm me because seeing as it was a fun game the rules were a bit relaxed and my team was more of an opposition team than a defensive team so many times i found myself defending 2 on 1 or even 3 or 4 on 1, any tips on defending the big guys( and i mean bigger than Peter, maybe 6 foot) and any tips on getting blocked out by big guys that stop you from passing the ball?

Like
---
Ken Sartini says:
6/20/2013 at 8:41:45 AM


Hey Matt -

In pickup games there are no rules I take it. :-)

Its pretty hard to get around 2 guys let alone 3. If there is two.... step between them and then use your dribble... if your dribble is dead, then you might try stepping through them and pass the ball. Funny thing... I was helping this 7/8 grade coach and a kid - his name was Matty too..... they would double team him and he would make the pass between them... he is 5' tall

If you see a double team coming, dribble back to get yourself into a better position and then go forward. Make sense? Also, IF you see the double team coming, find the open man and make the pass. Stay away from the corners so you have more room to operate.

IF you are quicker than these guys, then use a hesitation crossover. Some big guys like to take advantage of the little guys... LOL Just kidding... :-) But until you get a little taller, you might as well get used to it and work on a way to avoid that situation.

As far as defending bigger guys, don't let them get to the spot where they can be more effective. If they are on the perimeter, look for their weaknesses and force them that way.... like to their weak hand. If they post you up, thats trouble, play a little physical... lean on them, OR spin around and dead front them... hands up high.... you can sit back on them a bit too if you know what I mean?

Sorry for rambling... but I hope I helped a little bit, IF I have confused you, let me know and I will try to clear it up. Hang in there buddy, I like your attitude about the game.

Like
---
Matthew says:
6/21/2013 at 2:26:28 AM


thanks Ken i'll take that into account and try and use it to my advantage, and on defence i have been playing a little rough like reaching in for the steal or blocking their shots before they even lift the ball that is why i was getting targeted because at the start i was dominating (modesty) them.
thanks for the tips
P.S. i am annoyed about Miami winning the NBA

Like
---
Ken Sartini says:
6/21/2013 at 7:43:12 AM


Your welcome Matt -

When you are playing, you (we) always have to look for an advantage, thats how you take some people out of their game.

Blocking their shots on the lift works for me, I taught that to some of my players vs some guys that either dipped before their shot or held the ball low in front of them - just put your hand in their chest, they will have to pivot to bring the ball up before they shoot, advantage YOU.

Be careful about reaching for the ball, usually guys will foul when they do that.... and when you reach your FEET STOP, not a good thing. Stay low and look for their crossover or when they put the ball right in front of themselves, then use and upward flicking motion, that way you shouldn't get called for a foul.

There is no MODESTY in your family is there, you have it all LOL It does sound like you have a lot of confidence and that is a good thing.

As for your PS...... I wanted to throw my remote at the tv in game 6, talk about blowing a game!! While LeBron is one of the best players in the game, he is the biggest whiner.... JMO And, he will NEVER be like Mike.



Like
---
Ken Sartini says:
6/21/2013 at 11:27:33 AM


Matt -

Here is a thought for you..... sounds like you love to play D, so thats a good thing.

One year I had a great PG.... and his back up was. well, way behind, except for playing D. So, I put them against each other every day... they made each other better. The 2nd kid was a soccer player and could go non stop... he was like 2 defenders.

So, play against Peter and try to make his life miserable, and you both will improve. Your D skills will get better as will his O skills. Now, when the situation is revesed, he WILL do the same to you and this is a good thing too.

Good luck

Like
---
Jeff Haefner says:
7/4/2013 at 9:28:52 AM


Ken, Peter, and Matt,

I moved your conversation here so you could continue:
http://www.breakthroughbasketball.com/forum/viewtopic.php?f=70&t=1214

Like
---
Josh Newberry says:
7/30/2013 at 12:44:46 AM


Hi, I was just wondering, because my ring is on a bit of a slope, and I want be a Klay Thompson Steph Curry shooter, and I have looked at your tips, and I practice a lot I focus on little things but I can't seem to get it right
:( any tips??

Like
---
Ken Sartini says:
7/30/2013 at 7:37:12 PM


Josh -

What is your shot like when you are playing at a rim that doesn't slope?

How is your form? Everything good there?
Can you explain what your shot looks like? Flat? Goes off to one side? etc. ??

Like
---
Josh Newberry says:
7/31/2013 at 1:11:41 AM


Hi,

well my driveway from the road side is like a hill but not hugely like a hill. As for my shot my elbow is in, my elbow is in line, I use my knees but I can't seem to shoot well, in other worlds it is inconsistent : sometimes it's like you said flat, but other times it is too short, too far, too low, too high.

Do you think I need to change my jumpshot?

thanks for your feedback (:

Like
---
Ken Sartini says:
7/31/2013 at 8:24:42 AM


Hang in there Josh -

I don't know how old you are but your shot will get better. With practice and A LOT of REPTITIONS you can correct it.

Take a look at this first....

http://www.breakthroughbasketball.com/pr/btshooting.html

It sounds like you could use a little help with your form?

To correct this problem, it is going to take 100s, no, more like 1,000s of shots to create a new muscle memory - so the shot becomes automatic.

The first thing you have to do is correct your form... that can be done by shooting against a wall so you don''t have to worry about making the shot... only using correct form - 100s of shots a day until you have correct form. Then you can go to the basket and do what we called BEEF check going from Block to the Middle to the other Block.

Step 1 - We started this with the SHOOTING HAND ONLY.... maybe 12 shots in all.
Step 2 - Then you can bring your guide hand up but NOT on the ball and do the same thing. 12 more shots.
Step 3 - - 12 more shots with your guide hand in the proper position. ( your guide hand has nothing to do with the shot other than to keep the ball in the proper position on your shooting hand.)
The next thing to do would be to step back several feet... 6-7 feet? Now repeat Step 3, don''t move any further back until you have mastered this distance. Once you are shooting with a good percentage, you can move further back. Don''t move to the three point line if you are shooting 30 percent from 10 - 15 feet.

Don Kelbick says that a good shooting percentage is around 46% and in game situations that is good... in practice, from short range, I would like to see it a little higher.

From the free throw line... depending on your age and ability level, 60 to 80 percent is what I had my kids try to achieve.

To explain BEEF for those who haven''t heard that term.

B - Balance ( staggered stance, one foot slightly in front of the other )
E - Elbow under the ball ( the elbow might be SLIGHTLY out )
E - Eye on the target (keep your eye on the target until the ball goes in)
F - Follow through..... ( keep your arm extended until the ball goes in)

As you are going into your shot, your elbow should be around your eye/ear area. IF you keep doing these steps, you should be able to correct your form and make it more consistent and that is the KEY to success.

One thing I told my players was to get to the free throw line when you are having problems with your shot... that is the only place during games that you can think a little bit about your form before you shoot.

I hope this helps.

Like
---
Josh Newberry says:
8/1/2013 at 12:44:22 AM


Thanks a lot!

I'll try these new things at home on a wall.

one more question...


I live in Australia, and we have a thing here in Perth called WABL, (West Australian Basketball League)
and in WABL I play PG, but im not sure how it is in the USA but here, it only shows how much points we score and nothing else (no assits, rebounds, steals, blocks etc) so the only way to get noticed is by scoring a lot, but I want to be a true point guard and get lots of assits aswell, I don't know what to do because I want to get noticed and go to America and play college there, so do you think I should play like a true PG or get noticed first. thanks oh btw Im 14

thanks (:

Like
---
Ken Sartini says:
8/1/2013 at 9:28:29 AM


Josh -

Take a look above our conversation with Peter and Matt. They are from New Zeland.... and you will see that everyone your age has the same concerns.

I know a coach over there, Tony Gall, he works with girls I believe.... good guy and a great coach. See if you can find someone there who would be willing to show you some things that you can do to improve your game. It always helps when someone is right there with you, :-)

Ok, I see your situation... IF you don't score they don't notice you?? Thats only one part of the game..... an important part mind you.... but just one.

Lets start with blocking shots.. I don't know how tall you are but point guards blocking shots is NOT on my most important list... in fact, its at the bottom.

IF you were playing for me (especially as a point guard)
1- I would want you to be able to handle pressure without turning the ball over (no one is perfect btw)
2- I would want you to be able to initiate the offense, get the ball to the open man.
3- Be able to take the ball to the basket, jump stop in the lane if you have to, dish it off to a big or kick it out to a 3 point shooter.
4- Have a great mid range jump shot... around 15-15 feet
5- Have ice water in your veins from the FT line. Shooting over 75% would be good, you will be handling the ball a lot and you will get fouled. 5- Having a good 3 point shot ..... maybe 40% (that might be a little high but I always wanted a lot from my players) :-)
6- Be willing to take charges
7- Every loose ball on the floor is yours.

***** This is very important .... be a captain... a leader mostly by example but be willing to talk to your teammates to encourage them.... like a COACH on the floor.

NOW, IF you can do all that... Duke will be calling you very soon. :-) I know that all the above is a lot to perfect / get better at. But, to me, thats a point guard.... not just someone who can shoot well.... thats more of a 2 guard.

I had one point guard who couldn't shoot a lick but he ran my team well and did most of the other things well.... and yes, he had two great shooters on each side of him so he didn't have to shoot it.

Be patient with yourself, work hard at the game..... make yourself bertter every time you practice or play. Don't worry too much about mistakes, everyone makes them. AND, IF you play like a true PG and can do most of the things I mentioned... you WILL get NOTICED.

I hope this has helped you... let me know how things are going and if you need something else. HAVE FUN JOSH

Like
---
Ken Sartini says:
8/1/2013 at 1:18:44 PM


I forgot one thing Josh,

Be able to play shut down defense on the other teams PG. Just in case there wasn't enough to think about in my previous post LOL

Like
---
Peter says:
8/20/2013 at 4:04:11 AM


Ken r u ok.

Like
---
Ken Sartini says:
8/21/2013 at 6:29:47 PM


Hi Peter -

I'm doing ok, thanks for asking.

I think they are finally going to start work on my house after 7+ weeks.

How are things going with you? How is your "game" coming along? When you make it to a D1 school I want you to send me a couple of courside tickets. :-)

Like
---
Danny says:
8/23/2013 at 8:10:24 AM


Hi ken

I am 16 .I am a knock down shooter a great defender,rebounder and passer but my dribbling is average I got good handles but a average crossover what could I do to get a better one.


Like
---
Ken Sartini says:
8/23/2013 at 9:36:29 AM


Hi Danny -

It sounds like you have a pretty good game... one good thing here, you have identified a weaknees, so, . as for the crossover.... A LOT of PRACTICE Let me do a little searching for a video that can help you..

Like
---
Ken Sartini says:
8/23/2013 at 9:46:44 AM


Ok Danny -

Take a look at these videos and let me know if they help you...... Good luck

http://www.breakthroughbasketball.com/blog/index.php/chris-paul-change-of-pace/

http://www.slamonline.com/online/nba/2009/12/decade%E2%80%99s-best-crossover/

Here is one that is pretty simple and should help your crossover.

http://www.youtube.com/watch?v=4ttqC_L9dZw

There are several other videos on the right side that you can look at also.

Like
---
Ashley Carr says:
11/6/2013 at 8:45:24 AM


Ken - I am Ashley and I have been practicing with the varsity team and still can't hit my threes. What could I do to improve my shot ? I'm 13 and 5'7

Like
---
Ken Sartini says:
11/6/2013 at 8:41:21 PM


Hi Ashley -

Let me ask you a few questions and then get back to me.

What do you think your range is? What % do you shoot from the FT line? From 15-18 foot range? (COMFORTABLY)

You might not be ready to shoot the 3 ball??? Be patient, you are young, your shot will get better and so will your range.

Start shooting from a range where you shoot well.... and then slowly work your way back a few feet at a time.

There is more to this game than the 3 ball..... look back at some of the posts I sent to Peter, Matt & Josh... there is a lot of information there. Then go to the top and you will see that I am on the same page as they are.

Good luck and let me know how things go.

Like
---
Ashley Carr says:
11/7/2013 at 8:40:44 AM


My range is 15-18 foot comfortable but I have a high arched shot so a can''t shoot far my percentage is probably like 75% last night at practice I made 7 out of 10 free throws comfortably.

Like
---
Ken Sartini says:
11/7/2013 at 7:28:04 PM


So, from 15 feet you are very comfortable and shooting percentage is great.

How about during shooting drills? Same distance, 15 - 18 feet? When you practice do it at game speed... I could probably still play a good game of horse LOL

Start in close 6-8' and work your way back so when you get to your maxium point right now it would be what %??

Work your way back slowly, don't need to be in a big hurry to be able to shoot the 3 ball, you have plenty of time to develop that.

How is your form? I told this to one kid " When you are releasing the ball, your elbow should be around your eye/ear. Where is yours?

Like
---
Sterling says:
6/28/2012 at 12:21:49 AM


Nice drill. Good for partner shooting and competitive. Like how shooter catches pass with knees bent, hands ready, and steps into each shot.

Like
---
Ken Sartini says:
11/8/2013 at 9:09:38 AM


Ashely -

Keep working on your defense, especially the m2m part. There is more to playing defense than just covering YOUR man... help D is very important along with stopping penetration.

From your explanation... I would say that you lack some body strength to shoot the 3 ball at this time. So stay with the range where you are comfortable and using good form... The last thing you want to do is to mess with that just to shoot the 3.

Are you a catch and 1 -2 step shooter? Meaning catch the ball, step into to it with your pivot foot and then plant the opposite foot and shoot? If you do that, when you plant that second foot, try exploding off of it. I hope I didn't confuse you.

Other than that... stay within your range for now, as you get older and stronger the 3 ball will come if you practice it. I'm thinking 15-17 feet tops?



Like
---
Ashley Carr says:
11/8/2013 at 11:13:18 AM


Yes I am a one two step shooter left then right calm and up . It works well. Thank you for all of your help :)

Like
---
Ken Sartini says:
11/8/2013 at 7:40:46 PM


Glad that I can be of some help. Try exploding off the last step... that should give you some more power.

Good luck. :-)



Like
---
Dennis says:
3/4/2014 at 2:59:05 PM


Hi. I''m from the Philippines and I''m 5''4. Very small for my age. By the way I''m already 24. LOL. I just started playing basketball seriously because of a tournament being held in our company. I''m not even sure about my position on the floor. PG, or SG, not SF because you would need to be taller. LOL. I can handle the ball well on my right hand but not on my left. It could be easily stolen since I dribble too high when I''m using my left hand. I can shoot from the perimeter but I get intimidated from the taller defenders and I''m afraid that my shot will get blocked even if I''m open from the strong side. I''m also afraid to drive the ball in with the anxiety of getting blocked. Any tips for me? You''re website is great. All your tips are very personalized. :)

Like
---
Ken Sartini says:
3/8/2014 at 12:26:55 PM


Dennis -

First of all this sounds like it is supposed to be a FUN thing.... so enjoy yourself while playing..... OK, I get it, no one wants to look bad, but it happens.

As for shooting, let the shot come to you, don't force things. Taking the ball to the basket... don't worry about getting your shot blocked... many times they end up fouling you and you will go to the free throw line.

It seems like you already know your weaknesses so take some time and work on them before the games... and like I said... go have some FUN!

Like
---
Zach says:
3/14/2014 at 7:16:43 PM


My problem with my shooting form is that when I shoot I tend push my chest out rather than having a straight back when I shoot. I just wanted to know how and why I do this when I shoot and what I can do to changed this.

Like
---
Ken Sartini says:
3/15/2014 at 1:28:45 PM


Zach -

I'm not sure about that.... but I am thinking FORM ??
I think you need to reassess your shooting routine.
You should land in the same spot you take off from ( or a little bit forward )

I think that you should start over and rebuild your shot so that you can become comfortable with your form. You are right, if you practiced your shot wrong..... you have build bad habits which are hard to correct... something we call muscle memory. Here is something that I wrote for someone else, but it fits your problem.

As I talk to a lot of players, they are looking to correct their shot, dribbling, passing etc. Mostly shooting..... there is no quick fix for this, you have probably been shooting that way for a long time and have created a bad habit and its in your muscle memory.

To correct this problem, it is going to take 100s, no, more like 1,000s of shots to create a new muscle memory - so the shot becomes automatic.
The first thing you have to do is correct your form... that can be done by shooting against a wall so you don''t have to worry about making the shot... only using correct form - 100s of shots a day until you have correct form. Then you can go to the basket and do what we called BEEF check going from Block to the Middle to the other Block.

Step 1 - We started this with the SHOOTING HAND ONLY.... maybe 12 shots in all.
Step 2 - Then you can bring your guide hand up but NOT on the ball and do the same thing. 12 more shots.
Step 3 - - 12 more shots with your guide hand in the proper position. ( your guide hand has nothing to do with the shot other than to keep the ball in the proper position on your shooting hand.)
The next thing to do would be to step back several feet... 6-7 feet? Now repeat Step 3, don''t move any further back until you have mastered this distance. Once you are shooting with a good percentage, you can move further back. Don''t move to the three point line if you are shooting 30 percent from 10 - 15 feet.

Don Kelbick says that a good shooting percentage is around 46% and in game situations that is good... in practice, from short range, I would like to see it a little higher.

From the free throw line... depending on your age and ability level, 60 to 80 percent is what I had my kids try to achieve.

To explain BEEF for those who haven''t heard that term.
B - Balance ( staggered stance, one foot slightly in front of the other )
E - Elbow under the ball ( the elbow might be SLIGHTLY out )
E - Eye on the target (keep your eye on the target until the ball goes in)
F - Follow through..... ( keep your arm extended until the ball goes in)

I hope this helps. Let me know




Like
---
Cathrine says:
7/24/2014 at 11:03:46 AM


Hi I need help on ball handling

Like
---
brylle says:
8/11/2014 at 10:19:11 AM


hi? I'm from the philippines.I'm 5'10 and i'm already 15,My problem is that I'm very slow when i'm penetrating the ball.And im slow in dribbling the ball too.Can you help me?

Like
---
Ashley Carr says:
11/8/2013 at 8:10:44 AM


Yes I'm very comfortable. And form is Great but I think I'm lacking muscle to. I find my self on long range shots kinda taking the ball from a triple threat and using my whole body not just my arms and legs:) In games I shoot well and my average game shots made is like 14 out of 20 shots. Not horrible but as post it all depends on who is playing D. I defiantly am way way better at playing a strong man to man or zoned defensive than I am at offense.

Like
---
Jonathan says:
10/25/2014 at 2:36:39 PM


hello everyone,

im Jonathan and i just turned 11. i know I'm not a coach, but i know any of you who can't dunk yet are all questioning ' how can I jump higher?' well, i had the same question cause all my friends were just swishing buckets over my head, and looked all over the place for tricks, and i'll sum it up in just a few simple tips:

1. jump off the balms of your feet, not your toes or heels
2. keep yourself vertical and upright on your jump
3. start the run in slow, then go faster and faster at a smooth pace. your last two steps should be the fastest and should have a powerful explosion. don't stutter your feet on the run in
4.keep your hip fim in its place. don't loosen it on the explosion

if you practice jumping like this and make it become something you will do automatically in your jump, you can CRITICALLY improve how high you can jump.

p.s. hey Ken Sartini way up there, I'm a HHHUUUUGGGEEE Bulls fan!!! So happy to see Rose back on the court. "too fast, too strong, too good!"

Like
---
Jonathan says:
11/1/2014 at 2:28:30 PM


hhmm.. dribbling? I've only been playing basketball for about a year, but kids already call me "the handler". Some of my friends ask me how to get handles like mine, so I told them the drills I use for ball handling:

1. ever heard of the spider drill? Dribble the ball between your legs as fast as you can until you mess up. don't worry, messing up is the only way you'll be able to get better at basketball.
2. wall drill: dribble back and forth between your hands as fast as you can, but meanwhile have your opposite hand touch the wall while your other hand was dribbled the ball. too complicated? no worries, theres many simpler drills out there.
3. spin the ball around your waist as fast as you can.
4.flick the ball back and forth between your hands while you are running

tips for when you are dribbling:
1. knees bent
2. head up
3.dont dribble any higher than your waist up.
4. BE A BEAST!!!

remember to warm up before actually scrimmaging. it will help a lot. also, don't be let down on the court. the state of mind will effect EVERYTHING in your game.


Like
---
Tyler says:
2/10/2016 at 4:58:15 PM


Hi ken im an unstoppable pg that shoots qlot of threes and keeps hitting off the rim and bouncing off.

ps can you respond ASAP

Like
---
Basketball kid says:
7/12/2016 at 11:54:57 AM


Do you have to do the five line five shot drill?

Like
1 reply
---
Jeff says:
7/12/2016 at 6:06:13 PM


No you could just do 2, 3, or 4 lines to save time. Use your imagination to adjust the drill to suit your needs.

Like
---
---
Shana says:
8/11/2016 at 2:41:34 PM


I am 16 yrs old and 75 kg. I love playing basketball but hesitate when my classmates are playing because I feel that this game is for those who are thin. I control myself from touching balls while playing with them and sometimes they don't pass the ball to me during the game. I bought a basketball to play in my house and try shooting against my wall as I cant have a basket there. Could you please recommend some tips for improving game knowledge by practicing myself so that I can gain confidence while playing with my friends?

Like
1 reply
---
Irish Baller says:
11/4/2017 at 10:20:13 AM


My friend is over 6 foot tall and has played for my country
Many people say to him y are you playing the game is for those who are skinny etc
But as for right this moment my friend is moving to America as he was scouted to play for 2 American teams and he is only 14. He is one of the best players I've ever seen play because he goes outside his house with no hoop and dribbles up and down his drive forwards and backwards trying out different skills to improve his confidence and also to improve his skill level. I have learnt so much from simply watching him practice outside his house. He showed me that you can work without a hoop and now everywhere I go if I've my basketball w me I take it out and start dribbling.

Like
---
---
Samuel says:
12/30/2016 at 10:59:10 PM


Hi ken I''''m 16 years old and I''''m getting better at shooting but sometimes my right hand changes and that''''''''s how I miss my shots can you tell me what can I do to fix that it would mean a lot

Like
---
Irish Baller says:
11/4/2017 at 10:12:13 AM


I'm almost 15 years old and have played for the capital etc before
This year I'm taking a step back from playing on teams other than my club itself as I play up in ages there and I am trying to focus this year on improving my shot and post plays
Going up through the ages we never went into shooting seriously (never taught how to shoot a 3 correctly and our bank shots were never a real focus)
At the moment I'm able to score at least 50% of my free throws and can score bank shots a lot of the time when I'm not under the basket as a post however my 3s do need quite a lot of work and I would like to be able to start shooting them in games
Any advice?

Like
---
The Answer says:
1/3/2020 at 12:43:12 PM


One of the best drills :)


Like
---
Jon Mehdi says:
1/6/2020 at 9:32:50 PM


Hello Im 14 and all the people on my team are atleast 5'10 but I'm down here 5'5 and I need to become a shooter so i can make some buckets in games.


Like
---
Janet says:
1/20/2022 at 1:52:51 PM


Hi, first off thank u for this site! I played in HS and learned a lot from these posts. My question is when is it going too far for one person or team to hit elbow, trip, tackle, or step on a player when down?
One girl broke her arm in 2 places after one of the players pushed her to the ground. These are 9-10 yr. Olds











Like
---