Site Search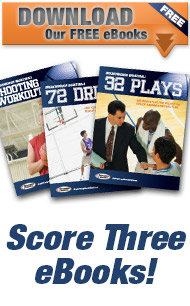 Q & A Forum
Experienced coaches are ready to answer your basketball questions! Visit our forum
FUN Basketball Drill: Pivot 21
Drill Purpose
This is a really fun drill that improves footwork, pivoting, ballhandling, and lay ups. It's fun because the drills acts as a game and it's fast paced. The players will really get into it! You can find more fun drills in our
60 Fun Drills eBook.
Instructions
The goal of the game is to make 21 lay ups before the other team.


You'll divide your players into two equal teams. Each team should get in their own line on either side of the basket.


You'll need two chairs positioned just past the three point line. Place a ball on both chairs.


You'll need two coaches or players to replace balls. Each coach should have a ball. So you'll have a total of four balls for this drill.






| | | |
| --- | --- | --- |
| On the coach's command, the first player in each line will sprint to the chair and pick up the ball. | | |
After picking up the ball, they should pivot, dribble to the basket, and shoot a lay up. (Even though it's a race, make sure they use good pivoting footwork and lay up form.)


The coach should replace the ball as it's removed from the chair.






The next player in line can start running to the chair as soon as the first player shoots their lay up.


After the player shoots the lay up, they get their own rebound and immediately pass the ball to their coach.






After passing the outlet to the coach, the player should get back in line and be ready to go again.

The goal is to make 21 baskets before the other team. Whoever reaches 21 first, wins! You can reward the winner with Gatorades or just about anything they will enjoy.

The drill can get chaotic at times, but it's fun!

When running this drill, you'll want to make sure the kids are using proper pivots and proper form shooting lay ups. They will want to go as fast as possible, but don't let them make bad pivots.

You should also specify which pivot they'll use for the drill. (Front pivot with left foot, back pivot with right foot, etc.)

And you'll want to make sure they dribble with the appropriate hand (use left hand of left side of the basket and vice versa).






Variations
If you're feeling brave, you can add a little twist and allow your players to start running as soon as the other player picks up the ball. This makes it even more fast paced (but a little more out of control).
Vary the pivots to work on different footwork (front pivots, back pivots, etc).
Move the chairs farther back so they have to run and dribble farther.
Points of Emphasis
Stay low when picking up the ball and make a nice pivot that squares your feet to the basket.
Make sure they shoot good lay ups, no outside shots.
Dribble with the correct hand.
Have fun!!
Do you have any questions or suggestions for this drill? Let us know by leaving your comments...
Comments
Most Likes First
Oldest First
Newest First
---
Juan Aguilar says:
12/20/2007 at 9:50:16 AM


Great drill, I'm always looking for fun drills that the kids will enjoy but also focus on the the fundamentals.

Juan Aguilar

Like
---
zdravko says:
12/20/2007 at 5:05:00 PM


this is just what i want-i work with kids 8,9,10 ears old,and they wont funy games if you have more from this kind of practise please send me,i need very much

Like
---
Brad Kotowich says:
12/22/2007 at 9:42:49 AM


This appears to be a great drill for all kids, but particularly those that are so hesitant to do a lay up in a game when they are rushed. Thanks for the tip.

Like
---
Steve says:
12/23/2007 at 4:16:05 PM


Good drill, I'm looking forward to see if the pivoting will help with some of the traveling calls.

Like
---
sheyanne says:
1/4/2008 at 6:21:47 PM


THIS IS HELP ME OUT SO GOOD I GLAD I SIGNED UP FOR THIS I AM GETTING VERY GOOD THANK YOU

Like
---
Eddie Kavar says:
1/6/2009 at 10:12:46 AM


What a great drill for teaching a number of fundamentals. My comments are recommendations, for adding two additional fundamentals.
Under step #5: (Grab the Ball)
I would change the verbage from ''pick up the ball'' to ''grab the ball'' off the chair. Reason--too many times in the game a player goes after a loose ball and tries to recover it by just by picking it up or even trying to advance it via a dribble without gaining possession. This usually results in a pinball machine type action where no one seems to have control. Teaching a player (at all times in their development) the importance of grabing the ball first, (a bear claw like grip) before trying to advance it, is teaching the player how to take care of the basketball.
Step #6 (Add Defender/Rebounder)
Once the players develop a comfort and skill level with the pivot (front and back), the coach could add a soft defender/ rebounder, who after rebounding would become the next shooter in the drill. When player 1 sprints to the chair, player 2 would follow and set up to play (soft) defense behind player 1 after he grabs the ball. That would require player 1 to pivot forward or backwards depending on which side player 2 set up on. Now player 1 is being taught to read/feel the defense before making his pivot.
Player 2 would follow the shot for the rebound and then throw an outlet pass to the coach. Player 2 would then sprint to the chair and Player 3 would follow and play (soft) defense/rebounder. The addition of this rebounder may provide control of the action during the drill.


Like
---
Bryon says:
1/7/2009 at 2:14:18 PM


sounds great, I'll use it next practice. I coach junior high and think I'll have players switch sides after each shot. Practice jerseys keep track of each team and at this age, huge advantage on strong hand side.

Like
---
Graciella says:
1/27/2009 at 8:12:46 AM


Thank you for all the fantastic information you provide! Like many, I am new to coaching basketball(12-13 yr old boys) and am appreciative of all the drills and information- the format and the way you present the material is clear for a "newbie' like me to comprehend.
I can't wait to use this Pivot drill today!

Like
---
Mike says:
2/10/2009 at 11:56:23 AM


yes this is a very good drill works on the drive footwork i will use it in my practice''s thanks

Like
---
vitalis says:
3/5/2009 at 5:18:19 AM


great drills, want to say thanks for helping me with the kids, used one of the offensive formations just last week, work magnificently.

Like
---
Joe Haefner says:
3/5/2009 at 10:52:17 AM


Hi Vitalis,

I noticed you mentioned something about offense. I would highly recommend you take a look at this article: http://www.breakthroughbasketball.com/blog/index.php/should-youth-coaches-avoid-plays-and-patterned-offenses

I also highly recommend the motion offense with any team that coaches young players. I truly believe that it helps teach them how to play the game and is the best for their development. Here's a link to that if you are interested: http://www.breakthroughbasketball.com/pr/motionoffense.html


Like
---
wilman daquiwag says:
5/4/2009 at 4:40:40 AM


congratulations on the fun drills. I believe alot of coaches are looking for this kind of fun drills. I worked with high school and kids from 9yrs to 12 yr old and i really have to come up with fun drills for them to enjoy while working on their fundamentals.

Like
---
coach julian says:
5/23/2009 at 4:29:57 AM


wow am waiting to go and try this one out at the court because my young players are used to my normal drills.thanks alot i have no regrets for signing up with you guys

Like
---
Curtis says:
6/12/2009 at 5:29:30 PM


You talk about dribbling with the correct hand as they head for the layup which makes sense, but wouldn't one team always be stuck with left handed layups and the other with right handed? For 8 year olds, this would put one team at a huge disadvantage. Any ideas on how to have every layup switch hands without creating criss-cross chaos? Or maybe just have them switch sides when one team gets to 10? (or is it just unreasonable to expect a right handed 8 year old to shoot a left handed layup?)

Like
---
Joe Haefner says:
6/13/2009 at 11:32:41 AM


Curtis,

Yes. Chaos it would be as it always is with 8 year olds. :)

You could also have them go 1 minute from each side or whatever time you deem suitable. That way, each team gets an equal amount on both sides.

Like
---
Leah says:
7/16/2009 at 3:11:30 PM


I coach high school girls and recently some of them have asked for some one on one work to improve their game. Any suggestions for individual drills I can do with them one on one rather than team drills?

Like
---
Joe Haefner says:
7/16/2009 at 6:21:30 PM


Hi Leah,

You can find individual and partner drills at this link:
http://www.breakthroughbasketball.com/drills/basketball-drills-players.html

We also have a 51 Player Development Drills & Sample Workouts product at this link:
http://www.breakthroughbasketball.com/pr/workouts.html

Like
---
Coach Mike says:
8/13/2009 at 11:28:42 AM


Hi Joe,

I wanted to thank you for developing this web site. I happened to be in the right place at the right time this past school year when the middle school girl's basketball team lost their coach. The season was looming and the school counselor and I volunteered to take over the team. Neither of us had ever coached a team before and we inherited a team that had never had a winning season in the 10 years of the league existence.

We found that the girls were raw and hungry for success. I started researching for ideas on how to help our team improve and become a team. I came across Breakthrough basketball and started using some of the drills to develop their shooting and basic defensive skills.

Our team finished the league in fourth place with a record of 6-4. The girls were beside themselves and I felt like a proud father. Our team went on to the playoffs and again finished fourth just missing out on a trophy.

We lost four 8Th graders last year three of which were starters. Our sixth and seventh graders were so eager to improve on their success that they asked us to keep practicing three times a week the rest of the school year. We also agreed to provide a free two-week summer camp to continue their learning.

Now, I must admit that I was skeptical that that many players would actually attend the summer camp so my co-coach and I agreed to allow the boy's team to attend the summer camp. To our amazement we are averaging 20 players a day and the energy level is out of the world!

So, I wanted to share our story with you and your subscribers. The drills and information that I have used to date have been instrumental in giving a raw team the tools to be successful!

Thank you!

Like
---
Ed Webster says:
11/25/2009 at 2:03:14 PM


Thanks, and the creative drills add to our practices...

Like
---
axel says:
11/30/2009 at 11:55:06 AM


Curtis,

In response to your question, which was also my same concern, I offer the following suggestion. To encourage left hand usage, but to keep it competitive, I would use a handicap system. I would spot the left-handed team with "X" number of baskets. I would use my discretion to determine the spread on the teams. I would also set the expectation that as the season progresses, the handicap would decrease. The goal then would be two fold. Win the exercise and get the handicap to zero!

Good Luck and Have Fun!


Like
---
Daren Carlson says:
1/26/2010 at 3:02:43 PM


I think you were you watching my last practice and game? This newsletter helps a lot. We had a case of dribble mania and attention @ practice was terrible. I think making practice more fun for these 8-10 year olds is the key.

Like
---
Joe Haefner says:
1/26/2010 at 5:30:25 PM


Thanks for the kind words, Daren. Glad to hear that we can help. I just posted this message on another page and I think it would be very helpful for you as well:

Since at this age level, they are still very much in the "guided discovery" learning stage which usually occurs between ages 6 to 10, I would make everything very "outcome-based" and focus very little on teaching them technique. For example, rather than saying dribble the ball exactly like this, say try to dribble the ball between the cones as fast as possible. This will help with their learning curve. Also, since very little will stick from a shooting technique standpoint, I would spend a lot of time on dribbling, passing, and lay ups. I would also spend a lot of time developing athletic skills. Play games like tag, dribble relays, obstacle courses, red-light yellow-light, hopscotch, and any other games you can think of. This article will explain it in more detail: http://www.breakthroughbasketball.com/blog/index.php/should-we-teach-basketball-skills-to-kids-under-the-age-of-10/

Here is a helpful article about keeping your players attention as well: http://www.breakthroughbasketball.com/blog/index.php/four-great-ways-to-keep-your-teams-attention/

We also have a ton of helpful information in our youth basketball coaching section: http://www.breakthroughbasketball.com/coaching/youthbasketball.html

Like
---
Catherine Alvey says:
2/4/2010 at 11:34:16 AM


I tried this drill with my 7/8 girls team, who still have difficulties making lay-ups. The girls had a lot of fun doing this drill, and I feel they successfully spent time working on lay-ups at a game speed! I will say it is difficult for them to remember to pivot/square up to the basket before going, so that's something to look out for!

Like
---
Qasim says:
7/27/2010 at 4:40:19 PM


This drill works great wit ages 3-8. I have not used it yet for older kids. But Im sure they will love it. Your site is awsome, thank you for making coaching more fun and exciting and challenging but teachable!

Like
---
Marcus says:
11/11/2010 at 11:39:59 AM


This is a great fast paced fun drill! My 6th graders love it.

Like
---
Donnell says:
2/8/2011 at 4:28:02 PM


Sounds like a great drill I will use this one today...

Like
---
Larry says:
10/26/2011 at 6:44:44 PM


I coach 10 year old girls and i think the pivot 21 drill is perfect for them. they will learn better pivoting and i think they would really enjoy it.

Like
---
Mike says:
12/9/2011 at 11:06:33 AM


I coach 5th/6th grade girls and this is without question their favorite drill. We play to 10, with the losing team running a sprint. They often times request this drill if we haven't done it.

Like
---
mwamba johnbosco says:
1/31/2012 at 10:47:48 AM


Am happy with the informative mails you are sending me. am a beginner coach in basketball and am feeling elated on your behalf.

could it be possible i get full videos of matches that i can use with my youth for coaching? I will appreciate very much. I am in Eastern Kenya.

Thank you very much.

Like
---
Coach T says:
1/31/2012 at 10:48:35 AM


Sounds great! I''ll try it out this afternoon.

Like
---
tridley says:
11/6/2012 at 3:32:58 PM


I would just use both ends of the court so it wouldn''t be so chaotic with middle school kids!

Like
---
dimeji says:
2/14/2013 at 6:05:14 AM


how do i teach my team how to read screens effectively?

Like
---
Ken says:
2/14/2013 at 10:01:47 AM


I don't know if this is what you are looking for, but take a look and let us know.... but one thing for sure, its all about repetitions.

http://www.mensbasketballhoopscoop.com/teaching-players-how-to-read-screens-a-set-of-screen-drills-by-jordan-graneto/

http://www.guidetocoachingbasketball.com/reading_basketball_defense.htm

Here is something from Hubie Brown.... I love the guy.... not sure if you are looking for this, it all depends on what age group you are working with.

I've coached this game for a long time but I would bet that he has forgotten more about the game than I will ever know. By the way, we taught head hunting also.

Like
---
alex says:
10/12/2013 at 8:37:46 PM


This drill is great for my son and his team mate in elem level I will run this drill their practice, thanks

Like
---
Denise says:
2/19/2014 at 4:19:51 PM


Love this drill.

Like
---