1 on 1 Drill To Improve Ball Security and Offensive Skills - "Pick & Play 1 On 1"
Drill Purpose
To work one-on-one, starting from a static position. This forces the offensive player to use their footwork to create space from a crowded position and protect the ball.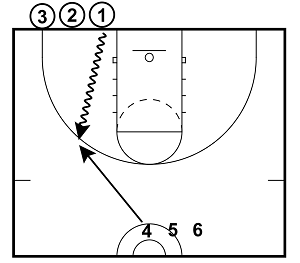 Instructions:
Make two lines of players: one at half court (attackers), the other one at the baseline (defenders). Defensive players have a ball.


Player 1 starts dribbling, stops just out of the three point line, puts the ball on the floor and gets in a defensive stance.


At the same time, player 4 runs to the same spot, picks up the ball and plays 1 on 1.


Both players can rebound a missed shot and shoot again to a score.


When a basket has been made or when a given number of shots have been taken, players switch lines and roles.
Teaching Tips:
The defender must negate open shots (including three pointers) and contest any drive to the basket.
The attacker has to create an advantage (using a shot fake or a drop step) to beat the defender.
Protect by ripping the ball high or low (keep the ball "out of the box" where the defender can reach it).
When a shot occurs, box out and fight for the rebound.
Use a proper defensive stance and footwork.
Coaches can apply their own defensive philosophy
Variations:
More competitive: when the attacker scores, the defensive player returns to the same line (no switch) and he'll play defensively again.
Limit the number of dribbles the attacker can use, or set a time limit.
Related Pages & Helpful Resources
High Five 1 on 1 Drill
Corner Finishing Drill
What do you think? Let us know by leaving your comments, suggestions, and questions...

Comments
Most Likes First
Oldest First
Newest First
---
Troy Patrick says:
1/22/2015 at 7:21:31 AM


Nice drill... sort of what we call dribble out... where you dribble to half court and a defender runs to defend the drive or shots..just another way to express defense n fundamentals of boxing out... short sets. . Lots of thing on both sides of the ball

Like
1 person liked this.
---
Cathy says:
1/22/2015 at 7:45:59 AM


Great drill! I do a similar one. The players lie on their stomachs on the side line facing the court. Half on each side. They each get a number. I call 2, sometimes 4, numbers and the girls with those numbers get on their feet and race to play 1 and 1, 2 on 2. I have been doing this since 1st grade. The girls are in 7th grade and they still love the drill!

Like
1 person liked this.
---
willard says:
1/22/2015 at 7:59:33 AM


Great drill

Like
---
Greg says:
1/22/2015 at 3:29:12 PM


Kinda confusing description/picture. Player 2 ? starts dribbling ???

There are other simpler ways to accomplish same. I would not encourage them to automatically start dribbling from pressure. I would let them go for a count of 4 before they can dribble

Pivoting strong, ripping hi and how, stepping through and creating space with your backside - with a swarming defender is a HUGE skill for beginners to master, and is often poorly taught or not taught at all.





Like
1 reply
---
Jeff Haefner says:
1/22/2015 at 9:39:34 PM


You're right -- the diagram had a mistake (the baseline players were labeled with the wrong numbers). The diagram is now fixed and should make more sense.

The purpose of the drill is to start from a static position with the defender crowding, requiring the offense to use their footwork and beat the defender.

Like
---
---
Robb says:
1/22/2015 at 6:28:20 PM


I also found it to be confusing, but I like the drills in the comments.

Like
1 reply
---
Jeff Haefner says:
1/22/2015 at 9:40:16 PM


Sorry. The diagram had a mistake. It's fixed now and should make more sense.

Like
---
---