Full Court Press Breaker Drill
Drill Purpose:
This full court drill is great for breaking pressure while working on skills such as ball handling, passing, and cutting. This drill overloads the court with defenders and makes the offensive players work twice as hard to break the pressure.
Instructions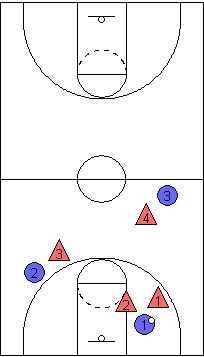 You can use different variations.

Here are a few examples:
- 3 on 2
- 4 on 3
- 7 on 5

In the diagram to the right, we use 4 defenders and 3 offensive players.


Have the offense take the ball out of bounds. From there, the offense tries to break the press and score.

If limited on time, we will have the offense start the drill over as soon as they pass half-court. You can vary the press between full-court denial, full-court, or 3/4 court (or anything else you think of) to adjust to the types of pressure you will face.
This is a very simple, yet extremely effective concept. Sometimes, when you face pressing teams, it can feel like 7 or 8 defenders are out there on the court. Why not practice like that? If your offense can successfully break pressure against 7 or 8 defenders, they should be able to break most pressure.
For a press breaker offense and strategy to avoid turnovers, you can reference
Universal Press Breaker Offense & Strategy

What do you think? Let us know by leaving your comments, suggestions, and questions...
Comments
Most Likes First
Oldest First
Newest First
---
Coach Rob says:
9/17/2013 at 2:20:44 AM


I've also used the drill consistently. If you make it harder in practice than it will be in a game, your players will be more prepared. This drill does just that.

Like
---
Coach B. says:
9/12/2013 at 8:24:15 AM


I've been using this drill for quite some time now (12-15 y/o). The good thing about it is that you can adapt it to make it useful for teaching different fundamentals. I.e. I often do not allow dribbles, since breaking the press should best be done via passing, IMO. If ball handling is the key element, I sometimes put 3-5 defenders with their hands behind their backs against one defensive player. Simply think about what you want to focus on and modify the settings!

Loving the site, btw.!

Best regards from Germany!

Like
---
Ken says:
1/17/2012 at 7:23:35 AM


Clint -

Your league needs to revisit their rules... pressing at this age is counter productive. It teaches them absolutely nothing.

Like you said - "The kids are hardly strong enough to make good passes more than 8 feet. Whoever is to receive the pass does not adequately seal or go to the pass very well even with repititive training. They lack the strength to stay tall and make a pass thru the contact."

With all that being said, why would anyone want to do that to kids that age when there is so much to teach them (fundamentals) let alone that it cant be a lot of FUN for them to turn the ball over all the time. Pressing at that age is all about winning and thats just wrong. JMO

Like
---
Clint says:
1/16/2012 at 11:18:13 PM


Breaking presses at a 9 y/o and younger is very tough. The kids are hardly strong enough to make good passes more than 8 feet. Whoever is to receive the pass does not adequately seal or go to the pass very well even with repititive training. They lack the strength to stay tall and make a pass thru the contact. As a coach you want them to pass, pass and pass. Break the zone the right way. It just doesn't happen very well come game time vs a slightly different press than you have seen or practiced against. Ultimately, the biggest problem with breaking a press is stopping or slowing the ball anywhere. It results in unmanageable double/triple teams. Young kids don't close out without control. Every trap is an uncalled foul. I suggest a system of your best ball handler getting the ball ASAP with any sort of continuous movement. Lateral or up the court towards at least 1 reliable screen. That can shed the M2M defender or at least the first layer of zone press. Note - usually at this age the first beat defender or defenders WILL catch back up to the dribbler and wolf or secondary trap the ball before the PG can dribble all the way to the basket on his own. Train you PG to use the screen, add a couple of "vision" dribbles to find a crosscourt or straight deep pass. The goal will be to either beat the press and make them pay or avoid an over dribble 1 man team caused turnover.

Like
---
Joe Haefner says:
12/2/2011 at 9:16:43 AM


Alex, here are some great articles on breaking pressure: http://www.breakthroughbasketball.com/offense/press-breaker.html

http://www.breakthroughbasketball.com/offense/breaking-pressure.html


Like
---
alex bridwell says:
12/1/2011 at 2:22:39 PM


Is there any specific formation you should put the offense in so they break the press quicker?

Like
---
Kumar says:
4/28/2010 at 10:04:44 AM


I need to explain full and half court trap defense to 9 year olds. Is there any help you can provide me?

Like
---
Terrell says:
3/14/2009 at 7:27:59 PM


Ive done this particular drill many - many times as I am a player. While it is very frustrating at times, it eventually allows you (most of the time the point guard) to develop multiple options; composure, alerness and experience while under pressure.

Very good drill - if you are new to the coaching of basketball players, this drill will increase the effectiveness and attentiveness of not only the point guard, but the entire team thus, increasing team chemistry which then result in increased wins.


- Terrell

Like
---
Henry Dunn says:
7/22/2008 at 10:35:59 AM


Very good drill.

Like
---