Finish Better Off The Fast Break And Improve Your
Athleticism With This Variation of A Popular Drill
This drill is from our Youth Basketball Camps with camp director Jim Huber.
It will improve your ability to finish at the basket. It simulates a fast break situation where you catch the pass and continue to dribble towards the basket for a lay up with a trailing defender.
It is also a great athletic development drill as it works on first step speed, acceleration, stopping, change of direction, and hand-eye coordination.
You have to explode out of the starting position to gain an advantage.
You have to accelerate quickly to the cone and then quickly again to the basket.
You have to stop and change directions quickly in order to beat the defense to the basket.
And you have to be able to quickly turn, locate the basketball, catch it in stride, and place the ball on the floor without traveling.
By doing all of these things well, that's how you succeed in the drill and in the game.
Not to mention, the defense has to adapt and get better at defending the situation.
Instructions: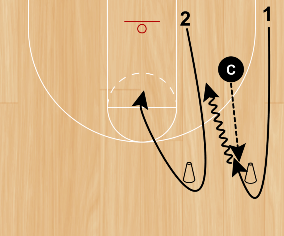 You need 3 people for this drill: passer, offense, and defense.
Passer stands on baseline. Offense and defense align behind different cones.
On command, offense and defense sprints around cones.
As soon as offense reaches the cone, passer throws the ball to offense. Offense tries to score. Defense tries to prevent score.
Variations:
Mix up passing angles – you can pass from different angles to simulate different fast break situations. Passer can stand at half court, 3-point line, or any other spot on the floor.
Add one more offensive player to make it 2 on 1. Limit to 1 or 2 passes.
Add one offensive player and one more defensive player – This will simulate different 2 on 2 fast break situations.
Move cones to different spots on the floor – This will have the offense and defense approach the basket from different angles.
Adjust distance of cones – You can do this to have the offense and defense arrive at different times which simulates more game-like situations.
Emphasis Points:
Finish through defense – When attacking the defense, your goal should be to finish through the defense. That way, if contact is created you are prepared. If the defense steps away, you don't lose balance.
Extend dribble – This will enable you to get to the basket quicker with fewer dribbles and beat the defense.
Put the ball on the floor immediately after the catch - Do this to practice proper fundamentals and avoid traveling calls.
Eyes on the target – When preparing to shoot the lay up, get your eyes on the target. This will help you subconsciously measure the distance to shoot.
If you would like to improve your game, you can check out our Breakthrough Youth Basketball Camps.
If you would like additional options for camps, you can view the entire Breakthrough Camp Schedule.
There you will find different basketball camps for youth and high school players. You will find camps that focus on shooting, guard play, post play, and other aspects.
What do you think? Let us know by leaving your comments, suggestions, and questions...
Comments
Most Likes First
Oldest First
Newest First
---
Spencer says:
4/9/2015 at 9:14:12 AM


Great video! Can't wait to see more!

Coach Spencer

Like
---
Tom Mason says:
9/15/2014 at 5:32:31 PM


I like this drill for emphasis catching on the move, lengthening the stride and dribble, and going through the defense.

Like
---