Power Dribble Into
This is a very versatile drill that allows you to work on positioning, footwork and shot making. Particular attention should be paid to body positioning and pivots. The body should be low and strong through the entire move. Pivots should be made in a direct line to the front of the rim.
Instructions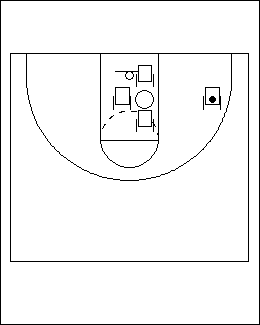 Place a chair on the right side, opposite the low - post position, about 4 feet outside the lane. Place a ball on the chair.

Place 2 chairs even with the center of the rim with enough room between them for the player to step through.

Place a 4th chair outside the two chairs in the lane, as to create a "shooting compartment."

Player starts in the middle of the lane.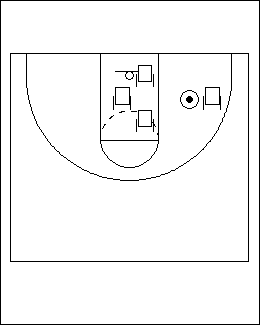 Player cuts to the low post chair, jump-stops and picks up the ball.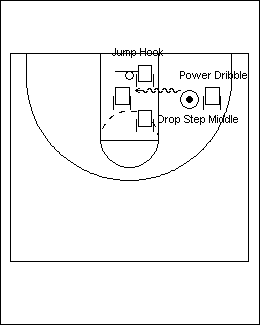 Player then executes a left foot pivot drop step (toward the middle) and power dribbles, long enough to get him between the chairs.

Player executes a left hand jump hook.
Replace ball on the chair and repeat.

Drill can be run on attempts, makes, or by time.
Other Shots in the Series
Left foot pivot drop step, power dribble, right foot front pivot, jumpshot
Left foot pivot drop step, power dribble, right foot front pivot, step through (counter).
Related Products & Articles
How To Develop High Scoring and Highly Skilled Post Players
More Basketball Post Player Drills
Drop Step - VIDEO

What do you think? Let us know by leaving your comments, suggestions, and questions...
Comments
Most Likes First
Oldest First
Newest First
---
Mike Terlizzi says:
11/13/2018 at 9:26:59 PM


Hi,

Love all the information. Was wondering if you had an effective pregame warmup drill that is fairly simple for a youth team, but effective.

Thanks!

Like
---
George says:
6/25/2014 at 7:04:16 PM


I think that you shouldnʻt need all this equipment to practice this drill. You simply need yourself and the ball to execute this.

Put the ball of the ground. Grab it. Make a giant drop step to get you to the low block and shoot the hook shot. Or better yet have somebody feed you the ball and then execute the rest of the drill.

Like
---
Jeff Haefner says:
4/9/2014 at 9:28:34 AM


Kyle - Here's an ebook about motion offense and some drills:
http://www.breakthroughbasketball.com/pr/motionoffense.html

Like
---
Kyle says:
4/9/2014 at 8:01:29 AM


This website is great, thank you for creating this. Do you have any books (particularly for team offense or drills)?

Like
---
Ken Sartini says:
3/18/2013 at 6:58:23 AM


Don -

I think you would have to ask your coach that.... I cant see any reason why a coach wouldn't allow that... but I'm sure he had his reasons.

There are a lot of things that players do today that they didn't do many years ago. I got my first head job in '84 and kids did a lot of things with the ball that would amaze some people.
Its all about the talent level.

Like
---
Don says:
3/18/2013 at 6:53:20 AM


In high school I was taught to never dribble the ball from one hand to the other and back to the other. Now I see players dribbling that way all of the time. Can you tell me why I was taught that way?

Like
---
Oz says:
8/10/2010 at 7:08:13 PM


Thanks!! Just got new job as assistant coaching high school girls and am in charge of post work. This is a great resource. The videos really help us see the specifics of the drills.

Like
---
sumi says:
9/10/2009 at 9:41:15 AM


Thankyou so much for giving me his information for my coursework as a performer!

Like
---
michael says:
8/17/2008 at 3:01:02 AM


i have a realativly inexperienced team do u have any NEW rockie shooting drills and dribbling drills that i can use

thank you
michael

Like
---