Basketball Charging Foul Drill #2
Drill Purpose (All Ages)
This is a great drill that will teach your kids how to take a charge under a game-like situation. This will force your player to hustle to stop the ball and get under control instantly, so he/she can take the charge.
Instructions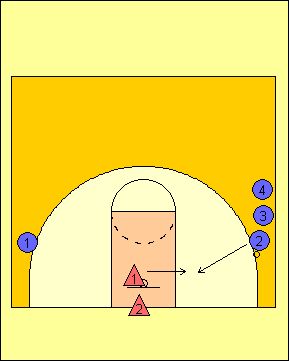 You will have a line of players on the wing.


The defensive player will be underneath the hoop. He'll pretend that he is guarding a player on the opposite wing. The defensive player should be in proper help side position. I prefer to have my player on the rim line in this situation. Others like their players with one foot in the lane.


The player with the ball on the wing (Player 2) will drive baseline. To make it more realistic, I also place a player on the opposite wing (Player 1).


The defensive player #1 should slide to stop the ball. He/she needs to be in good defensive position, so he can take the charge.


The offensive player bumps into the defensive player. The defensive player should let out a yell "Uh!!!" and fall under control backwards onto his/her butt.







Motivation / Teaching Tips
Tip #1
- If a player does not do this right, make him do it until he does. If he does not do it right, make sure to instruct him how to do it correctly. If the player does it again, but you do not tell him what he is doing wrong, he'll continually do it wrong and get discouraged.
Tip #2
- If a player does this drill correctly, you should make sure to applaud him/her. If a player takes a charge on his/her own during a scrimmage, stop the scrimmage and congratulate them. Other players will see this and want to do the same. If they take a charge during a game, make a point to mention it during the next practice. This will get your players in the right mind-set.
More Basketball Defense Drills
Basketball Defense Drills Page
eBook with 67 Basketball Defense Drills
Do you have any suggestions for this drill? Let us know by leaving your comments and questions...
Comments
Most Likes First
Oldest First
Newest First
---
James says:
11/20/2016 at 5:07:08 PM


This is a good drill esp for teams that don''''t take very many charges. We do a 3v3 shell where the players swing the ball several times to ensure the defense is jumping to help. After several passes the drill goes live and the offense tries to score driving the ball, no jump shots only layups. The defense only get a stop if they take a charge. Offense can Pick & Roll or drive to the basket if they''''ve beat their man. It emphasizes help defense and teaches them to take the charge to get out of the drill. The only player that gets out is the one who tool the charge. The guy who took the charge would step to off and a new defender would take his place. Drill is not completed until all players take a charge.

Like
---
Mike says:
12/1/2015 at 3:00:11 AM


As noted on another drill, there is a difference between selling and faking. I find that a lot of kids, especially younger ones, like in middle school, resist the contact. They fight going down or even making a natural sound when being hit.. That is where selling it comes in.

Like
---
Mike says:
1/5/2014 at 3:59:11 PM


This is a terrible drill. Teach your kids how to take a charge, but don''t teach them to try and win an Oscar. Shame!

Like
---
Rob says:
2/26/2013 at 8:00:52 PM


Tired of coaches teaching their kids to always be in the act of shooting? Start working this drill into your practices.

Like
---
Aaron says:
10/10/2012 at 5:00:00 PM


What tips do you give players on how to take contact so that they don't get injured? Bent knees, slide on the floor?


Like
---
Carlos Morales says:
12/2/2009 at 2:37:14 PM


The vocal aspect is one of the most important parts. So I definitely disagree with Steve and Brendan.

If a player drives and passes the ball the natural human instinct is going to cause most refs to follow the ball and he might miss the offensive foul. That is where the defensive player screaming leads to grabbing one of the officials attention and call the offensive foul.

As a player I took 4 charges per game in one season, and now as an AAU coach my team averaged 6 charges a game last season, many of which the "screaming" gave us the edge so definitely think it is important to let that ''UH!!!" out...

Like
---
Ken says:
9/28/2007 at 9:10:41 AM


The drill is a good way to teach kids how to do things correctly... and the kids making a noise to help sell it is fine... we had all the kids in practice say... "great call ref"... in games they did the same as you described here.

Like
---
Steve says:
3/16/2007 at 3:41:18 AM


Have use a similar drill for years and have found it the most important way of developing player confidence when taking charges. Also agree with Brendan there is no need for the vocalisation aspect.

Like
---
Brendan says:
3/14/2007 at 1:47:24 PM


The only issue I have coaching kids that will never make it anywhere in basketball is the word "selling" fouls. The message I am giving or so it seems is that you are taking a dive or making it worse than it seems because you don't trust the refs. There's enough diving in sports but I like the actual drills so thanks!

Like
---
paul says:
3/14/2007 at 11:27:20 AM


we have a similar drill where the players yell" charge " on contact

Like
---