Improve Your Transition Defense With The "Tear Butt" Drill
In this video from our Breakthrough Basketball Camps, Matt Keeley & Jim Huber demonstrates a great transition defense drill.
It is a great drill to teach your defense how to adapt, communicate, and transition in disadvantage situations.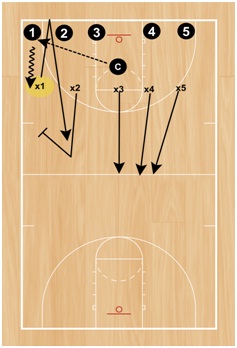 Instructions:
Line up your offense across the baseline.

Line up your defense across the free throw line directly in front of the offense.

Coach passes the ball to an offensive player and the offense immediately attacks.

The player in front of the offensive player sprints and touches the baseline before sprinting back on defense.
Encourage your players to communicate and stop the ball early.
Related Resources:
Jim Huber's Man To Man Defense
What do you think? Let us know by leaving your comments, suggestions, and questions...
Comments
Most Likes First
Oldest First
Newest First
---
Nat says:
8/25/2015 at 8:59:15 AM


Great little drill that I've run for years with boys and girls middle school teams. My high school coach taught the drill to me and called it "GET BACK". We'd run this drill 3-on-3 through 5-on-5 with a heavy emphasis on communication and sprinting back. I've even used this drill a small amount with my team sprinting back into a zone. Great drill and suggestion from breakthrough basketball.

Like
---
Keith says:
8/25/2015 at 8:53:58 AM


Thanks for sharing. We used to run this drill in practices. Really helped our defense, but our offense benefited as well.

Like
---