5 Tips for Better On-The-Ball Defense
Tip #1 - Never lose your balance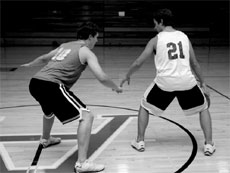 If you lose balance for one second, YOU ARE BEAT!
The purpose of every offensive move is to get YOU off balance - because as soon as you lose balance, the offense can blow by you.
This means when you're guarding the ball, you must:
Stay on your feet and do NOT go for shot fakes. When you go for fakes, you are beat!

Do not lunge for the ball and get off balance.

Stay in a WIDE stance. If your feet get too close together, you will lose balance.

Stay in a LOW and athletic stance. If you stand upright, you will more easily lose balance.

Take short steps when sliding. If your feet come too close together, you will lose balance.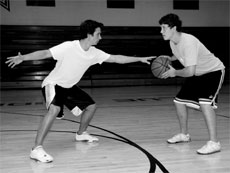 Tip # 2 - If the ball is below the mid-section, put your hand above the ball.
This prevents the offensive player from putting it in shooting position.
Tip #3 - If the ball is in shooting position, put your hand on the ball.
This will stop the player from shooting and you NEVER have to leave your feet (which causes you to lose balance).
Tip #4 - If the ball is above the head, place your hands under the ball and flip up.
This keeps you out of foul trouble (because most refs only call fouls if you swing downward) and it also keeps the player from bringing the ball down to shooting position.
Tip #5 - Keep your head lower than the offensive player's head.
That way you're getting underneath the offensive player and will be in good position to slide your feet or take a charge.
For more defense tips, check out our new basketball defensive system.
Related Resources:
The Ulimate Resource For Man To Man Defense - Videos and e-books
Why You Should Not Step Slide On Defense
Defensive Close Out Fundamentals -- 5 Keys to Better Close Outs
What do you think? Let us know by leaving your comments, suggestions, and questions...
Comments
Most Likes First
Oldest First
Newest First
---
Ejay says:
7/31/2018 at 8:15:27 AM


great! even I am smaller than my opponent, I could defend and have them difficulty to attack the rim. Thanks for the tips.

Like
1 reply
---
Bruh says:
3/31/2022 at 10:59:18 PM


Wow.

Like
---
---
akashi seijuro says:
7/11/2018 at 7:42:33 AM


Basic tips
Look up my name and see what I mean
Look up on YouTube
I have a special eye for this stuff

Like
---
No Name says:
6/14/2018 at 10:53:53 AM


Cool this will really help me

Like
---
Mr. Walker says:
5/7/2018 at 8:07:39 PM


This is why foot positioning, sliding, defensive stance is so important. If they want to dribble between your legs, let them. Just don''''t allow them to blow past you by having poor foot mechanics. If they want to pass between your legs, good for them. Plus, by playing lower than them you still have a good chance of stopping that pass. The ones getting balls passed between their legs are likely playing too tall.

Like
---
Grand_slammer08 says:
12/6/2017 at 10:28:30 PM


Where do i look when i defend. Do i look at the ball, the eyes....?

Like
1 reply
---
Jeff says:
12/7/2017 at 8:25:09 AM


When you're defending the ball the most common suggestion is to watch the chest/torso and stay between the player and the basket. They can fake with their feet, eyes, the ball, and their hands. But their hips/torso can't fake.

Like
---
---
Derick saka says:
4/21/2017 at 1:11:05 PM


how can I break through a tough defense zone

Like
---
sam says:
3/24/2017 at 9:58:13 AM


Great tips, great post. Thank you!

Like
---
iiiiiiiiiiiiiiiiiiiiiiiiiiiiiiiiisss says:
11/16/2016 at 7:54:08 AM


very helpful thaks you very much

Like
---
Deanna says:
9/27/2016 at 9:22:58 PM


this is good advice thx

Like
---
Mike says:
7/19/2016 at 10:10:05 AM


If the ball handler is tentative, get up close, low stance, feet wide, up on the front of your feet, arms out. If you''ve been beaten once (hopefully not twice), and they haven''t proven to hit the outside shot, then back off a step or two and give yourself some distance, anticipate the dribble move, again light and ready on the front of your feet, but ALWAYS watch the belly button of the ball handler. This prevents you from getting taken by head fakes, ball swipes, fancy dribbling, etc. The extra space helps you react to whichever direction they choose and allows you to make up the distance and still cut them off. Since we cannot read ball handler''s minds, look for tendencies (everybody has them). If he/she mostly goes right, cheat to the ball handler''s right side and force them left, or vise versa.

Like
---
Show More
Mike says:
7/19/2016 at 9:33:54 AM


"Take short steps when sliding". Then later under Resources: "Why You Should Not Step Slide On Defense". Which is it???

Like
1 reply
---
Joe Haefner says:
7/19/2016 at 11:04:58 AM


I hear you, Mike... haha. I definitely teach and have always taught to push off your back foot when sliding.

I do not believe in the "step-slide". This refers to stepping with your front foot, then sliding your back foot.

However, I believe confusion occurs because I've referred to a defensive slide and a step slide as two different things. With your comment, I'm going to be careful to say "slide" now as I believe it creates confusion.

Defensive shuffle or push-step from this day forward. :)

Thanks for the question!

Like
---
---
Prince henry says:
11/28/2015 at 4:49:53 PM


Am bless with your help

Like
---
Ibrahim says:
5/29/2015 at 7:48:13 AM


Splendid

Like
---
pallinzee says:
11/22/2014 at 9:18:15 PM


nicet tips loving them




Like
---
Joseph says:
11/6/2014 at 6:54:09 AM


I like these tips thank you

Like
---
Jorge says:
8/9/2014 at 7:58:21 AM


Bruh ion even need this help im already finna be a top 5 recruit fo my class

Like
---
Michael Miles says:
6/28/2014 at 3:15:56 PM


I also watch the body and not the ball. It prevents you from getting tricked on a crossover.

Like
---
Ken Sartini says:
6/16/2014 at 8:15:32 AM


Samy -

What exactly are you looking for? Is there a specific problem you need to deal with?

Like
---
Samy says:
6/15/2014 at 10:13:14 PM


These tips are good and helpful however I don't think I found what I Was looking for

Like
---
marcus says:
4/23/2014 at 10:10:21 PM


the only thing with a wide defensive stance and legs spread is that with a very experienced point guard/street baller, they might throw the ball between your legs. something I like to do a lot lol, it''s fun. just make sure you can get the ball after you do it.

Like
---
Ken Sartini says:
2/27/2014 at 7:52:15 PM


Quintin -

One of the things we taught our defenders was to direct them to an area on the floor where you want them to go without getting beat... for example... IF they are at the point.. try to take them to the sideline / free throw line extended. IF they are on the wing... try to take them to the short corner without getting beat on the baseline - so that would be a line from the wing to the short corner... KEY .... KEEP THEM OUT OF THE MIDDLE. I hope this helps.


We taught our players to watch the mid section.... that isn't going anywhere the ball isn't.

Pretty hard to fake with that too LOL

Typically the player with the ball will try to head fake, or fake with the ball to get you to move where they want you to go. Probably the most difficult move to defend is a good crossover...

IF you look at the TIPS above, they will help you to be a good defender.... especially tip #1

Tip #1 - Never lose your balance

If you lose balance for one second, YOU ARE BEAT!

The purpose of every offensive move is to get YOU off balance - because as soon as you lose balance, the offense can blow by you.

This means when you're guarding the ball, you must:

Stay on your feet and do NOT go for shot fakes. When you go for fakes, you are beat!

Do not lunge for the ball and get off balance.

Stay in a WIDE stance. If your feet get too close together, you will lose balance.

Stay in a LOW and athletic stance. If you stand upright, you will more easily lose balance.

Take short steps when sliding. If your feet come too close together, you will lose balance.


Avoid reaching.... any time you reach, your feet stop... and you are beat and will probably foul.

IN TODAYS GAME... with all the new TOUCH FOUL RULES.... this is even more important .... GREAT body position.. I hope this helps.



Like
---
Quintin says:
2/27/2014 at 3:25:47 PM


I am a good defender, but I am having trouble with reading the ball handler when he is on the drive. I look at the chest and waist and want to know what type of movement I am looking for to be aware of where the ball handler is driving to.

Like
---
Adah says:
2/27/2014 at 7:14:53 AM


Nice..i like the tips..they are so simple that am surprised i was missing out on being a better defender by doing it all wrong..thank you

Like
---
Ken Sartini says:
11/29/2013 at 12:01:33 PM


Michael -

We taught our players to watch the mid section.... that isn't going anywhere the ball isn't.

Pretty hard to fake with that too LOL

Typically the player with the ball will try to head fake, or fake with the ball to get you to move where they want you to go. Probably the most difficult move to defend is a good crossover...

IF you look at the TIPS above, they will help you to be a good defender.... especially tip #1

Tip #1 - Never lose your balance

If you lose balance for one second, YOU ARE BEAT!

The purpose of every offensive move is to get YOU off balance - because as soon as you lose balance, the offense can blow by you.

This means when you're guarding the ball, you must:

Stay on your feet and do NOT go for shot fakes. When you go for fakes, you are beat!

Do not lunge for the ball and get off balance.

Stay in a WIDE stance. If your feet get too close together, you will lose balance.

Stay in a LOW and athletic stance. If you stand upright, you will more easily lose balance.

Take short steps when sliding. If your feet come too close together, you will lose balance.


Avoid reaching.... any time you reach, your feet stop... and you are beat and will probably foul.

IN TODAYS GAME... with all the new TOUCH FOUL RULES.... this is even more important .... GREAT body position.. I hope this helps.



Like
---
michael says:
11/29/2013 at 11:52:00 AM


someone teach me when you defending the opponent you must take a look to their shoulder to avoid the defender fakes to the opponent movement!!! is that true??


Like
---
ting says:
11/25/2013 at 7:36:02 AM


I thought theses tips are really great, Thanks! :)

Like
---
Alison Marie Calloway says:
11/17/2013 at 4:31:06 PM


I coached basketball for 24 years at the middle and high school levels. I had to retire early, from teaching and coaching, due to health problems. I've been out of coaching for about 13 years and last year, I was asked to coach my niece's Upward Basketball team. My niece, Kathryn, is 8 years old, so I'm coaching in the 1st - 3rd grade girls division. Last year we didn't lose one game. I know that's not the focus of Upward, but it did feel good and I think the girls learned a lot about the game. Not only proper mechanics, but the "why's" of the mechanics. I hope the girls this year, will learn just as much. If it weren't for your website, I would have never know where to begin last year. It had been so long since I coached. All of your information on here can be used for any age group. I do have to modify some things, but the information is still very useful. I love these defensive skills information. Thank you for all of the information!

Like
---
Kevin Germany says:
4/21/2013 at 3:15:56 PM


All of these tips are excellent bits of advice for defenders. Here is another tip: ALWAYS look at the opponent's torso while playing on-ball defense. You cannot be faked out by an opponent's torso.

Like
---
Kevin Germany says:
4/21/2013 at 3:13:43 PM


Another tip I found useful is to always look at your opponent's stomach while he/she is dribbling. You will not be faked out by head fakes or stutter steps if you always look at the opponent's stomach.

Like
---
bob says:
3/7/2013 at 10:17:21 AM


i like people

Like
---
James says:
1/5/2013 at 11:14:02 AM


This sounds really good hopfully this will help me today for my game

Like
---
Jon says:
12/29/2012 at 10:57:08 PM


These tips are great. As a coach, I always thought that it was important to teach man to man defensive fundamentals before teaching zone defenses. When a team plays zone, as soon as an offensive man enters a players zone, it then becomes man to man within their zone.

Like
---
colon says:
11/30/2012 at 8:04:57 PM


this is so aesome i have a game today and this will help

Like
---
Joe Haefner says:
11/20/2012 at 9:12:41 AM


Great point, Danny.

I tell the players to sit their hips back. It has worked better for me than saying bend at the knees, because players can bend their knees and still be in awkward position. Imagine the knees going past the toes, the torso erect, and the shoulders being above the back of the heels.

Push or sit your hips back has really helped me with getting the players in a better defensive stance.

Like
---
Michael troy says:
11/20/2012 at 7:50:08 AM


This tips are the best. Now i can improve better on my play. Love u guys

Like
---
Danny says:
11/20/2012 at 6:29:50 AM


Good stuff. The only thing I would change is instead of head below head, I try and emphasize having our hips below their hips. Most of the time it doesn't matter, but a lot of players get low by bending at the waist instead of the knees.

Like
---
gabriel-uv says:
10/15/2012 at 1:21:22 AM


hello everyone,the tips is very helpful to my basketball
skill development it was amazing when the time i apply it and i really enjoy it coz i felt i'm important on the game most of the time. So now and then i've seeking and learning more on the tips of how to play more defense at hihg level.

tyvm & God bless!
cp3-phils.

Like
---
Ken says:
7/29/2012 at 5:09:03 PM


Howard -

I coached varsity boys basketball and taught m2m on/up the line and a 1-3-1 match up zone, so I think that you can teach both also.

We worked on our m2m the first week and on the first Saturday introduced the match up... this gave us another week to get most of it down.

David -

I would say, pick your poison... take away their best moves and let them beat you with their #2 move.

If you are playing a team game, deny them the ball or at least force them to receive the ball out of their comfort zone.

Good luck and enjoy the game.

Like
---
David says:
7/29/2012 at 4:04:28 PM


Hi all,

I found love of the game about a year ago and cannot stop playing. I'm too old to consider doing anything other than playing for fun or in rec leagues. Still, I've been reading your site and incorporating tips and drills into my game. In about 4 months of practicing twice a week and playing once a week I've gone from running into other players to getting respect from the top guys in my gym. Thanks for all the help.

My question is around guarding very talented shooters. What is the best way to guard shooters without fouling and without giving up an easy drive?

I play with two guys regularly. One can shoot with very little space and hit with my hands in his face. The other guy has no problem shooting off the dribble (spin move to step back 3 point shot anyone?).

If Im trying different things out (short steps on D, Battier's hands over the eyes move, etc) but still cant phase these guys. What do you suggest?

Like
---
karla says:
5/22/2012 at 4:59:01 AM


i love these tips! i play alot of basketball these days and i will try them out in the next game thanks(:

make sure to give yous the credits if it goes well:DD

Like
---
Joe Haefner says:
1/9/2012 at 10:12:16 PM


Good point, Greg. D-Wade used to do that all of the time as well.

However, they either did a rule change this season or placed an emphasis not to call those fouls in the NBA, so you probably won't see that foul call as much.

And like Ken said, those are NBA guys. Most people don't coach NBA guys. And if they do, they're probably not looking here...ha!

Like
---
Ken says:
1/9/2012 at 6:05:11 PM


Tip # 2 - If the ball is below the mid-section, put your hand above the ball.

This prevents the offensive player from putting it in shooting position.

This tip is designed to keep a shooter from going into his shot easily............ If you bring the ball up to shoot the defenders hand is right there... it forces you to drop step / bring the ball back a little bit before you can do anything. JMO

Were not talking about defending Pros here... heck, they can do almost anything they want to.
We taught this to our high school players with a lot of success.




Like
---
Greg says:
1/9/2012 at 5:09:32 PM


Tip 2 isn't going to work against a polished smart offensive player. They'll just seek out contact with your arm by rising for a shoot and get the foul called. Kevin Durant and Paul Pierce do it all the time.

Like
---
darashai jackson says:
9/20/2011 at 8:12:51 PM


thank 4 who ever made the tips bcuz i did not know y the ref kept on calling foul at my game and i did not know about the kept your head lower than the offensive players head

Like
---
Dan the Man says:
7/28/2011 at 1:57:50 PM


Learned something new even after 11 years of ball

Like
---
point guard dayton says:
7/22/2011 at 8:01:44 PM


this really works. five steals in one game

Like
---
Kevin says:
5/19/2011 at 11:48:10 AM


These simple tips make all the difference

Like
---
Abby says:
4/5/2011 at 7:23:21 PM


I love this stuff there is really great tips here that you don't hear all the time

Like
---
Joe Haefner says:
1/30/2011 at 10:27:59 AM


Howard, I would teach man principles to make sure they can guard. Then, I would implement the 1-3-1 if you feel that would work for you.

I think you can teach both.

Like
---
Howard says:
1/20/2011 at 2:56:50 PM


Hi,
In high school basketball, i am torn on what defense to teach. I know man is a good, solid selection that many coaches run, but i have purchased many dvds, supervised, and studied the 1-3-1 zone. I'm not sure I want to teach both . Also, i have read the article about being good at only a few things. Do you think I should teach this team 1-3-1 from the first day of pracice on? Or maybe stick with man?
Thanks so much!

Like
---
coach stew says:
4/7/2010 at 8:17:33 PM


Hi. in regards to hand positioning i prefer to teach players to have an armguard in the chest and free hand in front of the ball.
I teabh foot speed and using great body position to prevent the drive by. its been very successful in putting max ball pressure and forcing turnovers while preventing fouls from hacking and loose arms. hopes this helps.
coach Stew

Like
---
Tom says:
4/6/2010 at 1:11:10 AM


defensive players should watch their opponent''''s waist because no matter what the offensive player does with their feet, the ball, or head their waist will stay in the same spot. Where ever their waist goes you go

Like
---
Joe Haefner says:
12/9/2009 at 8:48:37 AM


Rhonda,

I would ask an official the next time you see them, because I'm not completely sure.

I've done this with success and rarely get called for it. I think if you have your hand there and the offensive player brings the ball up into your hand, the referee is less likely to call the foul because it looks like the offensive player is creating the contact.

It's imporant not to do a swatting motion. Otherwise, it looks like a foul even if it isn't and the call will most likely go against the defender.

Like
---
Rhonda says:
12/6/2009 at 8:08:27 PM


I like these defensive points very much. My only question is that when the ball is at the offensive players mid-section and they are in shooting position, when they go to shoot the ball, won't there be a foul called because you are breaking the plane? Thxs

Like
---
Calvin says:
11/12/2009 at 9:59:13 PM


Great tips!! This would not only help myself but my players as well. This will definitely upgrade defensive skills. Thanks!!

Like
---
Saphorine says:
11/7/2009 at 5:15:45 PM


wow that sounds like great techniques i''ll try it in the next game we have. thx


Like
---
tracie says:
11/7/2009 at 12:33:00 PM


hat was so cool what ou shod me

Like
---
G says:
10/23/2009 at 6:41:12 PM


Hey guys, tomorrow I have the special pleasure to guard a pro-baller, and the thing with the head belows the offensive players head is just great...it will be make sure, that my ass stays down in a good position!

Like
---
Matthew Wilson says:
9/24/2009 at 3:44:09 PM


I just thought I'd say these tips are great, I'm a big man and I always wondered why I have been getting beaten off the dribble, 1 is because I don't get low enough and 2 is because I don't have any balance! Thanks for this information, I'll use it when I got to my national tournament next week :)

Like
---
markeis says:
5/2/2009 at 8:08:05 AM


these are some good tips

Like
---
Patrick Mwihoreze says:
4/29/2009 at 5:31:26 AM


These tips are 4 any Basketball player who wants 2 upgrade his defensive skills

Like
---
bhagwan says:
2/12/2009 at 1:35:30 AM


this tips is good.... i think u all should do more tips...

Like
---
taylor says:
1/14/2009 at 6:34:01 PM


hi nick this relly gave some help because i play basketball and im the best defense player and i needed help and you relly me see ya

Like
---
Joe Haefner says:
12/4/2008 at 7:34:29 PM


Hi Nick, that certainly is a possiblity if you don't move your feet, but that's the same no matter how you position your hands.

Every coach has a different philosophy on this. The one you are probably referring to is when you stick your hands out the side, so you look as wide as possible and some coaches believe the offensive player is less-likely to penetrate because of this. Personally, I think there are many ways to teach an effective defense. It just depends on the coach's philosophy.

Like
---
Nick Giroux says:
12/4/2008 at 5:59:10 PM


for tip #2 that says if you have the ball in the shooters position you put your hands above the ball don't you think that they can blow right by you if your other hand is not is the defensive stance???

Like
---
bombay says:
11/28/2008 at 9:28:57 PM


maau pud...

Like
---
Grant says:
11/18/2008 at 4:38:35 PM


These are GREAT tips i will definatly share this with my team

Like
---
Rusty says:
9/25/2008 at 8:23:58 AM


im playing bball for my school right now and im starting because of my defence im not a good offence player but on defence last season i got 18 blocks 6 steals and i wasnt a starter eather but this year i am and these tips will help me

Like
---
ravi says:
5/7/2008 at 12:02:20 PM


nice tips, simple and easy to remember.

Like
---
brandon says:
4/12/2008 at 7:10:56 PM


The tips where graet I didinot no that mush.


Like
---
Rogina says:
3/15/2008 at 11:13:20 AM


these rules rock they helped me so when i played basketball against the french school so i rememberd these and i was the best defenser ever so we won thanks to all of u who did this website thanks we are the british school in yemen we won coz this websites rock THANK U THANK U

Like
---
Sara says:
3/6/2008 at 1:00:50 AM


this is great things,

Like
2 replies
---
daja says:
1/25/2015 at 8:48:32 PM


that is pretty good things i KNow


Like
---
daja says:
1/25/2015 at 8:48:40 PM


that is pretty good things i KNow


Like
1 reply
---
hi says:
2/22/2018 at 12:05:54 AM


you said this twice but you are correct

Like
---
---
---
Jason says:
3/5/2008 at 10:49:47 AM


Great stuff !! You really broke down the defensive part of man on man coverage for coaches and players alike. THANK YOU!!

Like
---
playerk says:
3/4/2008 at 6:41:54 PM


these are great tips. i no they really help me cuz that is exactly what our coach tells us to do, and it really works! the hand possitions are exelent!


Like
---
Jim Graff says:
11/27/2007 at 7:46:34 AM


I like the fact that you have pictures sometime that it is easier to understand something when you see it and players also.

Like
---
coach john ramirez says:
11/26/2007 at 1:04:27 AM


these great tips are very helpful. for young coaches i recommend you these tips, so we can develop better not just offensive players but defensive players as well.

Like
---
guard max says:
11/22/2007 at 2:07:08 PM


guys you know how to play a good defense. your tips are great!
thanks a lot

keep ballin'

Like
---
Coach Ruwe says:
11/22/2007 at 8:12:09 AM


Great stuff. Little things such as these tips have a BIG impact on the court. Coaching man-to-man defense is becoming a lost art. Props to this site for keeping things fresh and presenting practical, tactical tips.

- Coach Ruwe in the nasty 'nati

Like
---
Kenny Robinson says:
11/21/2007 at 3:50:36 PM


OMG!! I never really looked at defense from this angle. I love tips #2-5...it makes sense. I can't wait to use these tips in practice.

Like
---
Ava says:
11/21/2007 at 3:28:36 PM


Tip #1 is really good I have lost my balence the littlest bit and the girl reached in a got the ball, it happend more than once that game so we lost. :(

Like
---
RENEE says:
11/21/2007 at 11:08:20 AM


This is great stuff. Kids need to know the "whys" of a proper defensive stance and this breaks it down simple enough for a coach to share with team.

Like
1 reply
---
daddy says:
10/17/2018 at 1:41:37 PM


daddy

Like
---
---
William says:
11/21/2007 at 10:29:37 AM


These tips are great, it is amazing how your eyes can be opened to the simple things. In all of my years of playing basketball defense has never been broken down to me in that manner. I will definitely share this with my team

Like
1 reply
---
maxwell says:
6/22/2015 at 9:18:30 AM


can u show me hw to play

Like
1 reply
---
harveyhadtomashisfriend says:
11/16/2016 at 7:56:18 AM


harvey was left out oops


Like
---
---
---