3 Defense Rules to Reduce Three Point Shots & Lay Ups - And How To Force More Mid Range Jump Shots
Here are three defensive rules from Coach Rob Brost that reduce uncontested 3's and right-handed lay ups.
It also forces the opposition into the worst shot in basketball... The mid-range jump shot off the dribble.
If you can reduce good shots for your opponents and force them to take more bad shots… that's always a good thing!
As a result, Coach Brost's teams have made miraculous state tournament runs look routine. And it's been done in one of the most competitive areas in the world for high school basketball... Chicago, Illinois.
This has led to a tremendous amount of respect for Coach Brost from his peers. He is a 4x Illinois Coach of the Year and serves as a coach for USA Basketball.
Here's how Coach Brost dominates on the defensive end with his Man Left Defense.
1 - His teams allow all perimeter passes to the left side of the court.
Then once the ball is on the left side of the floor...
2 - They force the ball handler left toward the gray area.
The on-ball defender will position their body, so their top foot is above the offensive player's top foot.
3 - They deny all passing lanes back to the middle and to the right.
Here is a diagram depicting the position of the perimeter defense. x2 is forcing the ball (2) to the Gray Area. x1 immediately jumps out to deny the passing lane to 1. x3 has one eye on the paint and one eye closing out on the skip pass to 3.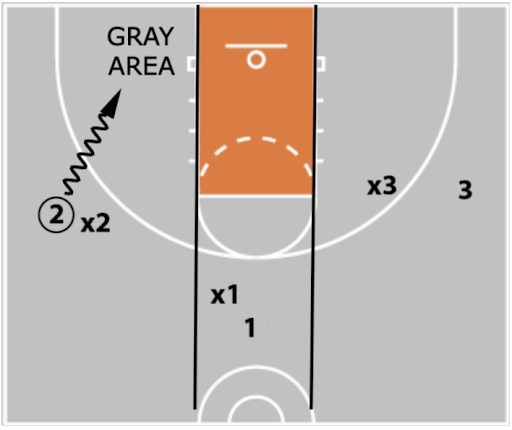 You are forcing them to the left and not allowing anything back!
While there are more rules, situations, and steps to making the Man Left Defense highly effective... Simply incorporating these rules, you will force the offense into more bad shots which gives yourself a better chance to win.
What do you think? Let us know by leaving your comments, suggestions, and questions...