Site Search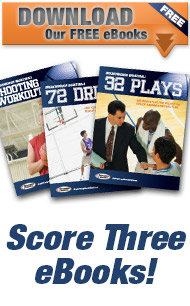 Free Newsletter
Get our free monthly newsletter with new drills, plays, scoring tips & coaching strategies... Signup for our newsletter
Q & A Forum
Experienced coaches are ready to answer your basketball questions! Visit our forum


Subscribe for FREE and Get 3 eBooks…
Just for subscribing to our free newsletter you'll get these 3 eBooks for free…
72 Basketball Drills & Coaching Tips – 136 page eBook.
21 Basketball Tips & Tricks for Players – 20 page eBook.
32 Winning Basketball Plays – 96 page eBook.
Plus you'll get ALL updates to this website delivered to your inbox for free. Over 100,000 other coaches, players, & parents have already subscribed.
We will never send you spam or share your email address, guaranteed!
Close
Managing Your Basketball Team and Program
Here are some articles on managing your basketball team...
Dealing with Parents - 19 Surefire Strategies to Avoid Problems
How Do You Deal With An Assistant Coach Who Oversteps Their Bounds?
How To Prepare Offseason Coaching Meetings
Fundraising Ideas
10 Tips To Build and Nurture Your Feeder Systems and Youth Basketball Programs
Basketball Statistics - Using Stats for Better Coaching & Player Development