Site Search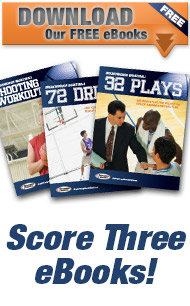 Free Newsletter
Get our free monthly newsletter with new drills, plays, scoring tips & coaching strategies... Signup for our newsletter
Q & A Forum
Experienced coaches are ready to answer your basketball questions! Visit our forum


Subscribe for FREE and Get 3 eBooks…
Just for subscribing to our free newsletter you'll get these 3 eBooks for free…
72 Basketball Drills & Coaching Tips – 136 page eBook.
21 Basketball Tips & Tricks for Players – 20 page eBook.
32 Winning Basketball Plays – 96 page eBook.
Plus you'll get ALL updates to this website delivered to your inbox for free. Over 100,000 other coaches, players, & parents have already subscribed.
We will never send you spam or share your email address, guaranteed!
Close
Handling Basketball Practices
Here are some articles on handling practices...
Simple Tricks to Optimize Basketball Practice Time and Get More Done
Coaching Youth Basketball with Limited Time (1 Practice a Week)
Try Out Drills
Tips For Running Drills Effectively
Time Management Tips
Establishing Discipline
Build a Master Practice Schedule
Creating Practice Plans
Simple Practice Tips To Control Tempo and Get Quality Shots
Practice Does Not Make You Better. Practicing The Right Thing Does.
3 Tips On How To Choose the Righ Basketball Drills for Your Team
Should You Remove Competition When Teaching
Do You Run "Situations" as Part of Your Daily Practice Plan?
10 Golden Rules You Should Apply to Your Basketball Drills