Why You Should NOT Set Goals and What Really Drives Winning - a Great Video to Share at Preseason Meetings
Check out this great video by Brett Ledbetter. You will learn what some of the best basketball coaches believe drives winning. It may surprise you.
This includes coaches like Brad Stevens, Muffet McGraw, the late Don Meyer, Coach K, Bill Self, Sherri Coale, Jim Boeheim, Billy Donovan, Tom Izzo, and many more great coaches.
We believe this is a great video to share with parents at preseason meetings or even during the season.
As Brett says in the video, process drives the result. And character drives the process. So character drives the results.
Or in other words, character drives winning. Of course, this is in addition to talent.
Here are the character skills mentioned: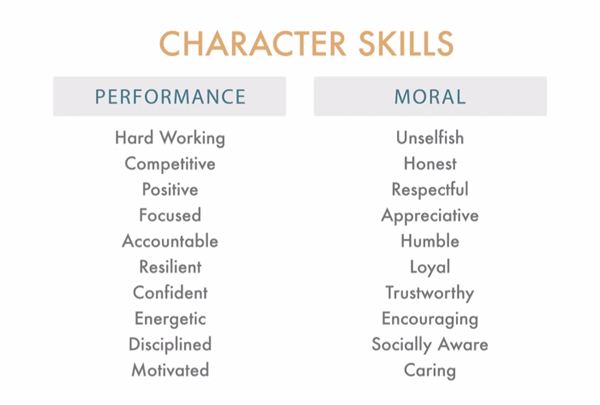 Performance: Hard working, competitive, positive, focused, accountable, resilient, confident, energetic, disciplined, motivated.
Moral: Unselfish, honest, respectful, appreciative, humble, loyal, trustworthy, encouraging, socially aware, caring.
How We Accidentally Learned This In 2009 From Another 1,000 Win Coach!
Coach Dan Miles of Oregon Tech has won 1,040 games and 3 national championships at the college level. Coach Miles is currently 4th on the all-time wins list for all divisions in menís college basketball.
However, Coach Miles hasnít always had this type of success.
Coach Miles told us in an interview that he made a conscious decision to change his recruiting approach. He stopped taking chances on highly talented kids with questionable character. Instead, he started recruiting high-character kids from winning programs.
Prior to this change, Coach Miles had success. He won 65% of his games.
However, ever since he made this change, his program took a big leap into becoming a national power at the NAIA level over the last two decades.
Since Coach Miles made this change, he has won nearly 80% of his games and won 3 national championships.
The crazy thing is that Coach Miles does this while at a disadvantage to his competition! He does not have as many scholarships as other colleges to offer. He only gets four scholarships while his competition gets six scholarships.
Anybody who has coached at the college level knows how big of a difference this can make.
Well, we hope this video helps you focus on the right things to take your program to the next level.
And more importantly, we hope it helps you develop the character traits that will produce great human beings that make a positive impact in this world.
Please leave your comments, suggestions, and questions below...

Comments
Most Likes First
Oldest First
Newest First
---
Toulousse says:
10/13/2015 at 5:04:33 PM


I stumbled upon Brett's original video a long time ago (https://www.youtube.com/watch?v=q7a5TIzOmeQ) it is a much longer version than the one presented here. It is also TED talk and it is also "rivetting".

I've been telling everyone I can about these videos ever since. As coaches we are often guilty of overlooking the mental side of the game, it can be daunting. He breaks it down brilliantly.



Like
---
Danno says:
10/13/2015 at 9:52:58 AM


After 25 years teaching and coaching, I can relate to the difficulties and challenges of character development and trying to teach positive morals. For a lot of kids, WE are their "family" and we are their "parents".
I can also testify that many kids won't respond right away to us, and we might never see results. We plant a seed that could grow later though.
There might be a life-changing event later on in their lives when they remember what we tried to teach. Keep plugging away!

Like
---
Billy says:
10/13/2015 at 9:40:32 AM


I would still comment, as a coach performance skills can be encouraged and possibly developed through process. Moral skills, well I try to instill that everyday as a parent, but as a coach not sure if it is possible in the majority of kids.

So many kids through our program are so set in their ways, and support each other in these flaws. I have found the "Coach Carter" doesn't happen in one season. It has to be a process that grows from your youth programs. It is sad, but there is only limited success that you can gain from older boys in the high school setting. There may be some players that respond and "get it", but to get enough to fill a team is almost impossible. Especially in a small school where 10 players on a varsity team is the entire team.

I would also like to say, that moral traits should be taught and reinforced at home. When a coach tries to teach a moral lesson by disciplining for negative moral action and a parent takes that discipline up with school administration, where does that leave a coach? It leaves them with no ground to stand on. I believe that there is a prevailing issue with society and moral values that we as coaches struggle against more and more every year.

Like
1 reply
---
Hector says:
10/20/2015 at 8:33:59 AM


I agree with Billy 100% on everything that he said. It is extremely difficult to teach and coach students who's minds are already made up. The issue with the parents is another obstacle in its own. Especially when they want all of the attention focused on their child. They will allow nothing to get in their way. As coaches we are the number one disciplinarians in an athletes life and when parents don't allow us to help them it's hard.

Like
---
---
Ron says:
10/13/2015 at 8:58:00 AM


Love the concept. I wonder what the process is to teach these skills? Is there a one method or many? Simon Whitfield of the Canadian Olympic team talk the same way when comparing his Gold medal performance to his 11th place finish. It sounds like it might be a language used in a repetitive fashion that drives habitual behaviours. Thoughts?

Like
---
Bill says:
10/13/2015 at 8:54:56 AM


I will use this for my parents' meeting. Coach Ledbetter expresses my thoughts and philosophy but in a much more eloquent and clearer way than I can.

Like
---
skups says:
10/13/2015 at 8:29:40 AM


Great video. I agree with rap. I have coached teams anywhere from 3rd grade to high school and Brett is right on with his statements. Winning is not everything, the development of the player not only as an athlete but a person is the character which drives the process which drives the result. Professional athletes need to sometimes check their character at the door.

Like
---
rap says:
10/13/2015 at 7:03:06 AM


Great video, I wish the NBA would use this paradigm for its league, since they are paying millions of dollars to these players, NFL could use this model too

Like
---