Five Innovative Ways to Improve Your Parent Meeting
My First Parent Meeting
My oldest daughter started kindergarten this year, and due to my wife's busy schedule, I was dispatched to attend my first parent meeting as a parent.
For years I have facilitated parent meetings as a coach, but for the first time in my life, I got to experience an "informational meeting" while sitting in a chair that could not have been more than 18" tall.
I was prepared to listen intently. I silenced my phone so I wouldn't miss anything knowing I would be quizzed (interrogated) by my wife later that evening. I was responsible for absorbing a lot of information, and I didn't want to let anyone down.
Fortunately, this veteran teacher had seen parents like me come through her classroom before, and she was prepared. Waiting for me at my daughter's seat were handouts, glorious handouts, that contained all of the information a parent would need for the up-coming year.
And just like that, I was off the hook. The only responsibility I now faced was making sure those papers were safely delivered into the hands of my wife. Mission accomplished.
What am I doing here?
With my mind freed from the pressure of absorbing information, I began to wonder why I needed to be here. Only about 25% of families seemed to be represented in those tiny chairs. Did others know that the handouts would be sent home in backpacks for those that did not attend? Would they miss anything by reading through the information on their own?
Why was I here? During the 30-minute meeting I did not speak with another parent. I barely spoke to the teacher as she was busy with her presentation, organizing volunteer schedules, etc. Even the glorious handouts were read to me as though I was in kindergarten myself. What was my purpose in being here in the first place?
Then I was struck with an even more frightening thought, Is this how parents feel during my parent meetings? If so, how can we give them a better experience?
Below are a few simple strategies I either tried myself, or have seen work for others, when it comes to planning a parent meeting. Before we dive into specifics, consider this question...
What will parents gain by attending the meeting that they could not get from reading the packet of information on their own?
Perhaps my biggest takeaway from attending my daughter's kindergarten meeting is that there should be some benefit from being present that they could not get by reading a packet on their own. What might that be?
An opportunity to meet other parents
Information or points of emphasis that go beyond the packet
Stories that bring policies, procedures, and expectations to life
Personal contact with the coaching staff
An opportunity to learn something new
For many years, we distributed our Player Manual at the parent meeting, and walked parents through page by page. While we didn't read the packet verbatim, we rarely deviated from its contents. Full disclosure, our Player Manual is extensive (view it here). Over the years it has ballooned to 40 pages of information that covers:
Coach Staff Introductions
Coaching Philosophy
Core Values
Vision for the Program
Theme for the Season
Practice Policies & Expectations
Team Assignments
Substitutions & Playing Time
Who Starts & Who Plays
Lettering Requirements
Captain Responsibilities
Good Conduct / Eligibility Policies
The past few years we have distributed the Player Manual to parents by email about a week prior to the meeting. We encourage them to read through its contents, and bring any questions they have to the meeting. Some coaches I have worked with create a google form and ask parents to submit questions prior to the meeting as an anonymous Q&A session during the presentation.
We assume that parents can read as much, or as little, as they want to familiarize themselves with our program. While we make minor changes from season-to-season, most of the content remains consistent from year-to-year. However, we no longer make the Player Manual the focus of the parent meeting.
In that light, here are five ideas that might improve your parent meeting experience.
1 - Communicate Your WHY
One important aspect that should be shared with parents, and reinforced throughout the season, is the purpose of your program. We make a clear distinction between our objective and our purpose.
Our OBJECTIVE is to win games. All of our efforts in the gym, weight room, film room, etc. is to enable us to be as competitive as possible. We are trying to win, but that is not our purpose.
Our PURPOSE is to have a positive impact on the lives of our players. We want them to know three things as a result of playing basketball in our program, and we share these with parents every year.
We want all of our players to know...
1)They are loved.
2)Their value is not defined by what they do with a ball.
3)They have been uniquely created to make a positive difference in the world.
We use basketball as a context to accomplish this purpose.
If your program is dedicated to teaching specific values, growing the character of your players, transforming the lives of young people, or equipping them for their future endeavors, share those ideals with the parents in your program. Many of them will appreciate understanding the life lessons you are trying to impart on your players.
2 - Translate Your Values into Parent Behaviors
It is likely that your program has a concrete list of pillars, core values, or foundational principles that you expect players to adhere to at all times. Our list is rather short: love & effort. We work with our players to identify specific behaviors that demonstrate what love and effort look like in all aspects of our team experience. What does effort look like in the weight room, film room, on the practice court, etc? We are very deliberate in helping players identify what behaviors communicate our values. We also do this for parents.
A few years ago, we started to translate our values into parent behaviors as well.
What does effort look like for parents? It might mean volunteering to keep the scorebook, hosting a team meal, or organizing sandwiches for road games.
What does love look like for a sports parent? You might have a discussion about how to best to support your child before, during, and after games. You might highlight the car ride home, or the behaviors that players want to see from their parents to help them have a great experience. We often use videos (linked above) to stimulate conversation in our meetings.
*Spoiler Alert* Players want their parents to come to their games and be positive. They don't want them to coach from the stands, yell at them, or be negative about the team. How do we know? Because we asked our players last year and shared their responses with the parents during our meeting…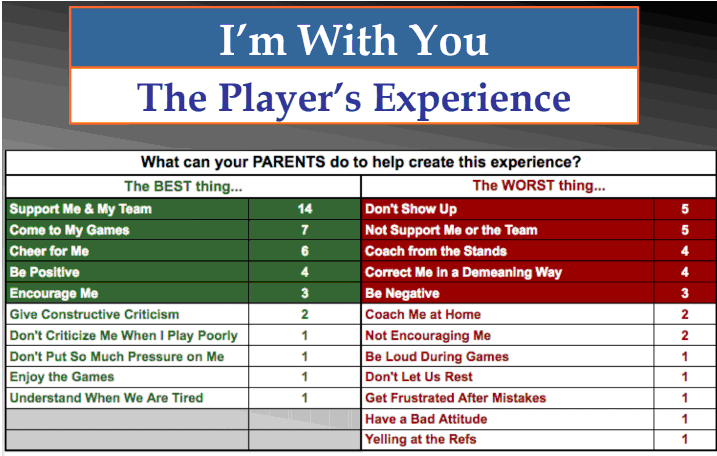 Nearly all parents want to play a positive role in the lives of their kids, and by extension, most will be willing participants in a culture that is rooted in core values. Often times, we just have to invite them in.
3 - Share Success Stories
One area we are exploring is finding ways to be more intentional about telling success stories. We have all heard dozens of horror stories involving out-of-control parent and coach behaviors. They are abundantly shared on social media, and quickly make their way through the stands when things go awry.
However, are we balancing those stories with tales of parents doing things the right way when conflict arises? The majority of concerned parents would prefer to have a civil conversation regarding the well-being of their child. Hopefully, every coach has had positive experiences of parents who approached them in the right way when their child was struggling, or they had a disagreement.
Are we using the power of story to help model what that process should look like? Too often we are tempted to make communication more difficult. We impose a 24-hour rule to keep parents from confronting coaches immediately after a game. We isolate ourselves before games so that we can focus on our preparation. We make it difficult to reach us by phone because we want to avoid the traumatic confrontation, but do we ever share stories of parents reaching out the right way?
As an example, I once had a parent send me an email that he wanted to talk on the phone because he was concerned about his daughter's confidence. He feared that her recent slump was going to result in her quitting basketball. Isn't this something you would want to know as a coach?
I spoke with the parent a few days later and we had an excellent conversation. Truth be told, I did far more listening than talking, and I left the conversation with a much better understanding of the player. That conversation led me to connect the player with an older teammate who went through a similar slump earlier in her career. The veteran player was able to empathize with the player, and shared her story of how she made it through her slump. It was a really powerful conversation between two teammates - and one that would not have happened if the parent had not reached out to me. This is a success story that deserves to be shared.
Take some time to consider when parents can contact you, and what subjects you are willing to talk about. My friend JP Nerbun has an excellent article describing the five conversations he wants to have with parents.
We praise players for being selfless, giving great effort, and doing things the right way. We are quick to tell stories about former players who over-achieved or helped build the foundation of your program. Why not share stories about parents who have done the same?
4 - Create Collisions - The Parent Experience Night
Last season we held our traditional parent meeting about one week before the start of practice. Much of that meeting was focused on the logistics of starting the new year. We highlighted important policies and expectations, gathered volunteers to host team dinners, etc.
However, to encourage more parent interaction (with coaches and one another), we added an additional parent event during our second week of practice called the Parent Experience Night.
We started by assigning seats so that parents would work with players they might not know well. Our first activity was to have parents and players complete our weekly confidence journals. Each individual identified highlights from work, things they learned, two areas of growth for the coming week, one question they have for coach, and one person they will go out of their way to appreciate this week. They shared their answers in their groups.
Our second activity was the Marshmallow Challenge . Groups were given 15 minutes to build the tallest freestanding tower using only uncooked spaghetti noodles, a marshmallow, and tape. Afterwards, we debriefed the activity with a group discussion.
After finishing the team-builder, the parents moved into the gym where our captains led them through a one-hour practice. We set up chairs in the gym for parents who did not want to participate so they could watch and encourage their peers.
The practice plan included
Dynamic stretching
Three get-to-know you questions (answered in groups of three)
1v1 Basket Cuts
4-Spot Shooting Game
4v3 Passing Game
Old School 6v6
50.5 Shooting Game
Three practice debrief questions:

What was your best moment in practice?

Talk about a mistake you made during practice.

What was the best part of Parent Experience Night for you?
This was a great way for parents to connect with each other while experiencing some of the most important elements of our program.
5 - Create Connections - Let players serve a team meal to the parents!
Another way to encourage connections between parents, players, and coaches is to host a potluck dinner early in the season. However, rather than simply using the common buffet line to get food - have the players serve the meal to the parents and coaches.
By assigning seats and players to wait on specific tables, you can encourage lots of fun interactions through the course of dinner. Some programs will even rotate the coaches from table to table after each course so that they can interact with more parents during the night.
To help break the ice, create trivia cards for each table with questions about the history of your basketball program. You could also include random question cards at each table to help facilitate conversation.
You might even have players create an entertainment program following dinner featuring a talent show, skits, etc. You might have your captains prepare a short presentation about the culture they hope to help create as team leaders, or the theme the team has chosen for the season.
Put Yourself in Their Seat
Parents are busier today than ever before. Strive to honor their time by creating value that can not be duplicated anywhere else. At the end of the day, there is no magic bullet that will inoculate you from all parent complaints, but many will appreciate your effort in creating a meaningful experience at this year's parent meeting.
Nate Sanderson is the head girls basketball coach at Linn-Mar High School in Marion, Iowa.
Follow Coach Sanderson on Twitter @CoachNSanderson or contact him here.
What do you think? Let us know by leaving your comments, suggestions, and questions...

Comments
Most Likes First
Oldest First
Newest First
---
Amanda Huser says:
10/19/2019 at 3:05:51 PM


Do you have the guide for all of this below?

Dynamic stretching
Three get-to-know you questions (answered in groups of three)
1v1 Basket Cuts
4-Spot Shooting Game
4v3 Passing Game
Old School 6v6
50.5 Shooting Game

Like
---
Harmony Pyper says:
10/13/2019 at 12:12:52 PM


Wow!! This was really helpful and perfect timing as I am just about to schedule our parent meeting. Thank you so much for this valuable information. As a new Varsity Head Coach, I have been looking for ideas to establish the culture I want to cultivate and these ideas are perfect!!

Like
---