Site Search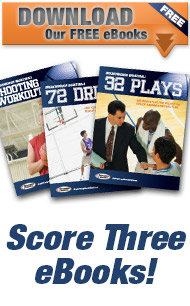 Free Newsletter
Get our free monthly newsletter with new drills, plays, scoring tips & coaching strategies... Signup for our newsletter
Q & A Forum
Experienced coaches are ready to answer your basketball questions! Visit our forum


Subscribe for FREE and Get 3 eBooks…
Just for subscribing to our free newsletter you'll get these 3 eBooks for free…
72 Basketball Drills & Coaching Tips – 136 page eBook.
21 Basketball Tips & Tricks for Players – 20 page eBook.
32 Winning Basketball Plays – 96 page eBook.
Plus you'll get ALL updates to this website delivered to your inbox for free. Over 100,000 other coaches, players, & parents have already subscribed.
We will never send you spam or share your email address, guaranteed!
Close
Refund Policy
If you are needing to cancel a registration, for any reason we will refund you in full all the way up until 15 calendar days prior to the start date of the event.
If cancelled 14 days or less prior to the start of the event, you will be refunded 50% of the camp fees.
Medical issues/death in family can be refunded all but $50 admin fee, even within 14 days. If this is a medical issue, we will need a doctors note faxed or emailed to us.
No refunds will be issued after the start of a camp.
Teams of 5 or more players, once registered, are subject to $50 non-refundable fee, if refund is requested.
If camper is signed up within 14 day, 50% refund window, they are subject to 50%, not full refund.
If camper is signed up and cancelled in same day, full refund can be provided, but only on that day.