Site Search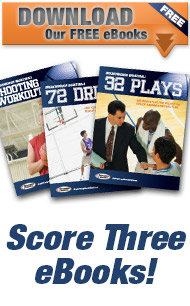 Q & A Forum
Experienced coaches are ready to answer your basketball questions! Visit our forum
Announcing April 7 - 8, 2018
Breakthrough Basketball Shooting Camp in Lansing, Michigan!

Elite Skills Coach, Quentin Mitchell!
** Early bird special -- sign up before February 18th and get 20% off **
With this 2 day camp in Lansing, Michigan your shooting percentage will go up, your mechanics will improve, and your shooting range will increase! In addition to all of this, we will focus on confidence, mental toughness, hard work, smart work, and other intangibles to develop great shooters.

Topics Covered In the Shooting Camp
Foundation of Shooting
This is the first step in becoming a great shooter. Some players will progress through this stage quickly, while others will need to spend a bit more time to correct some bad habits. You will also learn:
How your stance could actually be causing your shot to go left and right and how to fix it.
Why the parallel stance may not be the right fit for you.
How your legs and not just your follow through can actually cause a flat shot.
The proper release point and follow through.
How inflexibility in your legs can affect your shot in a negative way.
Learn the Steve Nash adjustment that allows players to shoot accurately from further distances.
Shooting Off of the Catch Like Steph Curry, Klay Thompson and Kevin Durant
After we have built a great shooting foundation, we will progress to shooting off of the catch. You will learn:
How to make your shot quicker.
The mentality to making your shot quicker.
The proper body position for every shot off of the catch.
The proper footwork for different situations during the game.
The proper hand position to create consistency and accuracy.
How to pull up out of the fast break.
Shooting Off of the Dribble Like Russell Westbrook & Kyrie Irving
As the levels go up, it's very important to add a pull up jump shot off of the dribble. This gives you the ability to score as defenders rush out to defend the initial shot. You will learn:
The often ignored, but important progressions for the shot off of the dribble learned from legendary Hal Wissel who coached in the NBA.
Learn how to properly pick up the basketball and how doing it the wrong way could be causing your shot to miss to the left and the right.
Learn how the pace of the dribble can make your shot quicker.
Learn how to properly execute the sweep and step through to create space from your defender.
Learn the mentality needed to have a successful pull up jump shot and how the wrong mentality can be easily defended.
Learn Advanced Shooting Techniques Used by the Pros

You will learn the keys to a quick release used by the pros such as Kevin Durant and Stephen Curry. You will learn the Michael Jordan 1-2 step used to create space and hit the open jumper.
You will learn the details required to be successful with these advanced moves. If you're not ready for the advanced moves yet, we have a system setup that will progress players at the proper rates.
Why Should Your Child Attend Camps & Clinics?
With many youth basketball teams, the trend over the past couple decades has been to play more games and do less skill work. While games are important, your child needs a healthy balance of game time and practice time. The problem with more games and less practice is that your child will touch the ball much less. With more touches, your child becomes a better basketball player.
With all things being equal, we'll break down a typical 32-minute game:
32 x 5 = 160 total minutes for a team of 8 players.
160 minutes / 8 players = 20 minutes per player.
20 minutes per player / 2 = 10 minutes of time that your team is on offense.
10 minutes / 5 players = That means your child is only touching the ball for two minutes per game!!
During our typical skill sessions, the player will have the ball in their hands 60 to 90 minutes. That means you have to play 30 to 45 games to touch the ball as much as a player would during one of our skill sessions.
Also, during a typical game, you're lucky if your child gets 10 shots. During our skill sessions, they should get anywhere from 100 to 300 shots.
Shouldn't My Child Get Plenty of Skill Work During Team Practices?
Yes, they should be, but they are probably not. On top of getting limited gym time (typically 1 to 3 hours per week), most youth coaches will barely get enough time to teach team offense and team defense. As a result, very little time is spent on getting better at individual skills such as, ball handling, shooting, footwork, and other basketball skills.
Now you probably see the importance of skill work outside of team practices and games.
Who Can Participate?
This camp is for boys & girls 5th-12th grades, ages/skill levels will be separated.
Who is Quentin Mitchell?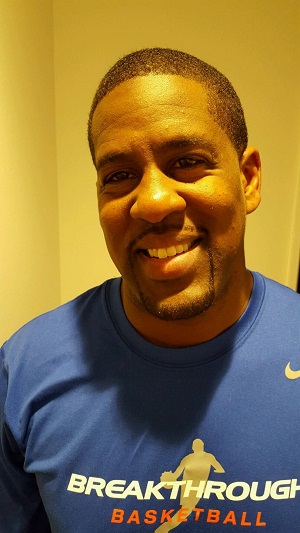 Quentin Mitchell has coached 40 college players, 23 of which have played at the Div 1 level. 6 professional players (one of which was an NBA pick) and has coached over 1,000 kids at various camps and clinics
Quentin was all conference in high school and a McDonald's All-American nominee.
He went on to play at Western Illinois University where he holds the records still today for for most 3 point field goals in a game (9), most consecutive games with a 3 point field goal (6), and highest 3 point field goal percentage in a game going 9/11 for 82%.
Quentin has played all over the world professionally, helping his teams make the playoffs and win championships.
Some of Coach Quentin Mitchell's coaching credentials include:
Assistant varsity coach at Redford Covenant High School in Detroit, Michigan. Responsibilities included practice planning, organizing game plans, scouting and team development.


Head JV Coach at Rock Bridge High School in Columbia, Missouri. Team records were as follows: 18-6 (2012-2013), 18-4 (2011-2012), 14-2 (2010-2011), 17-1 (2009-2010)


Assistant Coach at MOKAN, in Kansas City, Missouri from 2009-2012 and their record was as follows: 36-5 (2012), 50-9 (2011), 56-9 (2010), 57-9 (2009)


Most recently, along with working with Breakthrough Basketball, he was the head coach for Tilton Elementary School in Chicago where they finished 8-1 and made the Chicago league playoffs for the first time in 4 years!
Daughter's Confidence Has Doubled!"This is our second camp we've attended. Coach Q. doesn't miss a beat. My daughter's confidence level has doubled now that she knows in depth what each drill does for her. She loves it." Instructor Quentin Mitchell with Taya Ferguson pictured below....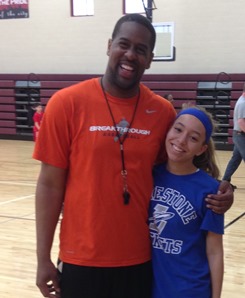 - Jennifer Metz - Peoria, Illinois - 10 Rating



Camp Details
When
Saturday April 7, 2018 -- 9:00 AM to 3:00 PM
Sunday April 8, 2018 -- 9:00 AM to 3:00 PM

Limited Availability
Each session is limited to 60 players to ensure a high number of repetitions and improvement

The camp is SOLD OUT!
Where
Aim High Sports (Summit Sports & Ice Complex)
9410 Davis Hwy
Dimondale, MI 48821
Travel and Accommodation Options
Camp attendees can get a 10-15% discount by using this link and booking any hotel owned by the Wyndham Hotel Group (Days Inn, Ramada, Baymont, Microtel, Super 8, Howard Johnson, Travelodge, Knights Inn and Wingate). Find a nearby Wyndham hotel and get the Breakthrough Basketball discount.
Price
$195
This camp has ended. To be notified of more camps in MI, fill out the form below: