Site Search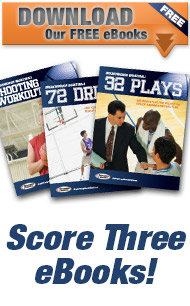 Q & A Forum
Experienced coaches are ready to answer your basketball questions! Visit our forum
Elite Youth Scoring & Playmaking Camp
Shawnee, Kansas
July 6 - 8, 2018

Elite Skills Coach Rustin Dowd!

We're excited to announce our 3 day Elite Youth Scoring & Playmaking Camp coming to Shawnee, Kansas! This is a youth and middle school camp for players looking to develop an advanced scoring and playmaking skill set.

You improve your shooting, ball handling, passing, athleticism footwork, decision-making, and 1 on 1 moves to take your game to the next level.
You will learn
Game like shooting drills to drive up your shooting percentage.
How to create more uncontested shots with dribble moves that create at least 2-3 feet of separation from your defender.
Advanced hand-eye coordination and ball handling drills that will accelerate your feel for the basketball. These drills will make dribbling during game situations feel easy.
How to develop an explosive first step. This is probably one of the most important aspects of being a playmaker, but it is rarely broken down and taught properly. Learn about the proper shin angle, head position, shoulder position, and hip position.
Advanced finishing moves will be taught, such as finishing with the inside hand, wrong/goofy foot, taking away defenders angle by using the rim and making a defender go through you to get a traditional 3 point play.
Critical components of basketball IQ required to become a great offensive player from an individual and team aspect.
How the top pros create advantages which allow them to make plays for themselves and their teammates.
Here are some of the topics covered throughout the camp:
Ball Handling
Stationary ball handling routine that improve rhythm, feel, and coordination with the basketball.
Live ball moves to help you blow by the defense at will. You will learn how to shift (or setup) the defender with your body and feet.
Critical progressions to ensure that your dribble moves are effective and explosive.
How to stay in attack mode, dictate the tempo, and control the defense.
Shooting
How to position your feet and align your body to increase the chance of shooting the ball straight.
A form shooting routine that almost every great shooter has utilized that can be done at home.
Proper footwork and how to develop a quick release.
How to shoot game shots from game spots at game speeds.
Lay Ups / Finishing
Finishing techniques used to reduce turnovers, finish over larger players in the paint, and make more shots.
How to finish through contact
1 on 1 finishing drills that ingrain good habits while competing in a fun way.
Offense
How to cut and get open. You will learn v-cuts, basket cuts, l-cuts, backdoor cuts, and more.
Attacking down screens, back screens, and more.
How to score and make plays using ball screens. Learn how to run defenders into screens and make lightning quick decisions.
How to use dribble hand off actions to attack the defense and put them in a constant disadvantage.
Footwork
How to use your feet to gain a better position to score from almost anywhere on the floor.
Utilize front pivots, reverse pivots, step throughs, sweeps, drop steps, and hops to make you an elite player.
Passing
Improve hand eye-coordination and passing skills that make players like Chris Paul one of the best playmakers in the game.
Competitive passing drills to develop game-like passing with head and pass fakes.
How to be strong and pass out of double teams and traps.
Competitive Play and Controlled Scrimmages
Players will also get to take the skills they practiced and apply them in a game setting. This is a way fun to improve through competition.
The games are set up, so the players have to give maximum effort and execute proper fundamentals. Point systems are set up, so players develop great habits that will help them succeed at the next level.
Who Can Participate?
This camp is for both boys & girls 4th-9th grades, ages/skill levels will be separated.
Who is Rustin Dowd?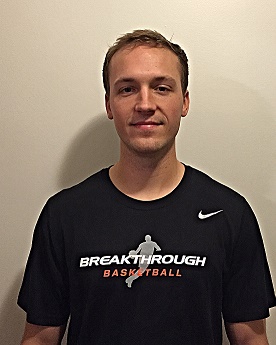 Rustin Dowd had the opportunity to start all four years while attending MidAmerica Nazarene University. There he gained a lot of knowledge from two of our very own Breakthrough Instructors Adam Hepker and Coach Keeley.

Rustin became a great player while at MidAmerica and says he owes a lot of that to Coach Hepker, Coach Keeley, Coach Fleming and Hall of Fame Coach Rocky Lamar.
Some of Rustin Dowd's credentials include:
2 Time NAIA DI All-American
Heart of America Conference Player of the Year
Helped his team win Conference Title and Conference tournament Title
Scored over 2000 points in his college career
Named Champion of Character Award winner
Played Professionally in Australia
Averaged 19 points per game while playing professionally in Australia
Was awarded Golden Hands Award for the Werribee Devils
Had the opportunity to run his own camps in Werribee, Australia.
Camp Details
When
Friday July 6, 2018 -- 9:00 AM to 3:00 PM
Saturday July 7, 2018 -- 9:00 AM to 3:00 PM
Sunday July 8, 2018 -- 9:00 AM to 3:00 PM

Limited Availability
Each session is limited to 60 players to ensure a high number of repetitions and improvement

The camp is SOLD OUT!
Where
Mid America West Sports Complex & Okun Fieldhouse
20200 Johnson Dr
Shawnee, KS 66218
Travel and Accommodation Options
Camp attendees can get a 10-15% discount by using this link and booking any hotel owned by the Wyndham Hotel Group (Days Inn, Ramada, Baymont, Microtel, Super 8, Howard Johnson, Travelodge, Knights Inn and Wingate). Find a nearby Wyndham hotel and get the Breakthrough Basketball discount.
Price
$245
This camp has ended. To be notified of more camps in KS, fill out the form below: