Announcing June 14 - 15 - Post Player Basketball Camp in Coalville, Utah!
We're pleased to announce that we have arranged for Don Kelbick to come to Coalville, Utah to run a 2-day skill development camp, teaching players and coaches the same skills and strategies that he used with pro players like Joe Johnson, Raja Bell, Bruce Bowen, Carlos Arroyo, and dozens of other NBA and European players.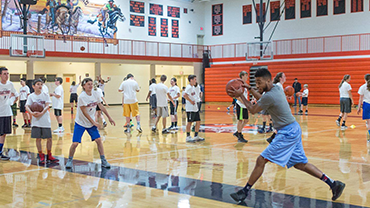 This Camp is Now Complete
GET NOTIFIED ABOUT NEW CAMPS
What will players get out of the camp?
This camp uses the Attack & Counter Skill Development System to help you develop the KEY skills that you need to become a great player in the post.
You will learn the same critical and universal skills that Don teaches to NBA players. These fundamental skills are universal for all levels. They will help you no matter what defense or offense you use. That's the great thing about fundamentals. They help you in all situations. Here's a brief summary of the skills and topics that will be covered...
Footwork
You will learn how to improve your footwork. This is probably the most under-practiced, misunderstood, and most important skill of all. You will learn how to practice footwork in a completely new (and simpler) way. You'll also learn how footwork carries over into games and how it makes you better.
Mentality
During the camp, players will learn Don's Attack and Counter Strategy. As the name implies, this system encourages an aggressive mentality. Players will learn important mental aspects of the game including aggressiveness, building confidence, reducing the fear of failure, shooting mentality, work ethic, how to be mentally tough, more focused, and get an edge on the competition.
Post Moves and Finishing Inside
Learn the proper footwork, mentality, and strategies to score in the post and various situations near the basket. This applies to both guard and post players. There is a heavy emphasis on footwork and you'll learn how to become a more dominate scorer inside.
Learn Post actions to help you score and help your teammates score
Screening actions, pick-and-pop, pick-and-roll, seals, duck-ins, ball reversal strategies
Learn how to use your body to create scoring opportunities
Create shot opportunities on the block and on the perimeter
Learn how post players can take advantage of fast break opportunities to create scoring and better rebounding chances
As you can see, this clinic focuses heavily on footwork and mentality, which we believe are the two most important aspects to becoming a better player.
We promise that players and coaches will learn dozens of new tips and techniques that will make them better. Don's methods are very simple, yet unique. You just won't get this stuff in other places.
It's all about helping you develop the KEY skills that you need to become a great basketball player.
Format of the Camp
You will learn these fundamental skills by participating in a "Show and Go" format...
Show - During the camp Don Kelbick (NBA development coach) will show you the key drills and the skills you need to work on. He will explain and demonstrate the key details of each specific skill to the entire group. He will teach you the skills, strategies, and concepts. He'll show the "little things" that are important.
Go - Then you'll break off into groups to work with designated coaches in your area. There will be other coaches helping you with break down drills. Don will also walk around working with players and coaches at this time. You will work hard at practicing the new skill and learning how to incorporate the skill into games.
This will be repeated throughout most of the camp as we introduce new skills and concepts.
We will run lots of drills and players will get lots of repetitions. You'll get LOTS of touches with the ball and it will be fast paced.
After skills are practiced, we will also put players in competitive break down drills. This allows players to apply and refine their newly-learned skills. Most of the competitive break downs are lots of fun, but they are different (and we believe more effective) than the standard 5-on-5 games that you see at other camps.
What Will Coaches Learn?
You will learn the same things as the players. As an "observing coach" you can view the entire camp and take notes. You'll pick up lots of new drills, fundamentals, and strategies that will give you an edge over the competition. We guarantee you will learn lots of new things from Don Kelbick.
How is This Camp Different Than Other Camps?
You'll experience 5 key differences in this camp:
You get to work with an NBA development coach. How many players get to do that?!!
99% of the camp is focused on skill development and competitive situations. Many of the camps these days play a lot of 5-on-5 games and do little skill development. Sure that can be fun and you need to get game experience... BUT do you really think most of your improvement happens during games? Of course not. You still need to play in game-like situations to apply your newly-learned skills, but most of the off-season should be spent on skill development.
Great players became great by practicing skills. We want you to get better so we focus on skills and put you in competitive situations. Most of the competitive break downs are lots of fun, but it's different than the standard 5-on-5 games that you see at other camps.
You will learn how to practice on your own! Don is a firm believer that it's important to teach you how to practice on your own. He believes that "knowledge is power". He strives to teach drills that you can use at home or in the gym on your own.
You will learn about new and unique drills, concepts, and skills that you probably won't see anywhere else. Don has a unique, out-of-the-box method to teaching basketball skills. Not to mention he understands a lot of critical concepts that few coaches, players, and parents understand. He will teach you something new, guaranteed.
You learn about footwork and mentality which is rarely taught or understood by players and coaches. You will learn a very unique and simple way to apply the same footwork to post moves, perimeter moves, dribbling moves, getting open, using screens, playing defense, and more.
Who can attend?
The camp is for male and female high school players, and mature 7th & 8th graders. No exceptions are made for younger players.
This is for SERIOUS basketball players that want to get better. You can play games anywhere, so we focus on things you can't just pick up anywhere. We focus on developing skills that will make you better!
Coaches that want to learn and pick up new drills can also observe (coaches can find more info below).
Coach Profile - Don Kelbick

Here's your chance to learn from the coach who's trained over a dozen NBA players (including Joe Johnson, Bruce Bowen, Raja Bell, Tim Hardaway Sr. and Jr. ).
Coach Don Kelbick is a legend in the coaching and training community and now you can learn directly from him
Coach Kelbick has conducted over 1,0000 basketball clinics and camps for players of all ages and skill levels. He's the inventor of the highly-respected Attack & Counter Skill Development System, and he's brings 25 years of collegiate coaching to the table.

Camp Details
WHEN:
Friday June 14, 2019 - 9:00 AM to 3:00 PM
Saturday June 15, 2019 - 9:00 AM to 3:00 PM
AGE CATEGORY:
The camp is for boys and girls from 7th grade to 12th grade.
Players will be grouped based on grade and gender to start during the individual skill work drills.
TRAVEL & ACCOMODATION:
Camp attendees will receive a 10-15% discount on any hotel owned by the Wyndham Hotel Group (Days Inn, Ramada, Baymont, Microtel, Super 8, Howard Johnson, Travelodge, Knights Inn and Wingate).
A coupon code will be emailed to you after registration.
PLAYER LIMIT:
Each session is limited to 60 players to ensure a high number of repetitions and improvement
WHERE:
North Summit High School
111 East 100 South
Coalville, UT 84017
COST:
$195
Get Notified About New Camps in Utah
Observing Coaches
Coaches can attend for free by working the camp.
Email us
if you're interested in helping with the camp.
Otherwise there is a $97 fee to attend as an "observing coach". You will get to learn new drills and techniques from Don Kelbick, just like all the players and other coaches in attendance. Visit this
link to reserve your spot as an observing coach
. If you have any questions, don't hesitate to
email us
or request a phone call.