Site Search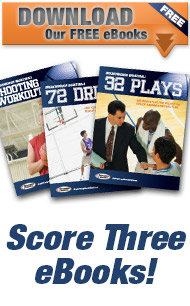 Q & A Forum
Experienced coaches are ready to answer your basketball questions! Visit our forum
Advanced Guard Skills Camp
Lenexa , Kansas - June 19 - 22, 2017

Elite Skills Coach Troy Slavin!
This is a 4-day basketball camp in Lenexa, KS that will improve your ball handling, shooting, passing, athleticism, decision-making, leadership skills, and scoring from the Guard position.

This is NOT for beginners. This is for advanced guards looking to be placed in a high-intensity environment with competitive drills. This is for players who already possess some good dribble moves and are looking to take their game to the next level.
This is certainly not limited to guards. Every coach would love to have 5 players on the floor with the skills, decision-making, and leadership of elite guards.
With the game on the line, 6 ft 8 Forward Lebron James becomes the main ball handler for the Miami Heat. Lebron directs the offense and runs the show, and that is what being an elite Guard is all about.
So if you are a wing player or a post player who is serious about elevating your game to the next level, this camp would be great for you as well.
Here are just a few things that you will learn at the camp:
Develop an explosive first step.
This is probably one of the most important aspects of being an elite guard, but it is rarely broken down and taught properly. Learn about proper shin angle, head position, shoulder position, and hip position.


Develop superior hand-eye coordination and feel for the ball.
In this camp, you will be challenged with advanced hand-eye coordination and dribbling drills that will challenge you and accelerate your feel for the basketball. These drills will make dribbling during game situations feel like a cake walk.


How to handle game situations like Chris Paul and Steve Nash.
Steve Nash and Chris Paul are two of the smartest guards currently in the NBA. We have studied the games of these elite guards and will show tactics and little tricks that these elite guards use during games.

For example, whenever Chris Paul and Steve Nash face a switch on a ball screen and they get a bigger slower defender on them, they almost always take two big dribbles backwards to create space and give them room to get forward momentum to attack the bigger, slower defender. Little tips like these will take you from being a good guard to an elite guard.

You will learn how they handle ball screens, fast break situations, double teams, and aggressive pressure.


Get to the next level by improving the lost art of passing.
Not only will you learn advanced dribbling drills that will be extremely challenging, we will also introduce passing drills that will make you a much better passer in game-like situations. We will teach you how to pass against pressure, how to read the defense and find the open guy, how to pass in transition, how to pass against double teams, and how to pass into the post.

If you can handle the ball and make great passes, every coach will find a place for you on their team.


How to play great defense and lock down your opponent.
You will learn how to properly move on the floor so you can make things much more difficult for your opponents. If you can focus on defense and stop your opponent from scoring, you will get playing time and probably a lot of it. You will learn proper body position when guarding the ball, how to dictate what the offense does, and how to force them into a low percentage scoring situation. We will teach you how to adapt to all of the different kinds of scoring guards to put the advantage back in your hands.


Shooting, scoring, and advanced dribble moves.
In addition, we will practice game-like shooting drills, scoring from the guard position, and advanced dribble moves that all great guards possess.


Leadership and Life Skills
In addition to teaching you the necessary physical and mental skills to be an elite guard, we will teach you leadership and life skills that will make you a successful human being. We will teach you traits that some of the best players have, why that makes them successful, and how these same traits will help you be successful in life.

We will also teach you traits from some of the most successful people outside of the basketball world that will make you successful in the real world in any career path you may choose.

No matter how far you make it in the athletic world, there is always life after basketball.
Who Can Participate?
This camp is for boys & girls 7th-12th grades, ages/skill levels will be separated.
Who is Troy Slavin?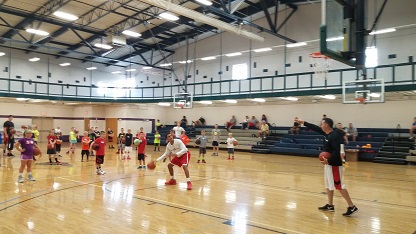 Troy Slavin graduated from Northeast High School where he was selected First Team All CNC League and All Tournament Team at the Riverton Invitational while averaging 19 points a game, with a CNC season high game of 35 pts. An athletic six foot guard known for his leaping ability, Troy once shattered a backboard and led the CNC in dunks his senior year.
Troy accepted a basketball scholarship to Fort Scott Community College but injuries soon ended his college career. He went on to graduate with a Bachelors degree in Radio and TV Production from Kent State University, and began a career in professional broadcasting for some of the nation's premiere radio stations. At 35, he was nominated for radio's highest honor, the Marconi Award, as the nation's best Large Market Personality. At 37, he was awarded the Butterfly Award, the highest honor given by the Children's Cancer Research Fund, for his work in raising over six million dollars to find a cure.
During his radio career Troy stayed connected to basketball and kids, coaching at St. John the Baptist in Minnesota and playing in exhibition games against the University of Kentucky and Deion Sanders' Dallas Cowboy All Stars. His career took him inside Minnesota Timberwolves practice with Kevin McHale and Sam Mitchell, and on the court to learn a few tricks from the legendary Harlem Globetrotters.
Troy has head coach, assistant coach and instructor experience with kids of all ages and abilities. He is ASEP certified in Coaching and First Aid. His unusual life experience and unique communication and motivational skills all come into play as he teaches the game he loves to young people.
Troy also directs Breakthrough Camps for the Kansas City region. You can view the camps at the following link:
https://www.breakthroughbasketball.com/kc/
Camp Details
When
Monday, June 19, 2017 -- 11:00 AM to 1:00 PM
Tuesday, June 20, 2017 -- 11:00 AM to 1:00 PM
Wednesday, June 21, 2017 -- 11:00 AM to 1:00 PM
Thursday, June 22, 2017 -- 11:00 AM to 1:00 PM

Limited Availability
Each session is limited to 30 players to ensure a high number of repetitions and improvement

The camp is COMPLETE!
Where
Lenexa Family Life Center
17450 W. 87th Parkway
Lenexa, KS 66219
Travel and Accommodation Options
Camp attendees can get a 10-15% discount by using this link and booking any hotel owned by the Wyndham Hotel Group (Days Inn, Ramada, Baymont, Microtel, Super 8, Howard Johnson, Travelodge, Knights Inn and Wingate). Find a nearby Wyndham hotel and get the Breakthrough Basketball discount.
Price
$175
This camp has ended. To be notified of more camps in KS, fill out the form below: