Become a Fearless "Attack"-Minded Player
If you're ready to become a potent scorer who breaks down even the most skilled defenders, this is the camp for you.
Coach Kelbick's unique method of simplifying the game has transformed players from the youth level all the way up to his NBA clients, like Tim Hardaway Jr, Joe Johnson, J.J. Barea and many more.
This is your chance to experience these same breakthroughs in a 3 day camp led personally by Don.
Coach Kelbick will push you out of your comfort zone and into the hyper-growth zone where you become a fearless force on offense, with the skills and technique to match your confidence.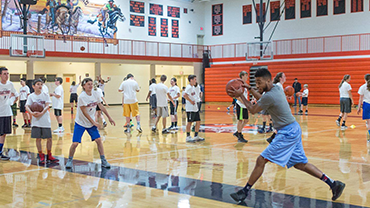 This Camp is Now Complete
GET NOTIFIED ABOUT NEW CAMPS
What will players get out of the camp?
Footwork
Great footwork enhances EVERY aspect of your game. As legendary Duke Coach Mike Krzyzewski says, "Footwork is one of the primary prerequisites to becoming a great player".
Yet most players are making major footwork mistakes and limiting their game as a result.
Coach Kelbick's revolutionary footwork training will surprise you with its simplicity.
You'll learn how to turn your feet into a weapon that gives you a lightning quick first step and makes you a nightmare to defend.
"Aggressive" Offense Mentality
If you're looking to improve your confidence and decision-making, Don Kelbick's "Attack and Counter" strategy may be the biggest breakthrough you've ever experienced as a player.
His unique way of simplifying the mental game will free you to play with confidence and resilience. You'll hone your "Killer Instinct" so you become a threat whenever you're on the floor.
You'll also learn to embrace failure, overcome nerves and "lock in" with Mamba-like mentality.
Post Moves and Finishing Inside
Great players make layups and finish around the basket under pressure and through contact.
Together with our Lead Director, you'll master the footwork, mentality and technique to score in the post and create advantages near the basket.
This is essential training for players of ALL sizes and positions (even guards).
Perimeter Attacks
Use the Attack and Counter principles to punish teams with dribble penetration, easy layups and open jumpers.
You'll get the other team's best defender…and it won't matter, because you understand how to create an advantage from anywhere on the floor.
This also opens up more opportunities for your teammates as opposing defenses struggle to contain you.
The NEW Triple Threat
Most players know the "Shoot, Pass, Dribble" triple threat. But Coach Don Kelbick has upgraded that model with a remarkable twist that immediately gives players more confidence and decisiveness. Using Don Kelbick's NEW Triple Threat, you'll keep the defense off balance whenever you have the ball.
Ball Handling
Become a confident ball handler under pressure using advanced footwork and dribbling techniques.
Apply the "Attack and Counter" mentality to get into the teeth of the defense, improve decision making, and reduce turnovers.
Fast Break Skills
Become a force in the open floor using Don's little-known secrets for dominating the transition game. You'll learn fast-break-specific footwork and techniques to score at-will in transition.
Shooting
Every great shot starts with sound footwork. Your shot will become more accurate and consistent as you implement Don's simple footwork instructions. We'll use high rep shooting drills to make rapid progress with your technique and confidence.
Screening and Cutting - Getting Open
Add easy points to your scoring average and impress coaches by mastering your screening and cutting technique. By the end of camp, you'll understand how to read screens and play off the ball with precision. Combine that with your newly developed "attack and counter" skills and you'll be a force on offense in any situation.
What Will Coaches Learn?
You will learn the same things as the players. As an "observing coach" you can view the entire camp and take notes. You'll pick up lots of new drills, fundamentals, and strategies that will give you an edge over the competition. We guarantee you will learn lots of new things.
How is This Camp Different?
Coach Kelbick's camps are truly unique and we guarantee you will leave a significantly better player if you put the work in.
Here are 6 key reasons this camp is different:
Intense Skill Development
We focus almost exclusively on skill development and competitive situations to give you the max amount of targeted reps. You leave with new "game-ready" skills firmly established.
Many camps now do a lot of 5-on-5 games. Of course those are fun, but they limit the growth you experience. Some of your biggest improvements happen outside of games, when you can focus intensely on particular skills sets you want to improve.
High Level of Personal Attention
Our small group skill sessions are strictly limited to 5 players per basket. This ensures you get specific instruction based on your unique needs. And it also guarantees a high number of reps each day so you make the fastest improvement in the least amount of time.
Leave with a Plan To Get Better
You'll leave this camp with powerful drills you can practice at home to build on your momentum. Great players know the work really STARTS when camp ends. And Coach Kelbick is committed to giving a plan to make this your breakout offensive season.
Coach Kelbick's Groundbreaking Training Methods
Don's out-of-the-box approach to basketball will open your eyes and enhance your game. And you'll also get a unique perspective on your game, since he understands the little-known skills and mentality that can take you to the next level.
Advanced Footwork Training
Footwork is one of the most important (and overlooked) aspects of great scorers.
Luckily, there are only a handful of footwork "moves" you need to know to transform your game. So you'll leave camp as a significantly better player than when you arrived.
Learn Directly From an NBA Skill Development Coach
Yes, it's a really cool experience to train with a coach who rubs elbows with NBA stars - something to tell your friends and teammates.
But you'll also learn what the best players in the world do to set themselves apart using Don's methods.
Here's what James Harden's trainer has to say about Don:
"Don Kelbick's training is creative and very effective. As a basketball skills trainer, he is one of the best." - Irving Roland
Who can attend?
The camp is for male and female high school players, and mature 7th & 8th graders. No exceptions are made for younger players.
This is for SERIOUS basketball players that want to get better. You can play games anywhere, so we focus on things you can't just pick up anywhere. We focus on developing skills that will make you better!
Coaches that want to learn and pick up new drills can also observe (coaches can find more info below).
Coach Profile - Don Kelbick

Here's your chance to learn from the coach who's trained over a dozen NBA players (including Joe Johnson, Bruce Bowen, Raja Bell, Tim Hardaway Sr. and Jr. ).
Coach Don Kelbick is a legend in the coaching and training community and now you can learn directly from him
Coach Kelbick has conducted over 1,0000 basketball clinics and camps for players of all ages and skill levels. He's the inventor of the highly-respected Attack & Counter Skill Development System, and he's brings 25 years of collegiate coaching to the table.

Camp Details
WHEN:
Tuesday August 3, 2021 - 9:00 AM to 3:00 PM
Wednesday August 4, 2021 - 9:00 AM to 3:00 PM
Thursday August 5, 2021 - 9:00 AM to 3:00 PM
AGE CATEGORY:
The camp is for boys and girls from 7th grade to 12th grade.
Players will be grouped based on grade and gender to start during the individual skill work drills.
PLAYER LIMIT:
Each session is limited to 60 players to ensure a high number of repetitions and improvement
WHERE:
Mid America West Sports Complex & Okun Fieldhouse
20200 Johnson Dr
Shawnee, KS 66218
COST:
$245
Get Notified About New Camps in Kansas
Observing Coaches
Coaches can attend for free by working the camp.
Email us
if you're interested in helping with the camp.
Otherwise there is a $97 fee to attend as an "observing coach". You will get to learn new drills and techniques from Don Kelbick, just like all the players and other coaches in attendance. Visit this
link to reserve your spot as an observing coach
. If you have any questions, don't hesitate to
email us
or request a phone call.