Learn Standout Offensive Skills
At the Elite Youth Scoring & Playmaking Camp in Big Rapids, Michigan
Join us August 7-9, 2020 for the Breakthrough Basketball Elite Youth Scoring & Playmaking Camp in Big Rapids, Michigan.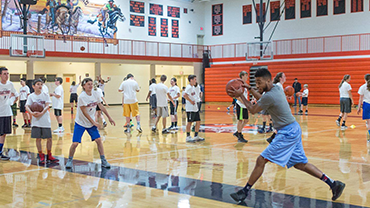 This Camp is Now Closed
GET NOTIFIED ABOUT NEW CAMPS
Camp Summary
This 3-day skill development basketball camp in Big Rapids, Michigan teaches you the offensive skills you need to stand out against any defense.
You'll become a versatile threat from the perimeter - with improved ball handling, passing, shooting, footwork and finishing skills. And you'll also learn "next level" playmaking concepts rarely taught at the youth level.
What will players get out of the camp?
Great players (even the pros) STILL work on new skills to this day. You'll leave this camp more fundamentally sound, with the ability to break down the defense no matter what they throw at you.
With what you learn at this camp, you'll:
Knock down shots with deadly accuracy even with a man in your face
Develop a lightning quick first step that gets you easy lay-ups and opens up the rest of your game (this is rarely taught properly at the youth level, but you'll learn advanced body positioning techniques to give you an instant edge).
Become a crafty finisher around the basket with moves like using your inside hand, "goofy" foot, using the rim to cut off the defender's angle and creating contact and fouls
Learn "ball-on-a-string" handles using advanced coordination and dribbling drills that will help you get more easy buckets and assists.
Have the confidence to take over games (with shooting, passing or penetration) when your team needs you most
Develop your offensive IQ so you can make your mark regardless of the sets or plays being run
Become a true floor general who impacts every aspect of the game (even on poor shooting nights)
Our Breakthrough staff has trained athletes who have gone onto become some of the best players in the world - Olympic Gold medalists, NBA All-Stars, WNBA All-Stars, Blue Chip D-I College players (Michigan State, Duke, Kentucky and more), as well as numerous High School Player of the Year Awards..
And you'll get their personal instruction to help you see and play the game at an entirely new level.
Additional skills and techniques you'll learn at the Elite Youth Scoring and Playmaking Camp:
Shooting
Key footwork techniques that can instantly improve your accuracy
Game-speed shooting drills so your practice time translates to in-game results
A simple yet powerful shooting routine to develop pure form and rhythm
Tips for a quicker release and more clean looks
Ball Handling
Skill-enhancing drills to improve rhythm, feel and coordination with the basketball
1-on-1 moves and counter moves against any type of defender
How to control your defender's movement to create an offensive advantage
Dynamic and progressive ball handling drills to increase the challenge as your skills increase
Finishing
Get more "and-1's" with these advanced techniques to finish through contact
How to stay strong with the ball on your penetration to reduce turnovers
Clever moves that allow you to finish over taller defenders and through multiple defenders
Footwork
Turn your feet into the ultimate offensive weapon, allowing you to generate open looks and create separation at will
Keep defenses guessing with powerful front pivots, reverse pivots, drop steps, step throughs, hops and sweeps.
Great footwork will open up your game in ways you never thought possible and we'll teach you each step so you've got it down by the end of camp
Passing
Learn game-speed passing against tight defenses (using head and pass fakes)
Stay calm under pressure and find the open man when you're trapped or double-teamed
How to "see the future" and spot passing opportunities before anyone else on the court
Offense
Master motion offense concepts like basket cuts, backdoor cuts, away screens
Utilize ball screens and handoffs to create mismatches and defensive confusion
Learn to space and attack the defense no matter what looks you're facing
Become a "system-independent" player with the skills and understanding to stand out in any coach's system
Competitive Play and Controlled Scrimmages
Players will also get to take the skills they practiced and apply them in a game setting. This is a way fun to improve through competition.
The games are set up, so the players have to give maximum effort and execute proper fundamentals. Point systems are set up, so players develop great habits that will help them succeed at the next level.
Who is this for?
This camp is for serious players in grades 4 to 9 who want to set themselves apart with elite-level perimeter skills - ball handling, passing, footwork, shooting and finishing.
Players at ALL positions are welcome and encouraged to attend.
Wing and post players: The game is shifting towards "position-less" and this is your opportunity to become a truly unique all-around player that no team has an answer for.
We will work hard and have fun developing your all-around game so you leave with a new sense of confidence on the offensive end of the floor.
Coach Profile - Hudson Welty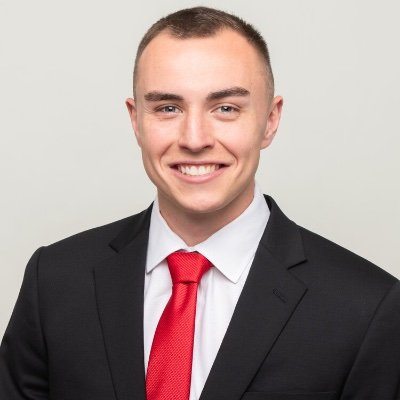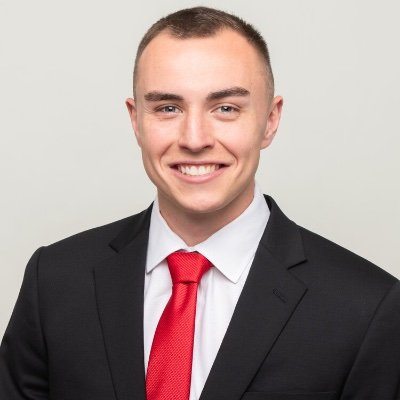 Camp Details
WHEN:
Friday August 7, 2020 - 9:00 AM to 3:00 PM
Saturday August 8, 2020 - 9:00 AM to 3:00 PM
Sunday August 9, 2020 - 9:00 AM to 3:00 PM
AGE CATEGORY:
The camp is for boys and girls from 4th grade to 9th grade.
Players will be grouped based on grade and gender to start during the individual skill work drills.
PLAYER LIMIT:
Each session is limited to 60 players to ensure a high number of repetitions and improvement
WHERE:
Ferris State University - Student Recreation
401 South St
Big Rapids, MI 49307
COST:
$245
Get Notified About New Camps in Michigan
Observing Coaches
Coaches can attend for free by working the camp.
Email us
if you're interested in helping with the camp.
Otherwise there is a $97 fee to attend as an "observing coach". You will get to learn new drills and techniques from Hudson Welty, just like all the players and other coaches in attendance. Visit this
link to reserve your spot as an observing coach
. If you have any questions, don't hesitate to
email us
or request a phone call.