Cheetah Press Break
Purpose: This is a strategy designed to work against a man-to-man full court press. The best case scenario is for a long pass to a sprinting speedster for an uncontested lay-in.
Instructions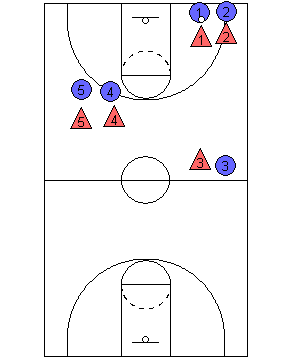 Position your players as shown, but realize that Player 1 should actually be standing out of bounds. Player 2 should be a real speedster. This is usually something that you would do in a dead-ball situation, in which case Player 1 can not run the baseline.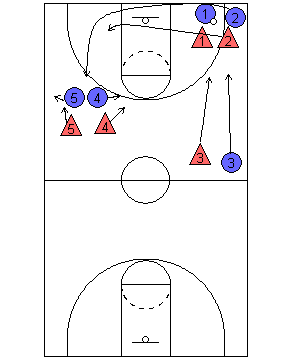 On the slap of the ball, Player 2 starts behind Player 1(Again, realize that Player 1 is standing out of bounds), who pretends to hand him the ball. Player 2 then sprints all the way past the key and cuts up and between Players 4 and 5, who have moved apart to create a space. Player 3 sprints straight toward the baseline.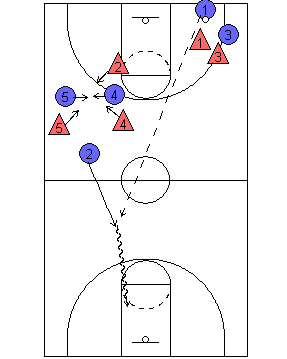 After Player 2 runs through the space, Players 4 and 5 close back up, creating a double-wide screen. Defender 2 is caught behind them, and Player 2 is wide open sprinting toward the basket. Player 1 (Standing out of bounds) throws a long pass that Player 2 can run to and corral for an uncontested drive to the hoop.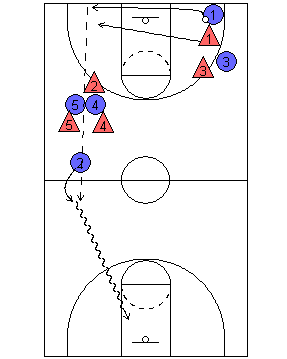 If your team is alert enough to set this up in a live ball situation (after a made basket), then Player 1 (Standing out of bounds) has an option to run the base line and throw the pass from the same side as the cutter. In this case, Player 2 should run a slight banana pattern in order to follow the flight of the pass.
Points of Emphasis:
The pass should be high enough to get over the defense and placed so that Player 2 can run to it without slowing down.

Player 2 should explode into his route after he passes behind Player 1.
Teaching Tips:
Tell your team that this play will get them an easy two points.

Teach your passer to look at and fake to Player 3 before looking for Player 2.
For more information about breaking presses, check out our comprehensive
press break guide and online video
.

What do you think? Let us know by leaving your comments, suggestions, and questions...
Comments
Most Likes First
Oldest First
Newest First
---
Coach Mick says:
1/18/2015 at 9:31:07 PM


I plan on running this. So is player 2 just cutting in front (along baseline) and looking for a fake pass to player 1 before sprinting through the screen from player 4 & 5?

I've re-read this several times and it sounds like player 2 runs out and then back in.



Like
1 reply
---
Joe Haefner says:
1/19/2015 at 6:30:50 PM


I'm not 100% sure, but I believe you are correct.

Like
---
---
Caden says:
11/5/2014 at 11:08:47 PM


This is a very good play if you have the right players.

Like
---
COACH STONE says:
8/1/2011 at 12:34:27 AM


I actually won a playoff game with my team being down by 1 point!!! Not only did I have NO MORE TIME OUTS LEFT, but there was ONLY 23 seconds left in the game. THIS PLAY REALLY WORKS and NUMBER 2 MUST be your fastest player on the ENTIRE team and NUMBER 1 MUST not only have the best/strongest/accurate arm of the ENTIRE team but he/she must fake pass first to another player just to get his/her defender off balance. Then finally make that game winning pass for an EASY LAY UP!!! Very effective!!!

Thank you!!!!

Like
---
ROY G. says:
1/27/2011 at 9:30:59 PM


WITNESSED T . C. U. HORNED FROGS RUN A PRESS BREAK ALMOST IDENTICAL

Like
---
jay says:
12/27/2010 at 7:20:24 AM


whoever states this is illegal play is wrong. read the wording carefully and read your rule book carefully. Also, if you have a case book read that. Play done properly is perfectly legal.
i'm a coach of 29 years and I run plays in various situations very similar in concept to this one. just trying to help.

Like
---
tchic says:
10/13/2010 at 8:46:32 PM


Play is illegal

Like
---
griffin 24 says:
10/13/2010 at 2:57:04 PM


this looks like a good play! just !thing is wrong i agree with the perso that said what if the ! cant throw over the others deffese

Like
---
Coach T says:
8/11/2010 at 10:29:10 AM


The player doesn't run out of bounds. It tells you to remember that player 1 is out of bounds. As the other player breaks towards the ball there is a fake hand off. It didn't say run behind player 1 out of bounds.

Like
---
Coach Partin says:
8/10/2010 at 8:21:02 AM


You are not allowed to intentionally leave the playing floor then receive the pass. This play will result in a turnover for your team. If you modify it so that 3 sets a pick for 2 then runs to their position on the far side of the court it will work. I ran it last season this way and it worked great. I had a real speedster on my team so it was great!

Like
---
Coach A says:
2/4/2010 at 1:15:32 AM


I didn't think you were allowed to come from out of bounds and catch the ball without it first touching another player

Like
---
Show More
Pernell says:
1/29/2010 at 9:54:30 AM


coach b i would try a 3:2 defemse because it prevents dribble penitration but allows shots on the perimmeter in the conners so get out on the shooters

Like
---
Pernell says:
1/29/2010 at 9:52:40 AM


if anyone needs defenseive plays just come to me i dont have allstar plays but if you want wins talk to me

Like
---
Coach B says:
1/10/2010 at 3:54:30 PM


I need a good play to beat man to man. I coach 9 and 10 year old girls. Got three pretty good ball handlers. Hope you can help

Like
---
zac says:
10/24/2009 at 2:25:19 PM


good drill but a little confusing. u should show a video of it

Like
---
zebra says:
5/19/2009 at 12:13:46 PM


Intentionally leaving the playing surface is a violation! Any ref worth his whistle will call this play dead in a heartbeat.

Like
---
Sara Bell says:
1/26/2009 at 6:46:06 PM


These are great plays! Thank you so much for sharing your knowledge with us all. I love the diagrams and your philosophy is excellent!!

Like
---
preeti says:
5/10/2008 at 4:24:42 AM


If player 1,2 doesn't know lay up thennnnnnnnnnn.................................

Like
---
Joe (Co-Founder of Breakthrough Basketball) says:
4/24/2008 at 8:41:07 PM


Hi Coach Boon,

There are more inbounds plays on our website at this link: http://www.breakthroughbasketball.com/plays.html

You can also see more in our Free Plays ebook which you can download at this link: http://www.breakthroughbasketball.com/freebooks.html




Like
---
coach boon says:
4/23/2008 at 9:58:47 PM


hi i want to execute a play which in live situation where i got shooter and inbounders what tatics do you recommend me to play??

Like
---
Felix says:
2/25/2008 at 9:27:41 PM


Jordan,

Why not a box and 1. That would be the easiest for youth basketball. Here are some others. http://www.coachesclipboard.net/JunkDefenses.html

Good Luck

Like
---
JORDAN M says:
2/20/2008 at 4:27:56 PM


hi to all!!!!
i need a defense for one top player!!!!i want to make him not to touch the ball!!

Like
---
gokhan says:
2/16/2008 at 2:36:24 PM


thank you very much.

Like
---
David says:
2/12/2008 at 7:40:01 PM


Casey, If you wanted to run this for *th grade girls, all you would have to do is throw the inbound pass in to your 3 and have her pass it down to the sprinting 2. Use a diagonal pass so the defense is caught comint to the passer

Like
---
Joe (Co-founder of Breakthrough Basketball) says:
2/12/2008 at 5:51:26 PM


Casey,

This play is probably not fitted for 8th grade girls or any team that does not have a player with proper arm strength & accuracy to throw the ball. If you can think of a variation, please share.

Like
---
Casey says:
2/12/2008 at 1:24:35 PM


How could this quick score press break be adjusted so an 8th grade girls team could run it? That's a long pass to make -- especially if it's a dead ball situation and if the D is covering the ball -- What type of player would 3 have to be to maybe have the pass sequence be 1 to 3 to 2?

Like
---
Joe (Co-founder of Breakthrough Basketball) says:
2/12/2008 at 12:31:54 PM


Here's some information we currently have on press breakers:

There are a couple press breakers in our plays ebook on pages 73 & 76.

If you have not signed up for our two free ebooks on drills & plays and our free newsletter, you can do so at www.breakthroughbasketball.com/newsletter.html

Here's a link on our website to one of the press breakers mentioned in the ebook: http://www.breakthroughbasketball.com/plays/linepressbreaker.html

Like
---
sabrina Armendarez says:
2/12/2008 at 10:55:20 AM


i need a better 1-3-1 half court press breaker. i'm using one that is used for a full court press and works most of the time but, would like to see if you have something better

Like
---
Nupe3 says:
2/12/2008 at 9:03:57 AM


Looks like a good play.

Like
---
Richard says:
2/12/2008 at 8:13:39 AM


Good Morning Jeff,

At my school, we go up against the 3-2 zone, and man to man press. Full court. Got something that might help. We have what is called a 4 across. You can screen for short and over the top passes. If your interested, let me know. Richard

Like
---
Jeffrey Rice says:
2/12/2008 at 8:05:53 AM


I need a play to beat a 3-2 zone press off the inbound pass after a made basket.

Coach Jeff

Like
---
chris says:
2/11/2008 at 9:31:36 PM


if defender 1 is tall, player 1 could not make a good pass

Like
---