Site Search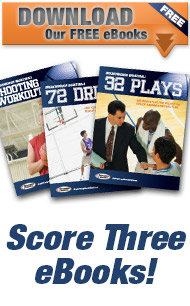 Q & A Forum
Experienced coaches are ready to answer your basketball questions! Visit our forum
Questions From Subscribers...
Topic: Offense for 11 & 12 Year Olds
Question:
I will be coaching an 11 year old rep team this fall. Can you please recommend an offence I can run against a man to man defense for this age of players?
Answer:
At 11 years old, you want the kids to just play. At that age, you want to encourage the kids to shoot when they're open. You should teach them how to make cuts and set screens without the ball. The reasoning for this is that you want kids to react to situations and learn the game. You don't want them to become robots by running plays and offenses.
If you want a little more structure, this simple offense we posted in a recent newsletter is easy to teach and provides some motion:
Youth Offense
If you have any comments, questions, or suggestions then please leave your comments below.
Joe Haefner
Answers and Comments
Most Likes First
Oldest First
Newest First
---
Jay C. says:
4/25/2010 at 2:48:07 PM


I have found that the Read and React offense is one of the best offensives for teaching youth the game of basketball. The only down side to it is there is not a lot of screening....but on a positive note, a lack of screening really teaches players how to get open and cut if they are overplayed. It is hard to teach setting screens and reading screens with youth because a lot of the time all the defensive player is worried about is only defending their man. There isn't good helpside so the location of screens aren't necessarily where they will be as youth players continue to develop and advance up to other levels.

Like
---
zack says:
8/1/2011 at 2:27:40 PM


umm hey joe
i am a 13 year old. i videotaped my shot and realized how horrible it looks. I have been working on it all summer. the only problem is i cant shoot it from the free throw line extended. can u help me? do i need to work on strength. also do u have any drills for me by myself i only have half of a driveway i have looked all over the internet and cant find any drills easy enough or for me by myself
thanks

Like
---
♥ Sumaya ♥ says:
1/11/2014 at 1:43:41 PM


I am 11 turning 12 March 24th im not the tallest im a bit shory but i love basketball at school we always play during recess, I was thinking of taking something more serious that would help a bit more.

Thanks


Like
---
Ken Sartini says:
1/11/2014 at 9:12:01 PM


You say your shot looks horrible so I would suggest that you go back to working on your form.. BEEF check.... shoot against a wall, the go to the basket - block,middle,block until you have your form corrected. Use one hand to start with.


TPS --

You should do some FORM work also... find something that is comfortable for you and that works. When you are having problems shooting, get to the free throw line so you can check your FORM out

start close to the basket and work your way back as you see that your results are good. Consistency is important, so continue to practice AFTER you are sure that your form is good and that its comfortable and works for you.


Look at this video of the Swish shooting method, the boy is 14 and had worked with Tom for 3 years.

http://www.youtube.com/watch?v=SfTxHGOQdEc

This takes a lot of practice but I think he will explain how to go about adjusting your shot. Let us know if you have any other questions regarding your shot.

As for something you can with for yourself - we called it a FLIP DRILL.

Flip the ball out in front of you - plant your inside foot and go into your shot. You can do that going both ways. Try this out and let us know how it works for you.

Like
---
Ken Sartini says:
1/11/2014 at 9:14:45 PM


Sumaya -

Try and find a camp to go to this summer, that should give you a chance to work on some fundamentals and learn the game.

Don't worry about your size, everybody grows at a different time

Like
---
Ken Sartini says:
1/11/2014 at 9:18:18 PM


Zach -

This explains BEEF

To explain BEEF for those who haven't heard that term.

B - Balance ( staggered stance, one foot slightly in front of the other )

E - Elbow under the ball ( the elbow might be SLIGHTLY out )

E - Eye on the target (keep your eye on the target until the ball goes in)

F - Follow through..... ( keep your arm extended until the ball goes in)

I hope this helps.


Like
---
Ronnie says:
7/10/2015 at 12:39:36 AM


I am good at basketball I just need a little bit of help

Like
---
chris riley says:
1/21/2016 at 10:12:52 PM


I'm 12 and I'm good with my shots but I really need to work on my handles and dribble and driving to the basket.

Like
---