Basketball Play: UNI Set Play
Summary
I got this basketball play from watching the University of Northern Iowa when coach Greg McDermott used to coach there. This is by far one of my favorite set plays out of a box set. It involves two ball screens, a back screen, and a screen the screener that opens up a 3-point shot.
Personnel
Player 1 should be an excellent ball handler with the ability to drive. Player 2 should be a good shooter. Player 3 should also be a good shooter. Players 4 & 5 should be your post players.
Instructions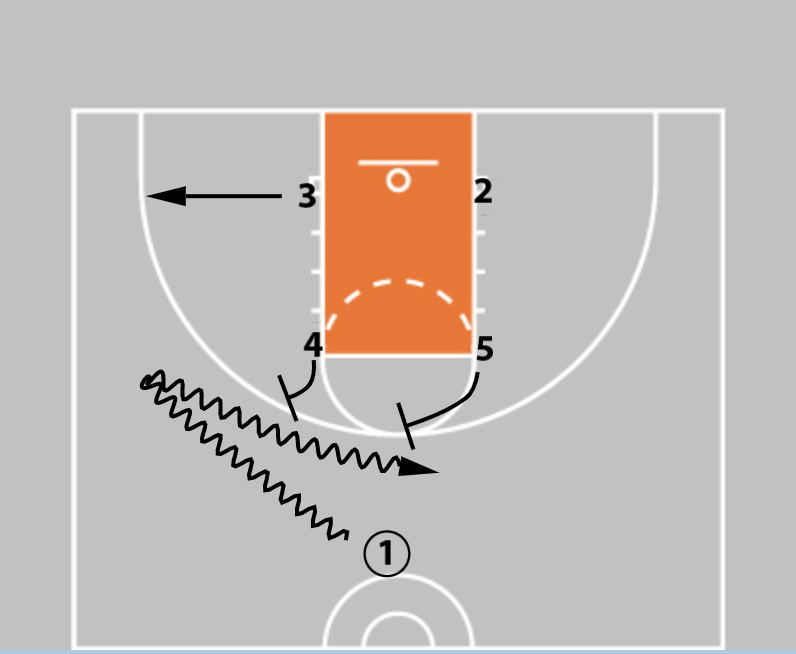 Player 1 dribbles to the left wing and switches directions with the dribble. As soon as Player 1 comes to the wing, Player 4 should step out to the 3-point line to set the screen and Player 3 will pop out to the wing.
Player 5 will follow almost instantly to set a second screen for Player 1 near the top of the key.
*Timing is crucial here. You don't want Player 5 to come out too early or too late. It will take practice to get the timing down.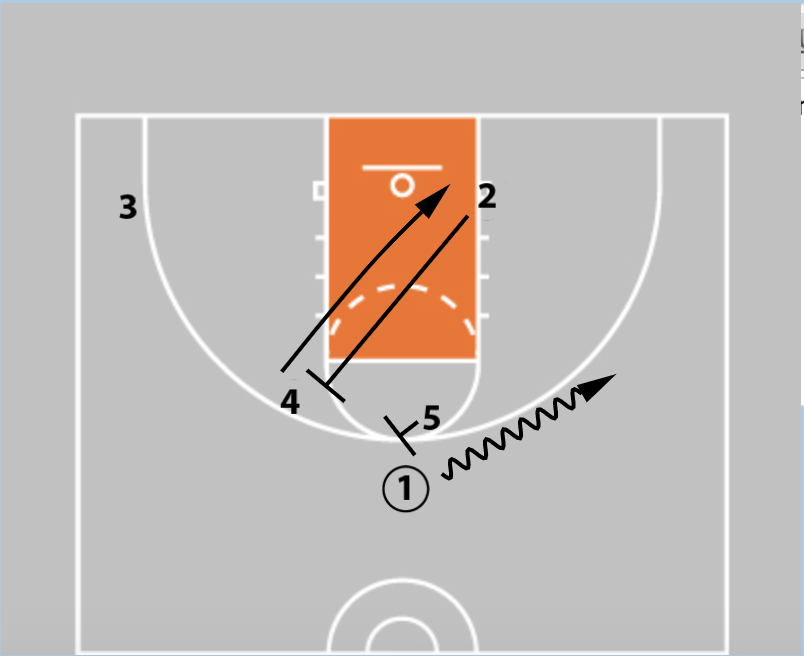 As Player 1 dribbles around the second screen set by Player 5, Player 2 sets a back screen for Player 4.
After dribbling around the second screen, Player 1 will have a split second where he can attack the hoop. He will want to utilize a hesitation dribble here. If nothing is open, it's very important not force it.
As soon as Player 4 clears the screen set by Player 2, Player 5 sets a down screen for Player 2. Player 2 will flash to the top of the key for an open 3-point shot.
If Player 4 is open flashing across the lane, Player 1 will throw the pass. If that's not open, the second option is to pass the ball to Player 2 at the top of the key.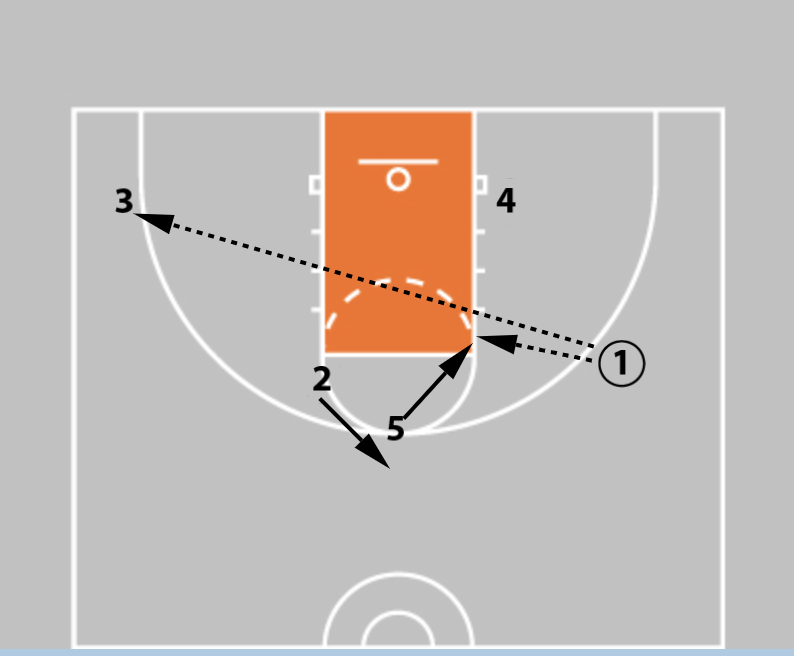 If neither one of the first two options are open, Player 5 may be open flashing to the ball after Player 2 has cleared the screen.
If defensive player guarding Player 3 cheats in to the lane to help, Player 3 may be open for the skip pass.

What do you think? Let us know by leaving your comments, suggestions, and questions...
Comments
Most Likes First
Oldest First
Newest First
---
lex says:
4/4/2021 at 11:01:54 PM


is there a youtube link somwehre where we can see this play in action?

Like
---
fred linker says:
9/12/2018 at 11:44:05 AM


after 5 screens 1 and 4 has 5 screens 2 have reverse the to 2
reverse again to 3 5 pops to wing and 4 back screens for 1

Like
---
lewis schoenberg says:
5/28/2014 at 11:14:23 PM


Its a good set play, but there's no ball movement. tough to run if the point guard is getting pressured.

Like
---
Coach Piper says:
3/11/2013 at 5:32:53 PM


It is a good little play...no skip pass hit flash 5 and then hi-low to 3 coming to key if no shot dribble out and hit 2 at top and run another play

Like
---
Mike Bake says:
10/12/2011 at 7:35:50 PM


I will most definitely use this play since I have some good shooters, and hopefully I can get my 4 man to get his hands up and look for the ball!! This play works, I seen it first hand while at WSC before Coach Mac went to UNI

Like
---
Bryan B. says:
8/3/2011 at 9:52:55 AM


Great play. The 4 is open all DAY!! of course you can run this the opposite and have the 5 open. Another option is to position your 4 & 5 outside the elbows, this way when the pt. guard comes back across if he get's a good pick he can penetrate right down the middle. Also if your 2 & 3 are good ballhandlers... be patient and get them the ball at the top of the key with the whole side open and let them attack the basket. Just teach a good swipe and attack.

Like
---
Derek Purcella says:
4/10/2011 at 11:35:37 PM


I've ran it before. It works like a charm.

Like
---
coach morshed saleem says:
1/6/2011 at 9:04:51 AM


its agood play i would like to recieve more plays of this kind please

Like
---
Assistant Coach Eric says:
8/19/2010 at 2:15:24 AM


Great ball and player movement...like the screen set for player 1 to have split second chance of attacking the basket... in case of ball interception from 1 player..number 4 and 5 are bigger enough to defend the transition play...

Like
---
sharad says:
7/17/2010 at 1:27:11 AM


nice move..i will try to continue if not successful....thanks, .

Like
---
Show More
Coach D says:
5/14/2010 at 6:59:28 PM


If all else fails, what would be your contingency plan, in terms of proper rotation after?

Like
---
sj says:
3/1/2010 at 8:34:16 PM


it's a good play.. the last option though may seem to be risky but when it's applied in a real game, #3 will still be open
'coz for sure #3's defender will help when the bigman slides to the shaded lane

Like
---
coach rich says:
2/25/2010 at 5:57:22 PM


I also agree with the comments regarding the skip. i would try to bring my 3 man a little higher an try to get a good ball reversal if all else fails.

Like
---
Andre Abdollahian says:
1/22/2010 at 12:25:39 PM


I agree with the comments about the skip pass to the 3.but the 3 can move up to the along the 3point line(especially if 3's defender helps off him) he can be diagnol from the weakside elbow and the 2 can make the extra pass that helps avoid skip pass but only works if 2 makes the extra pass to 3 along the 3 point line.

Like
---
Travis says:
9/4/2009 at 6:34:52 PM


A nice play if executed properly and timing is perfect.

Like
---
coach Maher says:
6/22/2009 at 7:04:10 PM


nice drill, everybody is moving and in the same time we got the chance to have a weak side pass to 3 or a pass to 4 and 5, in this case we have more than an option ,inside and outside options, i like it , and i think that the players will like too .

thanks coach for this nice work you are doing , you are making our job easier .

i wish you all the best .

coach Maher.

Like
---
Coach Cobra says:
3/24/2009 at 5:24:50 PM


Play sucks

Like
---
Mark Jayme says:
3/20/2009 at 3:17:26 AM


I think this set play is intended for man to man defense.

Like
---
Sarah Singger says:
12/14/2008 at 9:50:00 PM


I gave this play a try at a practice and then a game and this went flossless. we used this play 3 times in each half and everytime we got the shot in.

Like
---
Barry says:
12/3/2008 at 10:53:26 AM


We run a variation of this play...we use 3 and 2 to set a double screen for 4 then 2 gets a screen for 5 coming out on top of the arc...I like your version as well, we will add it as a change up to what we already do!

Like
---
ismael salarda says:
7/12/2008 at 4:58:33 AM


nice play... this is good for last minute game and the score is deadlock...

but i think the last option, the cross court passing to number 3 player, is too risky... might as well the player 1 shoots the ball if the situation calls for it...

i''''ll apply it in our practice on monday.... good job

Like
---
david says:
6/1/2008 at 11:35:43 PM


I like it! I start practice on Tuesday and I will use this. Thanks.

Like
---
Blasterman says:
5/28/2008 at 11:16:42 AM


This play will help me with training the rest of team for the 3 on 3 pick and roll

Like
---
Alex says:
4/21/2008 at 3:40:11 PM


this play is effective for player like me heheheh! i mean you cant leave me alone in the 3 point teritory i will crash the net!!!! joke hehehehe!!! but its true anyway.

Like
---
Alex says:
4/21/2008 at 3:37:20 PM


Hey your plays its realy nice i like it!

Like
---
Anita says: says:
4/6/2008 at 7:10:07 PM


I appreciate your information it helps,my players are better and feel good now thank you again.

Like
---
Malik says:
3/11/2008 at 12:28:56 AM


Nice, i really likes this play. it look like you can get a lot of open shots if the players excutes them right. i will definitely try it. thanks

Like
---
Ephraim says:
3/3/2008 at 3:38:36 PM


this might help my team win

Like
---
Wim Cluytens says:
1/24/2008 at 12:52:56 AM


I used it as a "surprise offense" and it worked though we don't have a real center, but our 2 is in reality a 3 who can shoot from the top and the 3 in the diagram is a good shooter from the corner who was left alone by sagging defenses:when he received the ball he had lots of time to shoot.
Good rebounding positions.
Timing is very important.

Like
---
james jones says:
1/23/2008 at 7:21:58 PM


this play got shut down every time. do not use it more than once. also do not use it with school ball because the teams will be all over it.

Like
---
courtney lewis says:
1/22/2008 at 10:16:43 PM


the uni play i like because most of the plyrs hav an assignment i wud hav 3 cut bk to bucket and the 2 wud set up bout 5 ft to the left for more spacing

Like
---
rolando says:
12/20/2007 at 8:31:06 AM


great play, i will try this!

Like
---
mojo says:
12/5/2007 at 10:51:08 AM


Several remarks that I read are 'afraid to use the skip pass to #3'...if you run the play hard, sharp and physical, #3 man should be crashing the boards/rebounding, instead of an optional outlet pass. The main problem with a skip pass is that too many folk don't know how to teach it...if you use that pass with this in mind, it can be more successful: utilize a jumpshot-pass, use a no-look/no brainer pass, use a hook-no look pass...Each of those three are great; eliminate the telegraphing part of it and it works better. Try it in practice, you may be surprised at your success ratios. Merry Christmas.

Like
---
coach yasser says:
11/22/2007 at 2:16:55 PM


great play
cuz the more options in it

Like
---
Coach O says:
11/21/2007 at 8:00:24 PM


I love the staggered screens that take place...after reading some of the readers feedback it seems there is a concern for the #3 standing too much in the corner and the last option for a cross court skip pass to him late in the series. Just a suggestion...since #2 is a shooting guard, why not utilize him after his back screen for #4 by having him screen down on #3 who breaks to the top to receive the rotation pass from #1. Continue the rotation and hit #2 for the shot at the wing or corner or have him hit #5 coming back down from the elbow.

Like
---
Kala Hardy says:
11/3/2007 at 12:43:49 PM


I like this play alot it has good movment. And as i player i like the fact that there are a lot of picks set for players.

Like
---
dwight stallings says:
10/16/2007 at 10:40:32 PM


what defense acan you run this man to man or zone?

Like
---
MJ says:
10/15/2007 at 11:56:04 AM


The last "optional" pass (the skip pass) will be there against a decent defense that is taught to play midline/helpside defense. I really think this option is crucial (at all levels) because it will allow 5 to seal and drag down the lane. Think about it, he will be denied by his defender by being between the ball and the 1 man. on the skip, 5 has a great opportunity to seal.

Like
---
Josh says:
9/17/2007 at 1:56:20 PM


I like the play but i think a reversal to the 5 as he pops then a screen for the 3 man set by the 2 for a curl would be a better option.the 4 would have to pop out to the wing. but i think it gets everyone involed

Like
---
besi says:
8/30/2007 at 8:22:20 AM


great great except the last pass to nr 3

Like
---
Joe says:
7/23/2007 at 1:09:44 PM


Hi Coach Ojie,

This play is intended for man to man defenses.

Like
---
coach ojie says:
7/20/2007 at 11:38:49 AM


may I ask coach joe if this particular set play applicable to both zone & man to man defense?

Like
---
colin says:
7/14/2007 at 7:39:46 PM


I use this play all the time with my under 16 boys and the isolated no. 3 is a profficient 3 pt shooter and scores an average 4 threes a game, at 65%. He also drives well on the open side, but, having an excelent passer as your no. 1 is essential.

Like
---
Coach Kraze says:
6/29/2007 at 12:41:35 PM


Just a suggestion. Instead of the cross court pass from the 1 to the 3, how about swinging the ball around the 3point line from the 1 to the 2, and then the 3. I feel that is a safer option especially when your talking about teams 18 & under or a smaller team vs. a bigger team. I still love this play. Correct me if I'm wrong.

Like
1 reply
---
Tony says:
2/23/2017 at 5:11:24 PM


Or simply, if 4 is not given the ball when he cuts from the top, he continues to the 3-point line and then 3 cuts on the base line.

Like
---
---
elie sacr says:
6/29/2007 at 11:43:04 AM


great play good movement on the floor and i agree with the mates 3 is not moving and the skip pass is dangerous maybe we could use the 3 to set a back screen for the 5 who goes traight to the basket to get the pass from the 1

Like
---
Monte Moire says:
6/29/2007 at 8:26:37 AM


I like it. Great floor spacing. Good movement. And like, David Boggs, I coach middle school girls. I feel confident in their ability to run this play. Great job.

Like
---
coach clarke says:
6/28/2007 at 12:46:42 PM


I do agree with all the comments made.
I think to add more movement for the 3 is to have 4 set a back screen for the same shot on the opposite 3point line. This remves the risk of the skip pass.However timing is important like you mentioned in your tips.

Like
---
David Boggs says:
6/28/2007 at 9:52:23 AM


I like all of the movement. I coach middle school girls. I feel comfortable with them doing everything except the skip pass to 3 in the corner.

Like
---
Sam Bhatt says:
6/28/2007 at 12:57:26 AM


Looks like a great play to run with HighSchool kids, however I coach a youth basketball team with 10 and 11 year olds, it's real difficult to run this with them. Unfortunately it's a bit too complicated, if you do have any alternatives to this play which is a bit easier to run please do let me know, (gangsterbear@gmail.com)

Like
---
Joe Haefner says:
6/27/2007 at 4:42:23 PM


Hey Coach Kraze & Mr. Jimson,

I understand your concern with the cross court pass. I should've mentioned above that this is not the type of pass you want young basketball players to be throwing. Usually around ages 13 to 15 is when kids are strong enough to be effective when throwing that kind of pass.

You only want to throw this pass when the player guarding Player 3 is cheating way over to help out on defense. Otherwise, the pass is VERY risky.

Like
---
Coach Kraze says:
6/27/2007 at 4:31:36 PM


I love this play. I'm on my way to practice now and i'm gonna give it a try, although I agree with Darrel Jimson that the cross court pass does look a bit risky, but you haven't lead me wrong so far so i'm gonna do it the way it's drawn up...Thanks!

Like
---
David says:
6/27/2007 at 1:09:50 PM


I thought this play was excellent.


Like
---
richard says:
6/27/2007 at 1:02:38 PM


this is great. I would be glad to receive this kind of insight more often.
Keep the good work.

Like
---
leland johnson says:
6/27/2007 at 12:06:58 PM


i like it theres constant movement between the teamates except for the three man but i like it ill try it and let you know

Like
---
Wim Cluytens says:
6/27/2007 at 11:02:32 AM


Nice play
I give it a try with my team without a real 5-player

Like
---
Darrell Jimson says:
6/27/2007 at 10:27:20 AM


Everything looks good except the last optional pass from player 1 cross court to player 3. looks a bit risky. I will try thos play except the optional pass. Thanks!

Like
---