Man to Man Basketball Play: Swing Variation
Summary
The Swing Variation is a very effective set basketball play to use against a man to man defense. This play gives you lots of options and almost always gets you an easy shot right under the basket. The play actually comes from the Swing offense. When we use Swing as our primary offense, we scored on the first play of almost every game. And many times we scored the second and third times too. The flex cut in this play is extremely effective, especially when the defense doesn't know what's coming.
Personnel
Player #5 should be your best post player and player #3 should be your best three point shooter.
Instructions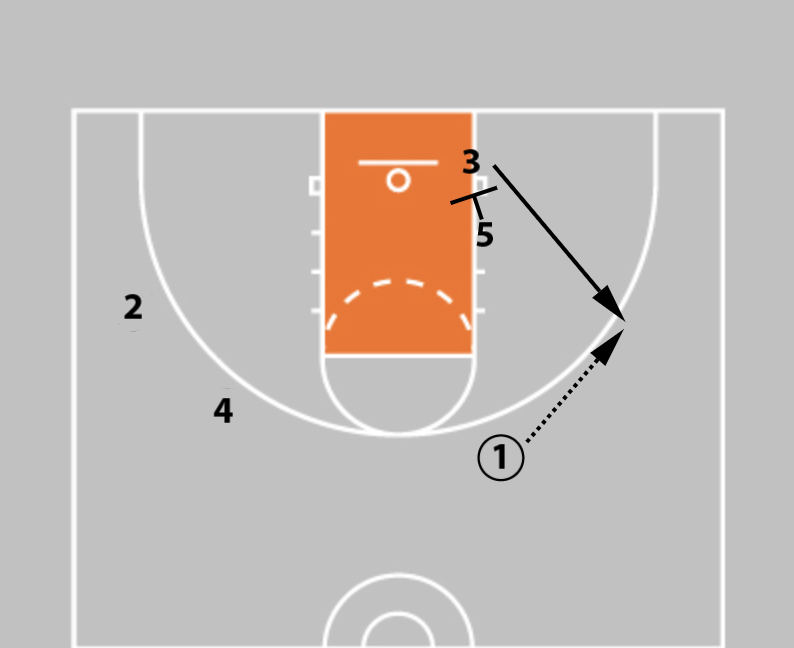 Player 3 & 5 will start staggered near the block with Player 3 lined up behind Player 5.


As soon as Player 1 crosses half-court, player 5 sets a screen for Player 3. Player 3 cuts to the wing.


Player 1 passes the ball to Player 3.


Player 5 establishes post position.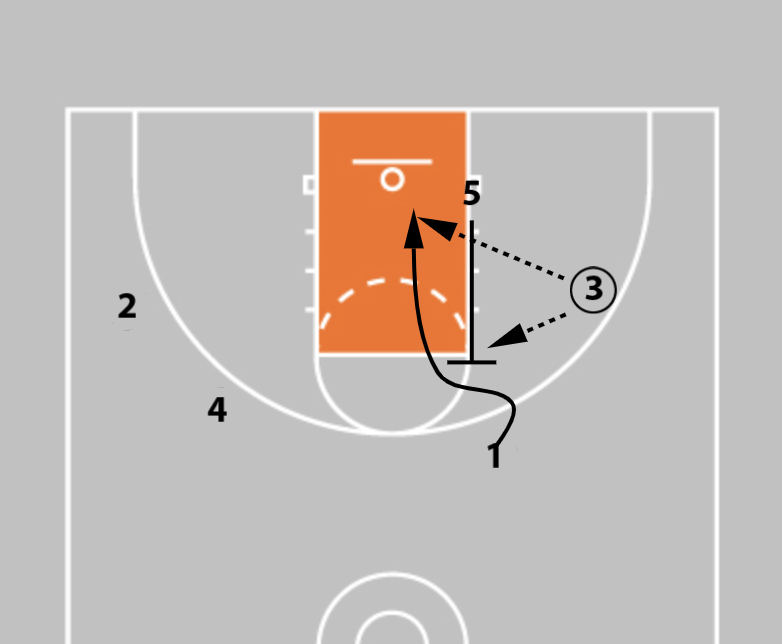 If Player 5 is not open, he sets a screen for Player 1. The Screen should be set just above the free throw line. Player 1 should set up his man by faking a cut toward Player 3 on the wing.


Player 3 will look to pass to Player 1 cutting to the hoop.


Player 5 will look for a pass on the elbow from Player 3.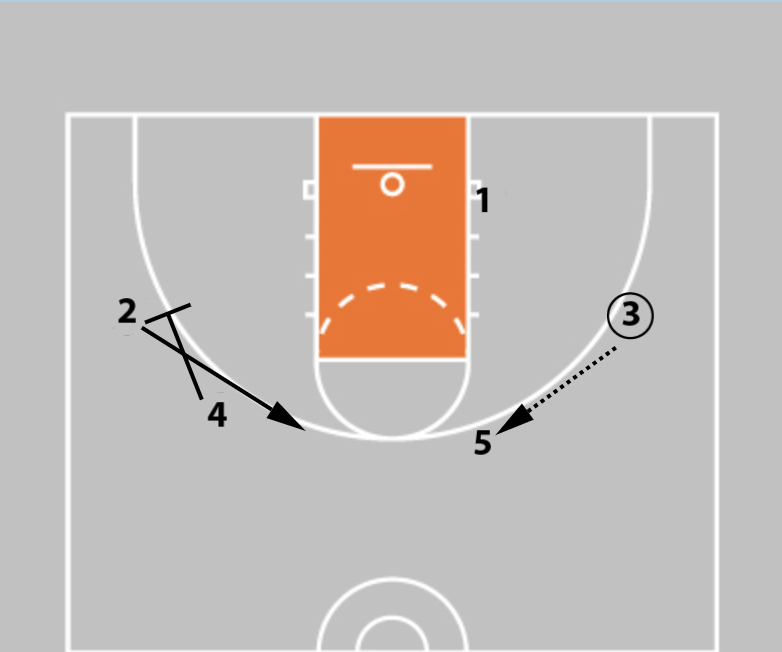 If neither option is there, Player 5 will pop out and receive a pass from Player 3.


As the pass is being thrown to Player 5, Player 4 will set a screen for Player 2.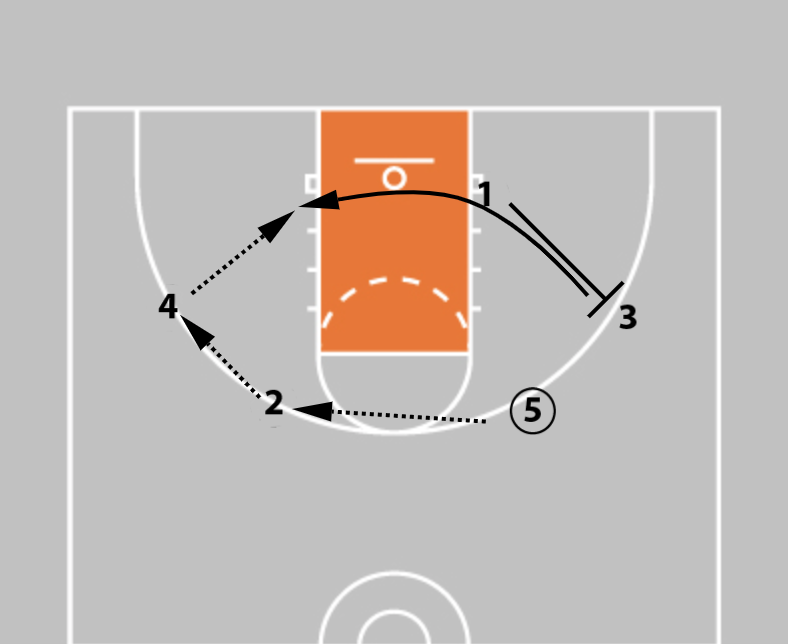 Player 5 passes the ball to Player 2.


As that pass is thrown to Player 2, Player 1 will set a back screen for Player 3 and Player 3 will cut to the block on the left side.


Player 2 will either swing the pass to Player 4 right away and Player 4 will pass to Player 3 coming off the back screen.


Player 2 could throw the pass to Player 3 coming off the back screen if he cannot get the ball to Player 4.
This is where you almost always get lay-ups. If none of the previous options were open, Player 3 almost always gets a lay-up as you swing the ball to the other side of the court.

What do you think? Let us know by leaving your comments, suggestions, and questions...
Comments
Most Likes First
Oldest First
Newest First
---
LA says:
9/18/2013 at 1:21:08 PM


these drills are great

Like
---
lilzay says:
8/26/2012 at 10:15:08 AM


my favrite play is the last one

Like
---
Ken says:
5/11/2012 at 1:16:12 PM


Jon -

"Perfect" ?? We can only wish... I'd be undefeated. Haha.

The Flex is a good offense, I like an Open Post offense, which can run forever. There are 2 basic cuts and the rest is reading the defense.
JMO

Like
---
Joe Haefner says:
5/11/2012 at 11:02:11 AM


Jon, we really like the flex offense. We just released a DVD on the flex here: http://www.breakthroughbasketball.com/pr/hybrid-flex.html

The 20% introductory discount ends today, May 11th at 11:59pm CST

Like
---
Jon Wilkins says:
5/11/2012 at 10:42:11 AM


I am looking for the perfect continuity offense that we can just run and run. It must be simple and easily breakdownable. any ideas please?

Like
---
scott says:
12/21/2010 at 10:54:50 AM


This play is awesome,easy layups and then when they sorta catch on to 5 screening for 1...we run the play threw and get good ball movement and 3 gets easy layup under basket.sometimes when 5 gets the ball up top of key we have 4 vcut to basket and 4 has a layup.thats of course 3 reading the play and seeing 4 cutting and stops on other block for rebound....has worked very well with other options i never saw until running it over and over and now is my 13yr old teams favorite play.are team is 4-1 ....thanks joe for all your plays.

Like
---
Talamoni-Aua says:
4/16/2010 at 1:40:39 AM


I can only say thank you. I love your work especially the sharing. It gives me more ideas on how to create new things.
Thank you very much for sharing.

Like
---
Coach Murdock says:
6/16/2009 at 6:31:46 PM


Good, simple set-up that can easily be coached to a group of players who are willing to listen

Like
---
Crosey1 Want to be Coach says:
12/16/2008 at 10:17:31 PM


I love the play. i think it would work perfectly. after the ball goes to 4 the two on top should set a stagger for 1. i have a few plays that would work well if i knew how to put them on the web

Like
---
beth says:
10/2/2008 at 11:39:45 AM


i like the diagrams u give.
it keeps everything simple.

Like
---
Show More
Coach Harris says:
9/17/2008 at 5:32:26 PM




Great idea to develop this site, thanks from the basketball brotherhood.

Like
---
fitz Patrick of Buk says:
4/1/2008 at 11:12:34 PM


Nice Play.Thanks for the help

Like
---
fitz Patrick of Buk says:
4/1/2008 at 11:11:08 PM


Very go diagram, this is what im looking for. This saves a lot of explaining to do.

Like
---
Malik says:
3/11/2008 at 12:57:42 AM


i love this play, because it very easy to run. when 1 passes the ball to 3, 3 have opt. of shooting or pass to 5 in the post. so it gives you alot of options. thanks

Like
---
Ephraim says:
3/6/2008 at 1:45:28 PM


it woDo you have one for zone

Like
---
belhadj says:
11/2/2007 at 6:01:15 AM


players 2 and 4 can be more active in this play.

Like
---
ertan says:
10/13/2007 at 7:12:59 AM


ý can help me from fundamental drills diagrams and offense sets...thanks

Like
---
Steve says:
10/4/2007 at 2:49:54 AM


Once player 2 makes the pass to player 4-If player 3 is not open - PLAYERS 2 & 5 should set a double screen for player 1 to come off for a three point shot.

I have seen this play run and You may never get to the third or fourth pass but teams like MIT-WHEATON(Ma.)-and other very disciplined and well coached teams will execute this play to perfection and be very successful

Like
---
elvis says:
9/6/2007 at 6:07:01 AM


this play is fabolous and really fundamental cuz it has many scoring options and everyone contributes in its success

Like
---
orlan says:
9/5/2007 at 3:01:16 AM


very smooth play

Like
---
Curt says:
6/29/2007 at 5:07:49 PM


I like the play, however I think that having the 2 and the 4 players make basket cuts when the ball goes out to the wing on the opposite side, will help keep the defense honest. Otherwise they will sag in and double team the post player(where we want the play to go) . Also the same thing when you reverse the ball. If the 3 player has the ball the 2 and 4 defenders would be sag in. I think it's better to do the basket cut screening for each other and still keeps the defense honest. Just a thought.

Keep up the great work.

Like
---
musa says:
6/9/2007 at 7:03:04 AM


am looking forward to trying this play in hopes of it helping us to score more.
thanks
nago de in hausa and in english thank u

Like
---
Garry Abben says:
1/18/2007 at 1:31:59 PM


I like this play, nice options.

Like
---
christinah says:
1/5/2007 at 1:22:04 AM


thanks for the help that you are offering me and the support from you guys.



Like
---
James says:
1/3/2007 at 2:20:42 PM


I plan on trying this new man play out this afternoon, thanks.

Like
---
WOR says:
1/2/2007 at 12:06:02 PM


Thanks a bunch for all of your help. We need all of the help that we can get.

Like
---
JAK says:
1/2/2007 at 10:11:55 AM


I enjoy all the plays and drills esp. I coach special players and find the easy drills extremely useful in teaching new skills that are valuable to a developing player.
Thank you

Like
---
lloyd says:
1/1/2007 at 2:30:10 PM


This play looks very good and I hope my kids can execute it correctly because its got alot of options to score.

Like
---
Moe says:
1/1/2007 at 10:05:38 AM


I am looking forward to trying this play in hopes of it helping us to score more.
thanks

Like
---
L says:
12/28/2006 at 9:20:34 AM


I am really enjoying all these drills. Thank goodness I found this website. I don't know how my basketball season would be going if I didn't have these to help me.

Like
---
D.R. says:
12/27/2006 at 11:16:36 AM


Thank you for the newsletter! I really enjoy the plays and tips.
You do an excellent job, and I appreciate your sharing with us.
Have a great Holiday season!

Like
---