Attack The Lane With The San Antonio Spurs' "Wheel" Set
During the 2014 NBA Finals, the San Antonio Spurs were able get in the paint at will against the Miami Heat.
This "Wheel" Set is designed to give your point guard a "head start" on their defender so they can drive to the basket. The defender is forced to run through three screens.
Defending this action is a tall order when you have a quick point guard like the Spurs did with Tony Parker.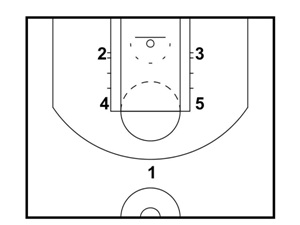 The play starts out in a box set. The guards are on the blocks. The posts are at the elbows.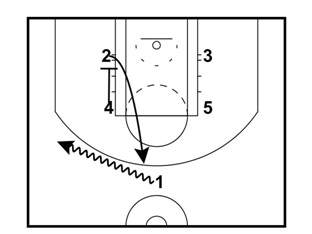 To start the play, 1 dribbles to either the left or right side. 4 sets a down screen for 2 on the low block.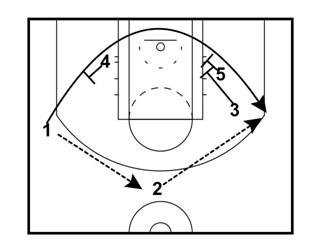 1 passes the ball to 2 and runs to the other side. 3, 4, and 5 all set screens for 1. 1 receives the pass from 2 on the opposite side.
If the defender overplays the screen, 1 can curl off to the middle of the paint for an easy shot.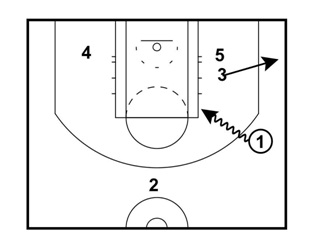 Once 1 receives the pass, 3 runs to the corner. 4 and 5 stay on the blocks.
1 looks to attack the basket as soon as the pass is received.
Note: It is important to think about giving the driver enough space to attack the basket. It forces the defense to make a split-second decision if everybody is properly spaced.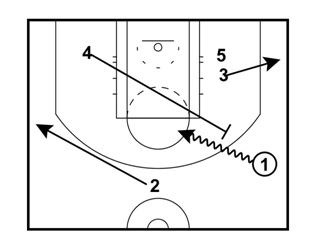 To add a wrinkle, 4 can also set a ball screen for 1. 2 runs to the left corner.
1 should have a wide open driving lane if the play is properly executed.
What do you think? Let us know by leaving your comments, suggestions, and questions...
Comments
Most Likes First
Oldest First
Newest First
---
Jim says:
7/8/2014 at 11:49:11 PM


4 could go high post and have a high/low with 5

Like
---
Zim says:
6/26/2014 at 11:11:31 PM


Great play. However, for teams that don't have great 3pt shooters like my team, what would be the necessary mofidications to this play? Since the defenders on 2 and 3 wouldn't bother closing out at corner coz he knew those guys couldn't hit a 3. That leaves less space or 1 to drive.
Thanks

Like
---
kmarrero1@juno.com says:
6/26/2014 at 6:54:40 AM


So, I take it that 3 sets a downscreen for 5 and then they set up a double stager on the other side-is that correct-great play -sets up space on other side for layup or kickout-will work for me if I had great shooters like the spurs who can knock down that outside corner shot-it gets that guard in the killer zone area everytime

Like
---
Kevin Williams says:
6/25/2014 at 1:06:48 PM


I like the spacing you get when 1 receives the pass from 2 and 3 runs to the corner and 2 runs to the other corner. The Spurs had excellent shooter that could knock down the 3 point shot.

Like
---
Roy says:
6/25/2014 at 11:18:52 AM


A good set for entry to dribble drive...

Like
---