Box Set Play Versus Man To Man Defense

Get A Wide Open Lay Up Or A 3-Point Shot From This Multi-Option Misdirection Play
This box play is best utilized in the half court against man-to-man defense. This play takes a while to develop so using it when there isn't much time left on the game/shot clock is risky.
If the play is run correctly, you should get an open shot in the post area or an open three point shot for your best shooter. This play is simple to learn and teach.
Summary
The goal of this play is to, through a series of screens, allow either Player #5 or Player #3 to take an open shot. Player #2 will make the decision to pass to Player #5 or Player #3 depending on how the defense reacts.
Personnel
Player #2 should have good decision-making skills since they will be the one who ultimately decides where the ball will end up. Player #3 should be a good long-range shooter. It would be beneficial if Player #5 possessed good low-post moves.
Instructions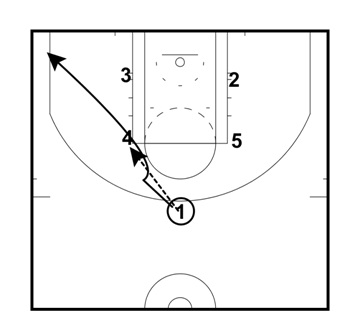 Player #1 starts out the play by passing the basketball to Player #4. After doing so, Player #1 will run by Player #4. As this happens, Player #4 will fake a handoff pass to Player #1.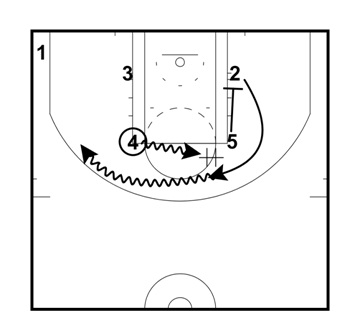 Player #5 sets a down screen for Player #2. Player #4 will then dribble towards the spot where Player #2 is located and they will perform a handoff pass.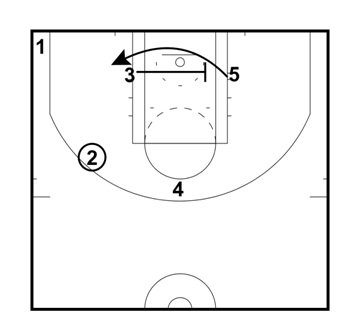 Player #3 will then set a screen for Player #5. Player #5 crosses the lane and is looking for a pass from Player #2.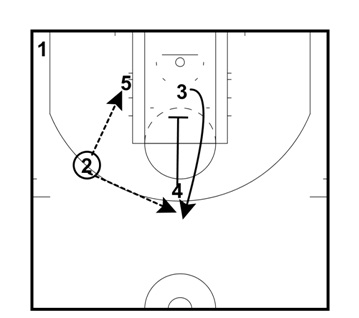 Player #3 cuts to the top of the key as Player #4 sets a screen on Player #3's defender. This leaves Player #2 a couple of options.
Pass the ball to Player #5 for a close range jumper

Pass the ball to Player #3 at the top of the key for a three pointer
Player #3 will almost always be open the first time you run this play. If the defense is able to take away the outside shot, Player #3 should look to attack the closeout as they have a clear out on the right side for the dribble attack. Timing is important for this play to work effectively. So players need numerous reps in practice to learn the proper timing. With misdirection, ball reversal, and screen the screener action --- this is a very effective play!

What do you think? Let us know by leaving your comments, suggestions, and questions. . .
Comments
Most Likes First
Oldest First
Newest First
---
Josh Perkins says:
11/22/2013 at 12:44:25 PM


Will be incorporating this into my upcoming youth league team. I like it and will add a change up to my baseline overload sets.

Like
---
ariel says:
11/21/2013 at 10:41:52 PM


Thanks a lot for this one. This exemplifies better teamwork.

Like
---
Peter McNair says:
11/20/2013 at 4:42:18 PM


Need to try this with the youth team..

Like
---
Tom Hawken says:
11/20/2013 at 9:36:44 AM


A good motion offence

Like
---