Red: A Scoring Play For Your "Big" Man From A 1-4 High Set
Summary: This is an excellent play to get your "Big" man a scoring opportunity on the move. It is a relatively simple play that involves ball and player movement.
This was the 2014 USA Senior National team's initial play after winning the jump against Brazil (Exhibition game in Chicago).
Step 1
Using a 1-4 high set.
Player 1 is the point guard and brings the ball up the floor on the right side of the play.
Player 2 is on the left wing and should be able to set good screens and move well without the ball.
Player 3 could be a guard or forward with good ball handling skills.
Player 4 is on the left elbow.
Player 5 is on the right elbow and who the play is designed for. Should be your better scoring "Big".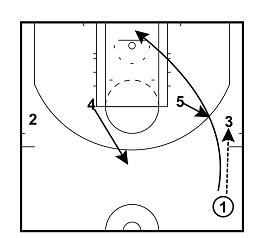 Step 2
Player 1 passes the ball to Player 3, then cuts toward the basket rubbing off Player 5.
Player 5 then moves toward Player 3 to get in position to set a ball screen.
Player 4 makes a cut out to the three-point line at the top of the key.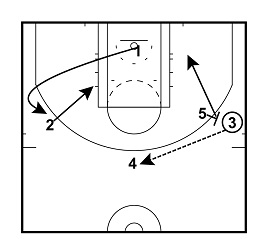 Step 3
Player 3 rejects Player 5 screen, who then cuts to the basket.
Player 3 reverses the ball to Player 4 at the top of the key.
As Player 3 is passing the ball, Player 2 starts moving down toward the baseline.
Player 1 is finishing his cut to the left wing.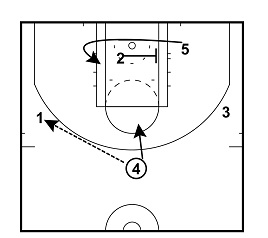 Step 4
Player 4 swings the ball to Player 1, and then moves into the high post a few steps.
Player 2 sets a cross screen for Player 5, who looks to post up in the low-block area.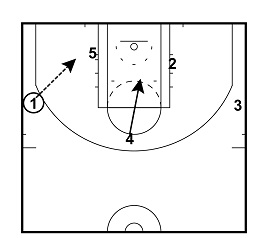 Step 5
Player 1 passes the ball to Player 5 in low post for a shot.
Player 4 dives down basket line to crash the boards but he should also be looking for a possible pass.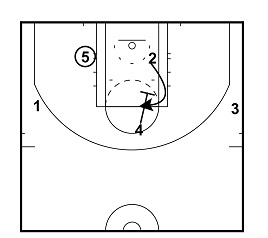 Wrinkle #1
If Player 5 does not have a shot or pass to a diving Player 4.
Player 4 will set a down screen for Player 2, who will curl off of the screen for a shot.
Player 3 has two options to stay put on the wing or cut towards the top of the key.
Player 1 can either stay on the wing or to the left corner.
Other comments
In Step 4, it is important that Player 4 does not get overzealous and cut after passing to Player 1 because he would clog the lane if he does so.
Also in Step 4, Player 1 has to be patient in order for Player 5 to have enough time to cut to the left block following the screen. He can take a couple of dribbles to keep the timing of the play right.
What do you think? Let us know by leaving your comments, suggestions, and questions...