Klay Thompson Inbounds Play With 3 Counters To Defensive Adjustments
Klay Thompson and Stephen Curry, who dubbed the "Splash Brothers" for their prolific shooting ability, are arguably the best backcourt in the NBA. Head Coach Steve Kerr, who holds the NBA record for highest three-point shooting percentage, has turned out to be a perfect fit for the Warriors. Some NBA experts favor them to win the 2015 NBA Championship, in large part due to Kerr's mastery of the Xs and Os.
An underrated part of coaching is drawing up high-quality inbounds plays. Kerr has a brilliant inbounds play designed to get Thompson or Curry an open three-point shot.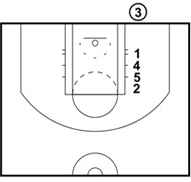 Initial Set Up
This play can be run from either the baseline or the free-throw line extended. The play sequence will remain the same from either location.
Note: 2 is the designated shooter on this play. It is crucial that 2 is a right-handed shooter. Otherwise, it will be an awkward catch-and-shoot from the right corner. If the play is run from the left side, the opposite applies.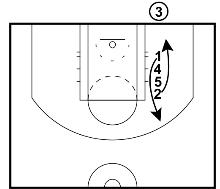 Play Sequence
1 releases to the perimeter. 2 cuts towards the basket preparing to rub off a double screen from 4 and 5.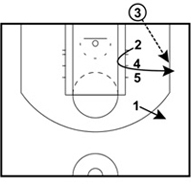 1 becomes the safety valve. 2 runs through a "gate" screen from 4 and 5 to the right corner for an outside shot.
Variations for This Play
There are several variations that will keep the defense guessing.
All of these can be run from either the baseline or the free-throw line extended.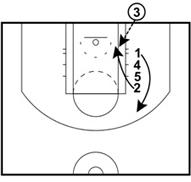 Variation #1: 1 and 2 switch sides
If the defense is overplaying the initial cut, have 1 and 2 signal to switch sides.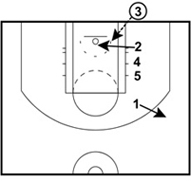 Variation #2: 2 slips the double screen
After the defense has seen the play, they will shift the defense to stop the double screen. Counter this by having 2 curl to the basket.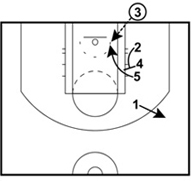 Variation #3: 2 and 4 set a double back screen for 5
Sometimes, the opposing post players will cheat the gate screen in order to jam 2's path to the perimeter. Take advantage of this by having 2 and 4 set a double back screen to get 5 an easy layup.
What do you think? Let us know by leaving your comments, suggestions, and questions...
Comments
Most Likes First
Oldest First
Newest First
---
Mick Elbert says:
4/17/2015 at 10:29:58 AM


I don't understand initial set shows 1 at bottom and 2 at top of stack , but then tehy are reversed on first play. How did that happen

Like
1 reply
---
Joe Haefner says:
4/17/2015 at 10:55:52 AM


Thanks, Mick! A diagram actually disappeared. It is fixed now.

Variations 2 & 3 are assuming are assuming that the initial action in the second diagram has already occurred.

Like
---
---