Kansas Double Ball Screen Play
Here is a great play provided by Don Kelbick. He got this from watching Bill Self's Kansas Jayhawks men's basketball team during the 2011-2012 season.
This double ball screen gives you multiple scoring options. It will give you scoring options attacking the basket and if the defense collapses, it provides proper spacing for the penetrate and kick. If the ball screen is defended well, this play shows you another counter to get a wide open shot.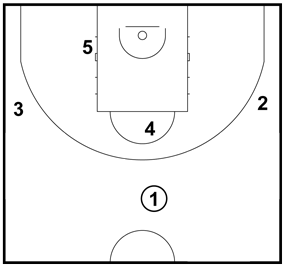 1 starts with the ball at the top of the key.
2 & 3 are on opposite wings.
4 is in the high post around FT line area.
5 is on the low block.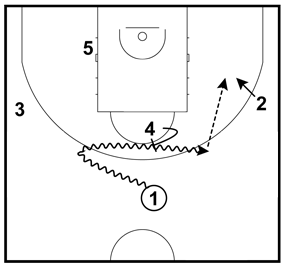 1 dribbles to the left to set up a ball screen by 4.
After 1 dribbles off of the ball screen, 2 sets his defender up for the backdoor cut.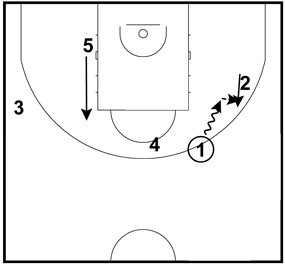 If the backdoor is not open, 1 hands the ball off to 2.
5 cuts to the high post.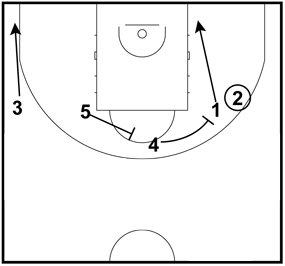 After the dribble hand off, 1 cuts to the low post area.
4 & 5 set a staggered ball screen.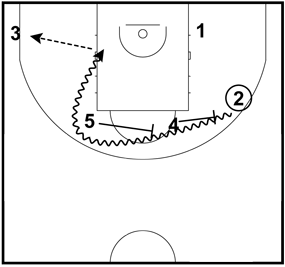 2 looks to score. If the defense collapes, 2 kicks the ball out to 3.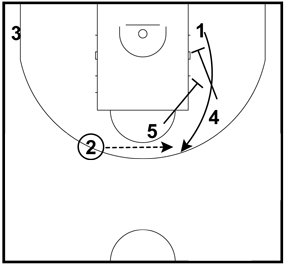 If 2 can not turn the corner on the ball screen, 4 & 5 set a stagger screen for 1.
To view coaching products from Don Kelbick, go to Don Kelbick Products.

For more information on Don Kelbick, go to www.DonKelbickBasketball.com.

What do you think? Let us know by leaving your comments, suggestions, and questions...
Comments
Most Likes First
Oldest First
Newest First
---
Dave says:
1/13/2014 at 9:52:10 PM


Do you have any game footage of this play that I can see? Would love to show and put in for the team.

Like
---