How the San Antonio Spurs Run Their
Two-Man Game
The San Antonio Spurs are known for their exceptional spacing and ball movement on offense. However, the Spurs also allow for individual brilliance within their system. This creative set is a perfect example of how coach Gregg Popovich uses the principles of his motion offense to give his top players, Tim Duncan and Tony Parker, an opportunity to run a two-man game.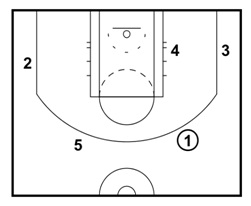 Initial Setup
The play starts out in a 4 out 1 in set. It can be run directly out of a secondary break.
Note: the two players involved in the two-man game will be 1 and 4.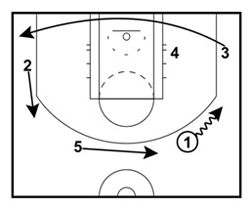 Play Sequence
1 dribbles to the strong side wing. 3 runs to the opposite corner. 2 shifts to 5's previous spot. 5 moves to 1's previous spot.
Note: 3 needs to look for a back cut if overplayed. 4 can flash to the high post and then make the pass to 3 for a layup.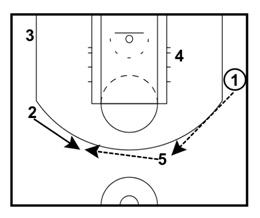 1 passes to 5 then 5 swings it to 2.
Note: 2 should cut to the middle of the lane if overplayed.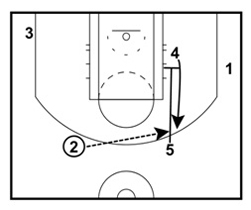 Once the pass is made, 5 sets a down screen for 4. 2 makes the pass to 4.
Note: a wrinkle is to have 4 set a back screen for 5. Run it if the defense expects the down screen. 2 can also cut to the basket for a give-and-go.
Once the pass is received, 4 can:
Take a mid-range jump shot

Attack the basket

Dribble handoff or pass to 1 for a side pick-and-roll
What do you think? Let us know by leaving your comments, suggestions, and questions...
Comments
Most Likes First
Oldest First
Newest First
---
David Galler says:
5/6/2015 at 1:11:08 PM


I like the set because most of the movement is off the ball, at any step there is an opportunity for attacking the basket, taking what the defense gives you.

Like
---
Eric Lewis says:
5/6/2015 at 10:30:35 AM


I like the play because it gives multiple scoring options while still protecting the backcourt

Like
---
Ian Pool says:
5/6/2015 at 9:37:53 AM


It looks good and should be easy for any level of players, i.e. juniors such as I have.

Like
---
confused says:
4/29/2015 at 5:58:28 PM


How did the ball get from 1 to 2?

Like
1 reply
---
Joe Haefner says:
5/1/2015 at 11:50:04 AM


Thanks for the catch! Missing diagram where 1 passed to 5 and 5 passed to 2.. It's in there now.

Like
---
---