5 vs. 4 Defensive Disadvantage Drill
Categories:
Defense Rebounding
Ages:
All Ages Youth Middle School High School+
Purpose of the Drill:
This drill is from the Rich Stoner Coaching Clinic.

The purpose of this drill is to teach the players how to defend in a disadvantage situation by forcing them to rotate defensively in order to match up with the appropriate offensive player.


Instructions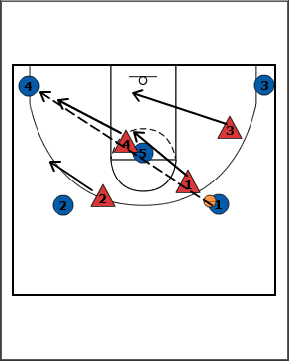 The first pass can be made to any offensive player except number 5 in the post.
All the defensive players react to the pass by moving into help positions. The offensive player guarding the man that has the ball closes out.
Then it becomes a live game.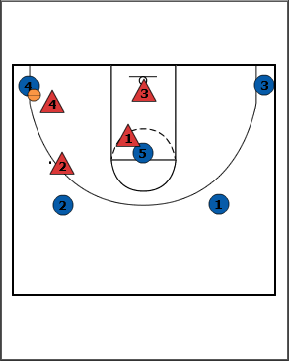 Here the players have rotated in order to leave the furthest man from the ball open and guard the men closest to the ball.
Points of Emphasis:
Sprint to closeouts. It is the only way that you can defend effectively in this drill.
Communicate! When playing down a man, communication becomes even more important.
Guard the men closest to the basketball and leave the furthest man from the ball open.

Comments
Most Likes First
Oldest First
Newest First
---
delbuggio says:
4/8/2012 at 8:28:47 PM


For this drill, the rule is the player closest jump, rotate the board the farthest ball defender.

Like
---
delbuggio says:
4/8/2012 at 8:27:05 PM


the rule is: the player closest jump, rotate the board the farthest ball defender.

Like
---
john says:
6/10/2010 at 12:44:35 AM


wow! its nice

Like
---
newtoney says:
5/16/2010 at 7:36:31 PM


its so interesting to learn more on defense.. tnx for this .... send me more

Like
---
Eric Levesque says:
5/7/2010 at 3:33:22 PM


it will actually make the defense obviously have to work harder, but will also enable the offense to be able to move the ball, and get some things done that we had hoped to.

Like
---
Eric Levesque says:
5/7/2010 at 3:31:29 PM


I like the sound of this, when we do 5 on 5 scrimmages in our jr. biddy (7-9 yr. old) practices, it always seem to turn into a steal-fest. We never get as much desired result as we'd hoped to.

Like
---
majid salehi says:
5/6/2010 at 4:44:43 PM


it is a great and effective drill,I've done it before with my senior team and i got a good result.


Like
---
majid salehi says:
5/6/2010 at 4:44:41 PM


it is a great and effective drill,I've done it before with my senior team and i got a good result.


Like
---
silverado says:
5/6/2010 at 3:04:42 PM


I've been looking for a good drill regarding on how to close out and to play a good defense, thanks that finally I have found one, and I think its more effective drill since the defensive side has only 4 players playing with 5 offensives and looks like a normal game.

Like
---
CRAIG PENNAMON says:
5/6/2010 at 10:55:30 AM


outstanding training material. will use this at my practice

Like
---
Show More
vaisakh.v.lal says:
5/6/2010 at 4:12:04 AM


thanks ......it's nice............send more to me

Like
---