Full Court Chair Series
Categories:
Ballhandling / Dribbling Offensive Moves Transition
Ages:
All Ages Youth Middle School High School+
Purpose of the Drill:
Good warm up that works on ball handling full court, change of directions, and either layups or jumpshots off the dribble.

This drill was provided by Tim Springer at Spartan Performance Training.
Instructions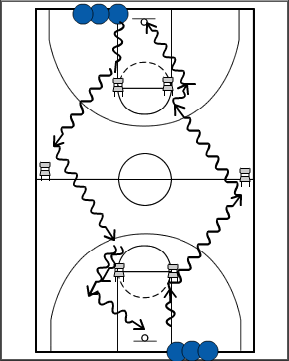 Start lines at baseline opposite each other
Each player dribbles to each chair and uses a change of direction to get past the chair
Each player finishes with either a layup or jump shot or whatever the coach instructs
After scoring, each player gets into the next line.
Points of Emphasis:
Staying low with their dribble
Approach each chair and do the move properly (fatigue will set in and lack of detail will happen.
Make sure not to crowd each other.
Keep your eyes up!!
If using shooting to score. Work on either proper 2 step finish into jumpshot UNDER CONTROL.
Have each player count their own makes. When time runs out, have them meet at 1/2 court and one person (a leader or someone who wants to start leading more) tallies up the makes and reports to the coach
Motivation/Teaching Tips:
Make it a team accomplishment drill
Put 2 to 3 minutes on the clock and make a team goal
I usually have them do one push up for every layup or jump shot they are short of the goal

Comments
Most Likes First
Oldest First
Newest First
---
zach says:
7/11/2013 at 11:09:50 PM


nice....

Like
---
Coach Linen says:
12/4/2011 at 9:02:14 PM


I have been coaching middle school girls the last five years and started three years ago reviewing Breakthrough Basketball and it has helped with the development of my players for me and now I see them at the high school varsity level. Player development is amazing. Thanks

Like
---
Brandon Helkenberg says:
10/6/2011 at 11:44:21 AM


i find this very helpful so i can try and help my basketball friends that play at coffeyville community college last year and agasin this year... we were region 6 champions and placed 5th in the nation last year. thanks alot i really do appreciate this website.

Like
---
Dereck A says:
11/20/2010 at 10:54:28 PM


This is my first year on coaching Middle School Basketball, I am learning as I go. If there is any pointers that you vet, have let me know,I have a girls team.

Like
---
Joe Haefner says:
8/17/2010 at 10:28:57 AM


Chester, that's great to hear. We're glad that it's helping you and your team.

Like
---
Chester Allen (PG) says:
8/17/2010 at 9:56:06 AM


hey ive been showing my coach these drills from your website, and now everyday during practice. my coach asks me: "what''ave ya got?"

Like
---
feuh Mvo Marcel says:
12/5/2009 at 5:12:07 AM


Holla , i must start ny sqayi,g that its, very kool and i have used it for somtime now to over comes deffensive guids. i also thing that the best these dirll hleps in is to reach the basket with all eas and cinfindent . try it too and enjoy B-ball. take care and lots of love

Like
---
Coach Springer says:
10/7/2009 at 7:36:15 PM


Looks great. Thanks for the opportunity to share.

Coach

Like
---