Flat Ball
Categories:
Defense Footwork Offensive Moves Passing Press Breaker
Ages:
All Ages Youth Middle School High School+
Purpose of the Drill:
This is a great drill to teach players how to move and get open. Eliminating the dribble makes it necessary for receivers to find passing lanes and passers must learn to pivot and find the receiver.

Instructions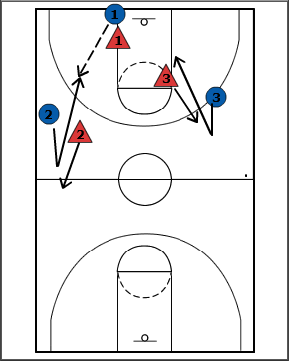 Players play 3 on 3 full court with NO DRIBBLE (like playing with a flat ball)
Receivers should go somewhere, plant, and cut back *through the ball*
Defenders need to deny the pass (there's no need to help - the offense can't dribble)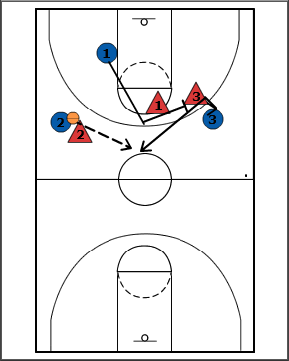 Players with the ball must continue to pivot and protect the ball, while looking for teammates and new passing angles.
Receivers must continue to move, cut, screen, and create passing outlets and come to meet the ball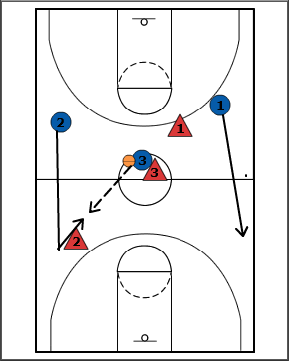 Players should look to make aggressive cuts and work hard to continue to advance the ball up the floor.
Receivers need to be aware of drifting too far away and making the pass a long, unsafe pass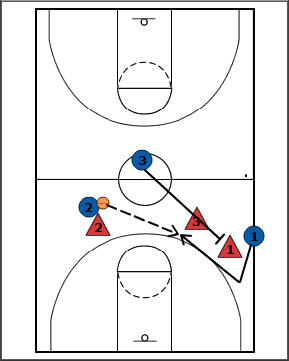 In the front court players need to work to get in a position to create scoring opportunities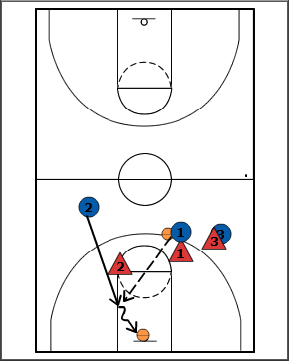 Once in the attacking zone the offense should look to score
You may allow one dribble in the key when a player is trying to score.
Points of Emphasis:
Passes must be crisp, hitting the target hand.
Receivers must continue to work and move to get open
Receivers should continue to their cut *through the ball* until they make the catch
Important for the offense to pivot and protect the ball by "ripping it through" or "sweeping it low" to keep it away from the defenders hands.
Younger players may take one dribble to improve a passing angle.
If the defense intercepts they try to go the other way and score in the same manner at their basket.
1st team to score wins.
Advanced players can use a "heavy ball" or medicine ball to increase the workout.
MY ALL TIME FAVORITE DRILL!
Motivation/Teaching Tips:
This is a high effort/high energy drill and players feed off the coach.
From the coaches throughout the drill you'll hear words of encouragement, hustles, and trigger phrases like "Pivot!", "Move!", "Rip through", "Passing Angles", "Sweep""Nice Cut!", "Work!", "Good pass!". Meet the ball!", "Great job!", etc.

Comments
Most Likes First
Oldest First
Newest First
---
Chris says:
1/29/2012 at 12:59:16 PM


We do a variation of this with our 6th grade girls (a very skilled group for this age). We don't use a flat ball, but dribbling results in a turnover, and we run it 5 on 5 full court. It is an amazingly effective drill, with the results clearly evident in games. The girls love running it (we call it "pass-ketball"). It's great for conditioning too.

Like
---
bballer says:
8/18/2010 at 7:15:36 PM


nice
stuff i plan to do it tommarow
i coach 4th grader girl all they do is play around i get so mad but they do what i say some times

Like
---
Kerry O says:
1/29/2010 at 9:45:16 AM


Great drill. Installing the "no dribble" rule during the 3 on 2/2 on 1 full court drill is very effective as well.

Like
---
Reg says:
1/21/2010 at 1:10:13 PM


My HS coach used this drill with us in the 60's.
I used it as a HS coach in the 70's and 80's. It really works and it works on your conditioning as well.

Like
---
francisco cabrera says:
10/26/2009 at 10:47:27 PM


nice drill good movents of the players without ball cutting sets screens and good for defensive

Like
---
Nedra Frit. says:
10/20/2009 at 8:50:37 AM


Thank you for sharing this drill, I have used this drill for many years using a flat soccer ball.

Like
---
Vince Watford UK says:
10/9/2009 at 1:41:00 PM


Funnily enough, I have been on the point of running a 2v2 or 3v3 drill, from the inbound, as a way of preparing my kids for a press; but this is great as I prefer the look first, dribble second discipline anyway. Many thanks, we're doing it soon!

Like
---
Bill Remacle - Co Springs says:
10/8/2009 at 10:04:23 AM


I love this drill but never thought about using a football....this is why this web site is awesome. I love it.

Like
---
Bill Dubin says:
10/8/2009 at 8:01:26 AM


Also used a football so the temptation to dribble is not even there. Obviously no scoring.

Like
---
Trevor - Geelong - Australia says:
10/8/2009 at 5:47:31 AM


This is a great teaching tool. I have also used a flat basketball to practice Press Breakers. Again this forces the players to pass and not put the ball on the floor.

Like
---
Show More
Dr Laurence J. MacDonald PhD says:
10/8/2009 at 3:35:49 AM


Thirty eight years Ive taught and coached this game and still i learn something new. Great drill...next time make the spam question a little easier..lol...Laurence

Like
---