Illinois's Box Z - Baseline Out of Bounds Play Against Zone
Categories:
Offense (Team)
Ages:
All Ages Youth Middle School High School+
Summary:
This is a baseline out of bounds that you can use against a zone defense with multiple options to get an open look near the basket. Bruce Weber used this when he coached at Illinois.
Personnel:
1 - Passer
2 - Shooter
3 - Wing
4 - Finisher
5 - Big Man
Instructions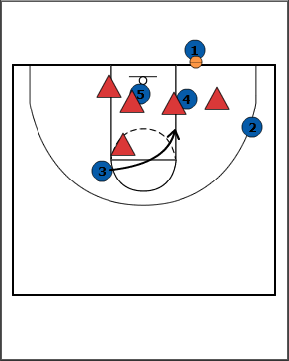 If 4 does not get the ball, 3 follows and fills an open spot.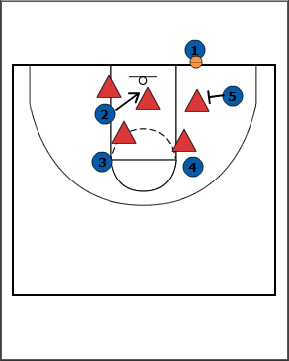 2 flashes middle.
5 acts like he is setting screen on outside defender on zone.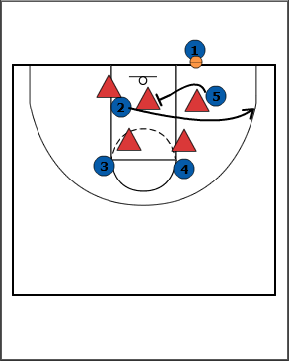 5 then slips to pin the middle man of the zone and open up to the ball. 2 cuts out to corner.
The action of 2 & 5 opens up a lane for 4 to do a straight dive.

Comments
Most Likes First
Oldest First
Newest First
---
Mark says:
8/22/2012 at 11:11:42 PM


We have run a version of this also. Simple, but very effective. Surprising how often 4 is open.

Like
---
Ryan says:
9/16/2011 at 11:23:41 PM


3 fakes cutting across the lane and then cuts to the weak side low block. 5 screens for 2, 2 cuts to the ball side corner. 5 upscreens for 4. 4 cuts to the ball side low block. 3 screens for 5, 5 cuts to the weak side low block.

Like
---
coach sav says:
8/30/2011 at 11:32:47 PM


i would like to see the screen the screener variation of this play vs man.

Like
---
Ryan says:
8/3/2011 at 12:58:43 AM


We also run a screen the screener variation of this play vs man if you are interested lemme know.

Like
---
Ryan says:
8/3/2011 at 12:22:51 AM


BTW Watch Kansas run this play. That''s where I got it. Bill Self runs it out of two different sets. Box and Wide

Like
---
Ryan says:
8/3/2011 at 12:20:09 AM


This is an excellent play. We absolutely destroy people when they try to zone us on BLOBs. In fact, this is the only BLOB play we run versus zone. We get a scoring opprotunity off this play every time we run it. If your 2 can shoot, the ball side low post defender has to come out on him. If the defender goes out, then the middle screen is there. The defense will adjust and send the guard defender down with your 4 to try to take him away. If they do this , we run a continuation inbound play to take advantage of the mismatch in the post. I'll give more details if you want them, we've ran this play the past 3 years and we are still having success with it (3rd at state last year).

Like
---
Bob says:
4/12/2011 at 6:41:21 PM


This play works... I use a variation of it against zone but I have 4 set elbow screen for 3 who pops out ball side top for a safety and 4 has to be patient and wait til 2 draws the low block defender out to corner and then 4 dives and open every time... until they get smart... it takes awhile for 4 to learn the timing and to be be patient... I also have 5 screen middle of zone and then pivot and seal and then work to get weakside rebound postion.

Like
---
Coach@DCS says:
4/9/2011 at 6:26:08 PM


Honestly If you are playing against a tough defensive team (which would be the reason having to use this play b/c of man on man defense) then pulling all the defense to one side of the court is not very good idea ...

Like
---
Coachma says:
7/13/2010 at 5:13:49 PM


This is a great play that has many options. 3 should flash into the opening and pop out to the three point arear for the long outlet if there is trouble

Like
---
Coach Rowls says:
7/1/2010 at 7:04:47 PM


I agree it seems to be a very good play after you have worked a few box sets to give the impression that you are going to run maybe something previously ran before... I feel that this would be a great 2nd half set...

Like
---
Show More
pari says:
6/8/2010 at 12:37:32 AM


5 is open, why1 doesn''''t pass it to 5?It is faster.

Like
---
coach B@albany says:
6/7/2010 at 1:01:22 PM


I like the looks of this ... by the way , tell Valery we don't worry about 3 seconds while ball is out of bounds.

Like
---
Valery says:
6/5/2010 at 5:17:37 AM


First two stages ok but after this is just terrible, 5 standing inside 3 seconds then another one coming all D comng inside 3 seconds and the best thing in this accasion to bring there third one ? have you ever played ball guys ?
You saying this is nice play for whom ?

Like
---
Coachb says:
6/4/2010 at 10:09:55 AM


nice play. i would only add that since 5 is opening to ball side, 4 should jab right and v cut left to get under middle defender and come down left side of lane.

Like
---
CHUA says:
6/3/2010 at 10:50:32 PM


Looks easy but timing is very important

Like
---
Herman says:
6/3/2010 at 12:09:49 PM


Looks like a great play I'll try it.

Like
---
tom blenner says:
6/3/2010 at 9:35:03 AM


I assume then 1 goes opposite the ball after the entry pass.It also appears there is no weak side rebounding action as we are flooding one side unless 5 kicks out.

are we suspect to giving up a fast break on a miss?

Like
---
coachwil says:
6/3/2010 at 8:58:11 AM


before 4 dives in, isnt much better if 3 will flash and give a screen to 4 and if 4 cant get the ball, 3 can pop out and get it.

Like
1 reply
---
coachschaf says:
11/30/2014 at 10:52:16 PM


After 4 cuts, 3 can just go ball side and back as the safety outlet if 2, 5 or 4 aren't open. If you inbound to 3, 2 could step in and screen for 1 in the corner for a shot. You'd want to make sure 1 is your best shooter.

Like
---
---