Orlando Magic vs. Chicago Bulls
Baseline Inbounds Play (BLOB)
Categories:
Offense (Team)
Ages:
Middle School High School+
Summary:
This is a great misdirection play that I saw the Orlando Magic run against the Chicago Bulls on 1/2/10 towards the end of the game. Everything was executed perfectly, except for the ball going through the hoop.
Personnel:
1 - Point Guard (Jameer Nelson)
2 - Decoy (JJ Redick)
3 - Inbounder (Matt Barnes)
4 - Shooter (Ryan Anderson)
5 - Screener (Dwight Howard)
Instructions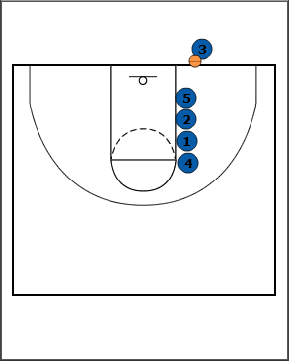 The players start in a stack formation on the ball side.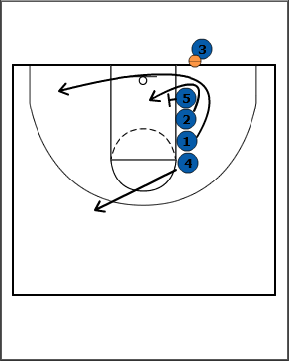 2 curls around 5.
1 follows 2 around 5 and cuts to the corner.
After 1 clears 5, 5 turns to screen for 2 who curls around 5 again.
4 flares to opposite wing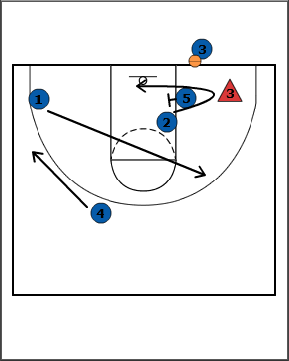 5 turns to set a screen for 2. 2 curls around 5 again. (My guess is that 2 curled around 5, because the defender guarding the inbounder took away the baseline pass as shown in the diagram. If 2 was open, he may have continued to the baseline for an open shot.)
When 2 curls around 5 again, 1 cuts from the corner to the ball side wing.
When 1 crosses 4, 4 cuts to an open spot near the wing/corner area for the shot.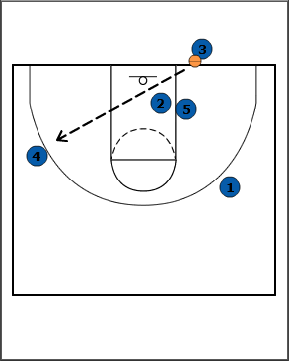 Comments
Most Likes First
Oldest First
Newest First
---
Ken says:
8/26/2012 at 1:14:14 PM


You might be surprised with what can and cannot work at times. A lot of the time its about what Hubie Brown calls the "Human Factor." Meaning that people make mistakes no matter what the coach tells them to do.

The players have to believe in their coaches and do what they say, its up to them to make things work.

Like
---
lilzay says:
8/26/2012 at 10:05:14 AM


im a player but if my coach told us to do these plays i would just not the last that play doesnt look to smart

Like
1 reply
---
Michael says:
10/26/2015 at 2:54:53 AM


These plays have been run for a long time. They are proven to work when done correctly.

If your reaction to a play you don't like is to simply not do the play, you aren't much of a teammate or player.

As well, when you question the intelligence of anything, please use capitalization and punctuation.

Like
---
---
Joe Haefner says:
8/8/2011 at 10:45:14 AM


Hi Matthew,

At that time, it will be close to a 5-second violation, so #2 should go where they can receive the ball.

Like
---
MATTHEW GBAMORE says:
8/8/2011 at 10:09:52 AM


HEY I AM A BIT CONFUSE ABOUT THE POSITION OF #2, AFTER HE OR SHE ROLLS OFF THE SCREEN FROM #5 WHERE DO THIS PLAYER GO? STAY IN THE PAINT OR FLASHES OUTSIDE? IF THE ANSWER IS YES FOR #2 TO FLASH OUTSIDE THEN WHERE WILL # 3 GO. THANKS I AWAITS MY FAVORABLE ANSWER.

Like
---
nicholus simelane says:
2/22/2010 at 3:43:25 AM


great for us in south africa,please send more for junior high school players.

Like
---
Bill says:
2/20/2010 at 12:11:33 PM


Nice variation off the old stack- I don't think the time would be a factor if it is run quickly- there are a lot of options that would work. I like the lob option that seamar 116 mentioned in his comments. Nice play.

Like
---
seamar116 says:
2/18/2010 at 3:09:25 AM


I just move the stack to the middle of the key, have the first two players screen the closest defenders, the last person break ball side, and lob to #3, for a 2-3 foot shot. Works every time...except making the shot.
I''ve run this HS boys, HS girls, JVs, super against a 2-3.
You would think the defense would adjust, but nope. Even when the oach is yelling to watch the lob, we still get it. Sometimes one of the first two will be wide open for a lay-in as the defense starts focusing on the lob.
It''s so stupid, and so simple...and it works.

Like
---
danielle says:
2/18/2010 at 1:14:53 AM


I like it!! It''s fun and my girls loved it!

Like
---
Sean Mc Coy says:
2/17/2010 at 8:14:45 PM


Great Plays I love them!!

Like
---
shedy says:
2/16/2010 at 11:42:06 PM


This to my thinking NBA can make it but some teams and schlools canot make it but the point is anybody can try.


Like
---
Show More
Jeff says:
2/16/2010 at 4:38:32 PM


Seems the majority of teams (high school and under) do not play man defense on an out-of-bounds from under the basket, so this would be for a very specific situation. Would like to see more plays to run against a zone...thanks!

Like
---
Robert says:
2/16/2010 at 10:07:35 AM


Have run this type of end out baseline play at our high school and it does work within the 5 seconds as long as you have the outlet option at the top with your number 1

Like
---
Coach D says:
2/16/2010 at 9:01:40 AM


This play may take too long for a high school level - NBA yes - high school no. 5 seconds will elapse

Like
---
Wim says:
2/16/2010 at 4:36:55 AM


Don't forget the options for 5 (screen 2?)

Like
---