Kansas St - Screen the Inbounder
Categories:
Offense (Team)
Ages:
Middle School High School+
Summary:
I got this play while watching the Kansas St - Dayton game on 11/22/09. This inbounds gives you different scoring options that include a screen the inbounder, backdoor cut/lob, and perimeter jump shot.
Personnel:
Good passer, shooter, screeners, and finisher around the basket.
Instructions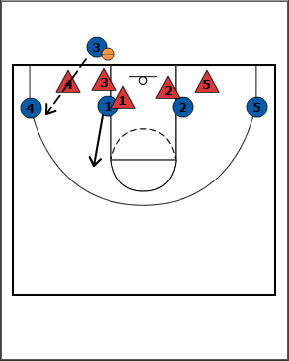 3 throws a lob pass over the defender to 4
1 cuts to the high post area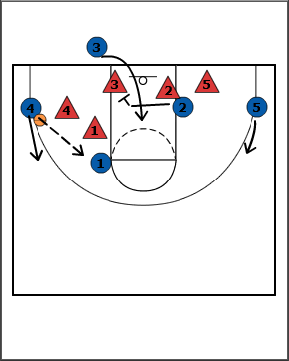 4 Passes to 1
As the pass is made to 1, 2 sets a screen on the defender guarding 3.
3 cuts to the middle of the lane to gain position by the basket.
After 4 passes, 4 & 5 cut to the wing area.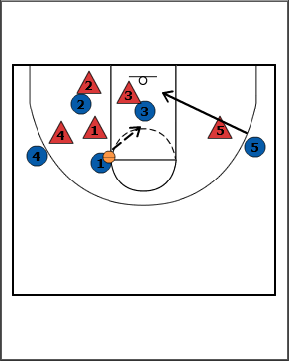 Option 1: Low Post Entry
If 3 is open, 1 passes to 3 in the low post.
3 looks to score.
As the pass is entered to 3, 5 sets up his man for a backdoor cut.
If there is not a scoring opportunity for 3, 3 looks for the pass to 5.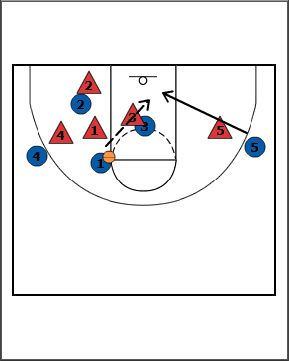 Option 2 - Backdoor Lob
If 3 is not open, 1 looks for the backdoor lob to 5.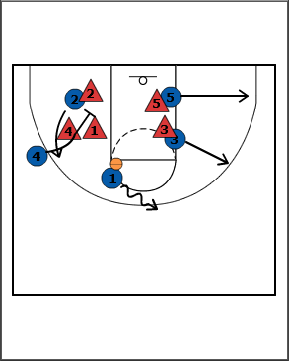 Option 3 - Screen on Wing
If the entry to 3 and the backdoor lob to 5 is not open, 4 sets a screen for 2. 1 simultaneously dribbles toward the top of the key.
2 pops to the wing for a jump shot.
4 seals in the post.
3 & 5 clear the lane.

Comments
Most Likes First
Oldest First
Newest First
---
Mark Mirata says:
3/25/2013 at 4:04:19 PM


Great play however I would switch 3 & 5. I'm a HS coach and we are never doing lob plays really. I rather have my shooter outside and my true post player inside. And when 2 screens for the thrower it doesn't matter if they switch because I now have my post player being guarded by there shooting guard!

Like
1 reply
---
Current HS Coach says:
12/9/2021 at 11:22:20 AM


Most coaches don't want the 5 taking the ball out of bounds underneath because they're usually the worst decision maker on the floor.

Like
---
---
Youth Basketball Drills says:
3/12/2011 at 1:06:29 PM


This is a great play. Makes the players think and be aware. Good job!

Like
---
Coach Antwine says:
9/1/2010 at 11:24:19 AM


This a great play ,but what if we have a small team. Will we be able to get the ball to our small man? So is their other ideas that we can do with this drill?

Like
---
Coach D says:
1/7/2010 at 10:31:55 AM


Love that you guys are looking in all kinds of places for intuitive plays. K-State clearly has some good stuff up there sleeves.

Your love and contributions to the game is appreciated.

Like
---
coach b says:
1/7/2010 at 9:20:53 AM


we run a similiar spread set but put one of our bigs at the block instead of a 1 and they fade to the elbow and get the lob. The 2 spot cross screens for the inbounder. Works well when you run other plays out of the spread and then give them this different look.

Like
---