Pair
Categories:
Offense (Team)
Ages:
All Ages Youth Middle School High School+
Summary:
This play is called "Pair" because two screens are set.
Personnel:
The point gaurd needs to be a good decision maker. He needs to get to a 45 degree angle for post cut. It is advantageous if you bring your best shooter to screen for your best offensive scoring post.
Instructions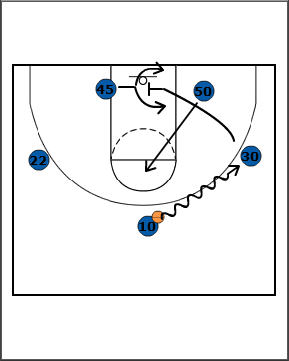 The guard calls up a post and dribbles towards the wing on that side.
The ballside post cuts to high post area.
The wing moves towards the offside post and sets a screen (creating a big-little situation if they switch it) and post comes off it tough, elbow to elbow.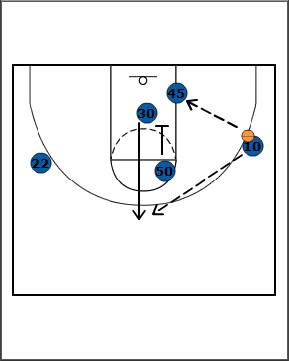 As the post comes off the screen, the high post screens down (screen for the screener action).
The wing pops up for either a jumper or a 3.
The guard looks at the post first and wing second.
If they do switch the first screen, the guard looks at the wing high, then considers the big-little switch that occurred inside.
Use versus man-to-man defense only.
Hint - If the guard waits to pass the ball to the wing and they are covered, the guard looks back into the post.

Comments
Most Likes First
Oldest First
Newest First
---
Alan Keane says:
12/26/2012 at 10:58:58 AM


Like and have used this play a lot. Very effective and have also engaged the weak side wing in the action by using him to set a double down screen for the shooter.

Like
---
Kendall Mendez says:
2/3/2010 at 12:30:47 AM


A good play.

Like
---
Wallace Berry says:
1/20/2010 at 3:23:40 PM


This is a nice play. Screen for the screener works not only in your regular set offense plays, but with inbounds plays, too. Something you might consider is having the weakside wing come down and set a double screen. If not, that wing needs to keep his man busy somehow. If the guard takes the shot and follows any miss, then the other wing must get back for defensive balance (come to the point).
Thanks,

Like
---