Zig Zag Dribbling with Traffic
Categories:
Ballhandling / Dribbling
Ages:
All Ages Youth Middle School High School+
Purpose of the Drill:
Improve dribbling at high speed and handle pressure.
Instructions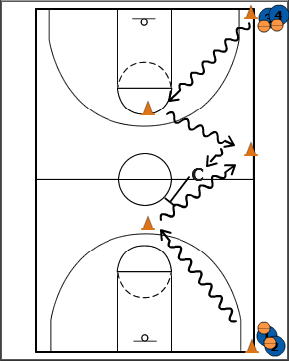 Line up all your players in each corner. For an added challenge you can require players to use their weak hand exclusively or dribble with two basketballs.
On "go" players sprint at the cones as fast as possible and "zig zag" to each cone. Both lines start at the same time and almost all your players on the team will be doing the drill simulatenously. Players must keep their head up to avoid running into each other.
Players must change direction at each cone and go as fast as possible.
The coach can stand in the line of traffic and run towards different players trying to steal the ball. This really forces players perform game like moves (otherwise they'll turn it over).
You want to create as much chaos as possible and force players to keep their head up, change direction, and control the ball.

Comments
Most Likes First
Oldest First
Newest First
---
Mike Bitzenburg says:
10/24/2016 at 2:57:55 AM


I'm unable to visualize the drill above. Is there a video of this? I'm really rusty; haven't played in too many decades and never coached. No one else stepped up at the Family YMCA to coach a 3rd & 4th gr. team, so here I am trying to get a plan together before first practice this Fri. the 28th.

Like
1 reply
---
Jeff says:
10/24/2016 at 7:38:25 AM


Sorry we don't have a video of this. Players just dribble in a zig zag pattern. That's about it. The only unique aspect is you start with lines at each end and everyone goes at the same time. So you have someone dribbling at you and it's chaotic. This forces players to get eyes up. For beginners, I would just have one line (no traffic) to see if they can dribble first.

Like
---
---
Samuel chin says:
12/18/2010 at 3:39:29 AM


Absolutely frustrating is right when players dont perform as well during practice.
I will definitely try out the drills recommended.
Thanks again and our boys and girls are doing fantastic in Basketball.
Thanks to you all
Coach Sam
Malaysia

Like
---
Chris says:
12/16/2010 at 9:29:26 PM


I really could have used this yesterday. We must have had 30 turnovers in our game today because people weren't lifting there head when they were dribbling the ball.

Like
---
Phantomlock says:
12/16/2010 at 1:32:07 PM


I coached 10 year olds this year for the first and the season is over. We lost by 3 in the final thanks to information from this site (thank you!).

This is yet another great tip I'm sure to use when the season starts up again.

PL (from New Zealand)

Like
---
cp says:
12/15/2010 at 5:15:53 PM


never thought of this before.It would really be nice to have 5 people on the court to have point guard skills. will try this drill when we return from christmas break

Like
---
M Cade (MI) says:
12/15/2010 at 10:50:11 AM


I use the chaos theory for passing drills, but never thought of it for dribbling. And I have the same issue... they can dribble arund chairs and cones all day along. But in a game, they slow down and feel the challange when a good defense player is on them. Almost afraid to take control using the dribble.
Thanks a Ton!

Like
---
Joe Haefner says:
12/14/2010 at 9:36:36 AM


Norman,

Here are some situational drills you can run too: http://www.breakthroughbasketball.com/drills/full-court-press-breaker-drill.html

http://www.breakthroughbasketball.com/playcreator/view.asp?id=142&type=drill

There is also a press breaker video with press breaker tips here:

http://www.breakthroughbasketball.com/offense/press-breaker.html


Like
---
Norman Brood says:
12/14/2010 at 9:21:41 AM


These drills look great. I have a JV girls team with no true point guard and we really stuggle to get the ball up the floor with full court pressure. Going to start using these right away and hope they will help out. Any more tips or advice would be greatly appreciated.

Thanks,

Norman

Like
---
Shan Honeycutt says:
12/14/2010 at 8:40:40 AM


Jeff,
I know at our practices, it's the same problem. But never thought about having the chaos approach. :o) I know that this will be a drill that will be performed at our next practice for sure. It's so frustrating watching them do well during practice, but then see a complete turn-around during the game!

Thanks to your website and all you do, I go into practice a lot more confident than I have ever been.

Thanks,
Shan

Like
---